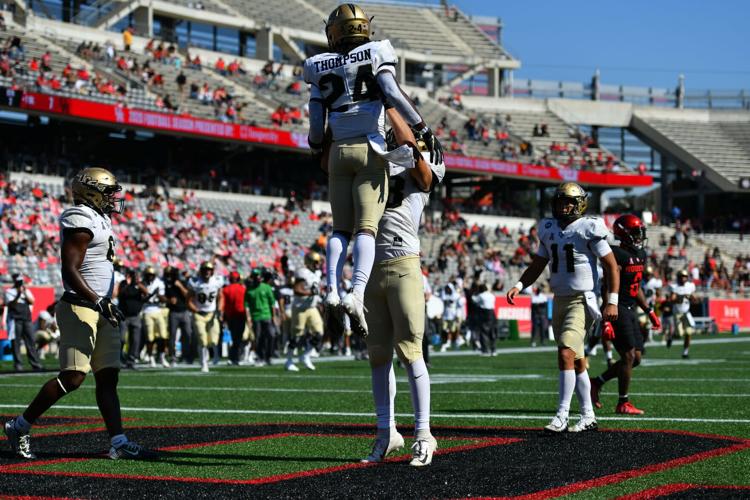 Led by a well-balanced offensive attack and a stellar performance from the defense, UCF defeated Houston 44-21 on Saturday. 
The Knights were able to put up 353 yards on the ground and 328 yards through the air. It was the first time all season that the UCF (4-2) offense had more rushing yards than passing yards. 
"We're just built to do whatever," running back McCrae said. "We can run it, we can pass it. Whatever teams give us, that's what we take." 
MOOD when you combine for 279 rushing yards 😁😁 pic.twitter.com/fOsGRMhPkm

— UCF Football 😷 (@UCF_Football) October 31, 2020
Otis Anderson led the way with 170 yards on the ground and a touchdown that came late in the fourth quarter. McCrae, who dressed up as "The Flash" after the game, also topped the triple digit rushing mark with 107 yards and one score. 
Greg McCrae is ready for Halloween! Said Jaylon "Flash" Robinson hasn't seen him in the costume yet. #UCF pic.twitter.com/TTWkSq0xeB

— Brian Murphy (@Spokes_Murphy) October 31, 2020
In total, three different running backs scored for the Knights, as Bentavious Thompson also ran for a touchdown, in the second quarter. 
The Knights defense had a strong showing, as they did not allow a single point until there was just over six minutes remaining in the third quarter. 
"Thought it was our best defensive effort of the season," UCF head coach Josh Heupel said. "Just some young guys having an opportunity to step up." 
Houston's (2-2) only points in the first half came on a Dillon Gabriel fumble that the Cougars took for 34 yards and a touchdown. 
"I'll be the first one to assume responsibility for this pitiful offensive performance," Houston head coach Dana Holgorsen said. 
Overall, the Knights defense held the Houston offense to 434 yards and just 14 points. 
"They just dominated us," Holgorsen said. "They dominated us everywhere." 
The Knights defense put up that performance, despite being short handed. They were without four starters: defensive linemen Kenny Turnier and Randy Charlton, linebacker Eric Mitchell, and safety Antwan Collier. All four of them did not make the trip to Houston. 
"We had a few guys down and we still went out there and had our best performance," defensive back Richie Grant said. "It just shows you how much this team is buying now." 
Derek Gainous, who was fresh off recording his first collegiate interception last week versus Tulane, led the way with nine tackles. Linebacker Tatum Bethune recorded seven solo tackles and one tackle for loss. Defensive lineman Cam Goode also produced with a tackle for loss and a sack. 
"We talked about the DNA of the people that are inside the locker room, the competitors they are," Heupel said. "The DNA of the program is when somebody goes down, the next guy steps up." 
Another bright-spot for the UCF offense was wide receiver Ryan O'Keefe who hauled in three catches for 97 yards and two touchdowns. 
"I'm not going to lie: I felt God with me in this game," O'Keefe said. "I knew I was going to have a spectacular game." 
O'Keefe, who has stepped up in the absence of fellow wideout Tre Nixon, now has 356 yards and three touchdowns on the season. 
Ryan O'Keefe is FAST pic.twitter.com/gri3hCEoWu

— Barstool UCF (@UCFStool) October 31, 2020
Despite being sacked six times, Gabriel, who leads the nation in passing yards and touchdowns, still put together a solid performance with 328 yards and two touchdowns. 
UCF QB Dillon Gabriel Heisman watch19/33, 328 yds, 2 TD, 0 Int26/40, 422 yds, 5 TD, 0 Int35/49, 601 yds, 5 TD, 0 Int28/51, 330 yds, 1 TD, 1 Int 32/47, 408 yds, 4 TD, 0 Int27/41, 417 yds, 4 TD, 1 Int@HeismanTrophy season! #heismanwatch pic.twitter.com/gHgqEHnpRH

— UCF Sports Info (@UCFSportsInfo) October 31, 2020
"The main goal was to get the 'W'," Gabriel said. "As long as you do that I'm happy." 
UCF will now enter a bye week before returning to action on Saturday Nov. 14 against Temple. 
The Knights, who's next two games will be at home and will also travel to Tampa to face USF in their final game of the regular season, will not have to leave the state of Florida in November. 
#UCF QB Dillon Gabriel mentioned with a wink that he was excited to conclude the season with 3 home games remaining. #GKCO #UCFMafia @3ptCnvrsn

— Kyle Nash (@TheSoTG) October 31, 2020
"Just being able to finish it at home and then being able to play in front of our fans, that's an absolute great feeling," Gabriel said. "Knight nation is you know, just the best. They're the best in the country."