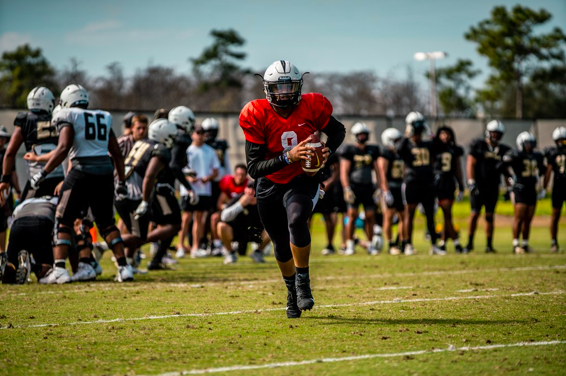 UCF head coach Josh Heupel announced 10 players opted out of the 2020 football season due to concerns of COVID-19. 
Redshirt junior quarterback Darriel Mack Jr., redshirt senior defensive back Tay Gowan and redshirt junior defensive lineman Kalia Davis are among the few that decided to skip the 2020 season. 
"Everybody's perspective and situation with COVID is different, and they are all valid and real," Heupel said in a media conference. 
Other players who opted out of the 2020 season are defensive linemen Mason Cholewa and Kendrick Wilson, offensive lineman Lamarius Benson and defensive back Elijah Benoit.
"We've tried to educate our guys continuously as to what the best practices are and what we're doing here to keep them as safe as possible," Heupel said. "Each of these kids who chose to opt-out has different reasons behind their decisions. They're valid, they're real and we support those guys, and we'll continue to help them."
Both Gowan and Mack were starters last season for the Knights, and Mack led UCF to major wins against Memphis and East Carolina in the American Athletic Conference. 
Mack said that family is the most important thing to him and is one reason he decided to opt-out. 
"I have multiple members in my immediate family that are very susceptible to the virus," Mack said. "It would be completely selfish of me to put them in harm's way."
Next in line to potentially fill Mack's role as the backup quarterback for the Knights is redshirt sophomore quarterback Quadry Jones. 
"Quadry is willing and more than capable of playing at a championship level at the quarterback position," Heupel said. "Our football team really feels strongly about Quadry and what he brings to the table."
Defensive back Devunte Dawson said that the reason he opted out this season is because he is looking out for his health.
"With so much uncertainty going on in the world right now... I feel it would be best for me to step away from football this season," Dawson said.
Players who have not stepped out onto the field to play football have chosen to opt-out.
Allan Adams and Adrian Medley, both UCF freshmen and offensive linemen, will miss playing their first season due to their decision to opt-out.
The NCAA released information a few weeks ago stating that any fall athletes will receive an additional year of eligibility whether they play or not. 
All players were informed that they had the ability to opt-out due to COVID-19 and would still retain their scholarships according to a statement by UCF Athletics.
The Knights are scheduled to play their first game in Atlanta, Georgia, against Georgia Tech on Sept. 19.