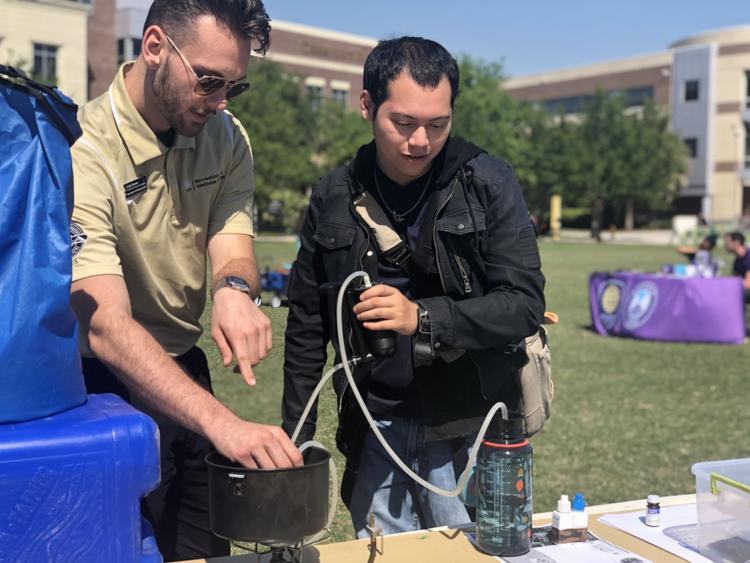 There may be an abundance of water on Earth — however, many people today are living without safe water.
The United States Geological Survey's website states that safe water is water that will not harm an individual if they were to come in contact with it. The water must have a low concentration of contaminants.
A report by the World Health Organization said 2.1 billion people in the world live without safely managed services for water at home.
There are many initiatives and systems in place to combat this issue, such as goal six of the United Nations' Sustainable Development Goals. The United Nations' sixth goal is to ensure the availability and sustainable management of water for all by the year 2030.
With goal six in place, Sustainability Initiatives at UCF hosted a fair for World Water Day on Thursday on Memory Mall to bring awareness to this crisis. The theme was leaving no one behind.
Sustainability Initiatives at UCF's website states that their mission is to create an environment where ideas are freely shared, partnerships are formed and solutions are uncovered in the pursuit of environmental, economic and social sustainability.
Alyssa Madrid, public outreach coordinator of City of Orlando Water Reclamation, said clean water starts with the individual.
"Put the proper things down the drains," Madrid said. "Whether it be the storm drains or the home drains. For storm drains, there should only be rain down the drain, and for things like in your home, only put the three "Ps" down there. Pee, poop and paper."
Water reclamation is the process of converting wastewater into water that can be used for multiple purposes.
Senior biology and environmental studies double major, Rachel Gutner, an outreach assistant for Sustainable Initiatives at UCF, said the campus is utilizing reclaimed water.
"Here at UCF, we switched 100 percent of our water needs to reclaimed water," Gutner said. "So that is now allowing us to have cheaper access to water that is useable for lawns as well as coolant systems," she said. [Reclaimed water is]  increasing the amount of water we can provide to the UCF community."
The organizations at World Water Day demonstrated other ways to get clean water.
One of those organizations was Outdoor Adventure — a program where students can go on adventure trips and rent equipment. This program provides students with three ways to filter their water for drinking. Outdoor Adventure employees used iodine, boiling water and electronic filtration systems to filter water. 
Gutner said she hopes World Water Day gets people thinking more about water.
"Doing events like this — I think that's the best way to get people thinking about how much water they use," Gutner said. "There are so many people who don't have access to clean water, and we hope students learn to cherish water and keep conserving as much as we can."