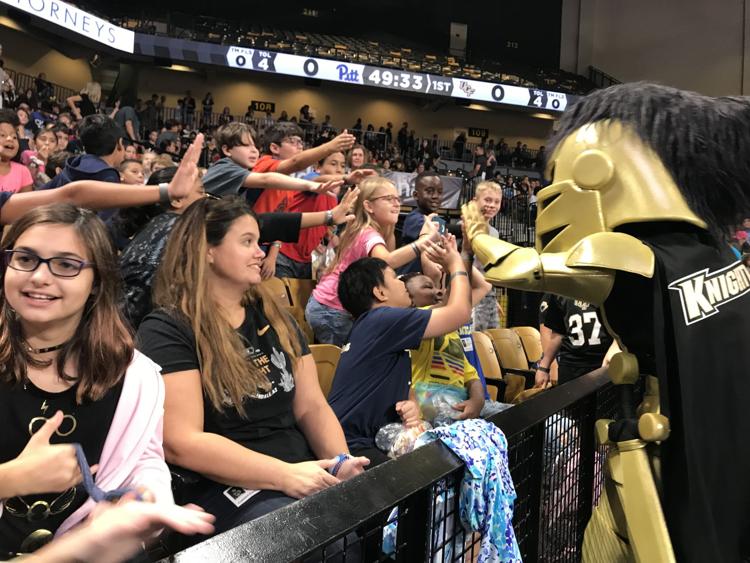 The Addition Financial Arena was packed with more than just college students and basketball fans on Wednesday morning.
UCF Athletics hosted Education Day, an event that gives elementary school students an opportunity to come to UCF, have fun and learn. Students from 15 different Orange County public schools were invited to watch the first UCF women's basketball game of the season. The students also got the chance to learn more about UCF and participate in engaging STEM activities.
The kids' eyes opened wide with amazement as they entered the arena. This was a first for many of them.
"I had several students come up to me and tell me they have never been to a college campus, let alone a basketball game," said Dr. Shane Trenta, elementary education lecturer. "Seeing the smiles on their faces was my favorite part."
The UCF cheerleaders prepared the students for the game by teaching them game etiquette and UCF chants. By tip off, the kids were stomping and clapping along. Several students got to experience the spotlight when they played mini games on the court in between quarters and during halftime.
Ellie Balchunas, Sunrise Elementary third grader, is a cheerleader at her school. She said one of her favorite parts of the day was seeing the UCF cheerleaders.
"I want to go to UCF and be the [cheerleader] that flies in the air," Balchunas said.
The fun didn't stop at the basketball game, though. 
Students raced to the arena lobby to participate in different educational activities including science experiments. They also set some goals by dot writing, an activity where they wrote on a small paper how they plan on making a difference at their school and posted it on a wall that said "Charge On."
"This is just a small way of showing the kids how they're going to contribute to their community and that they got a lot of opportunities out there for them," said Dr. Norine Blanch, College of Community Innovation and Education lecturer.
The event also gave student volunteers from the College of Community Innovation and Education the chance to gain firsthand experience with teaching kids. CCIE hosts the School of Teacher Education where students study to become educators. The volunteers were in charge of hosting the activity tables.
"It was a cool opportunity for me to interact with more kids and it was fun being able to help them," said Raquel Tellez, freshman secondary education major.
The kids chanted "UCF Knights" as they left the arena. Many of the students said they were excited to come back and attend UCF when they grow up. 
"I think what's really important for [the kids] is that they see UCF as a welcoming place," said Malcom Butler, director of the School of Teacher Education. "A place they can come and thrive and have lots of fun."