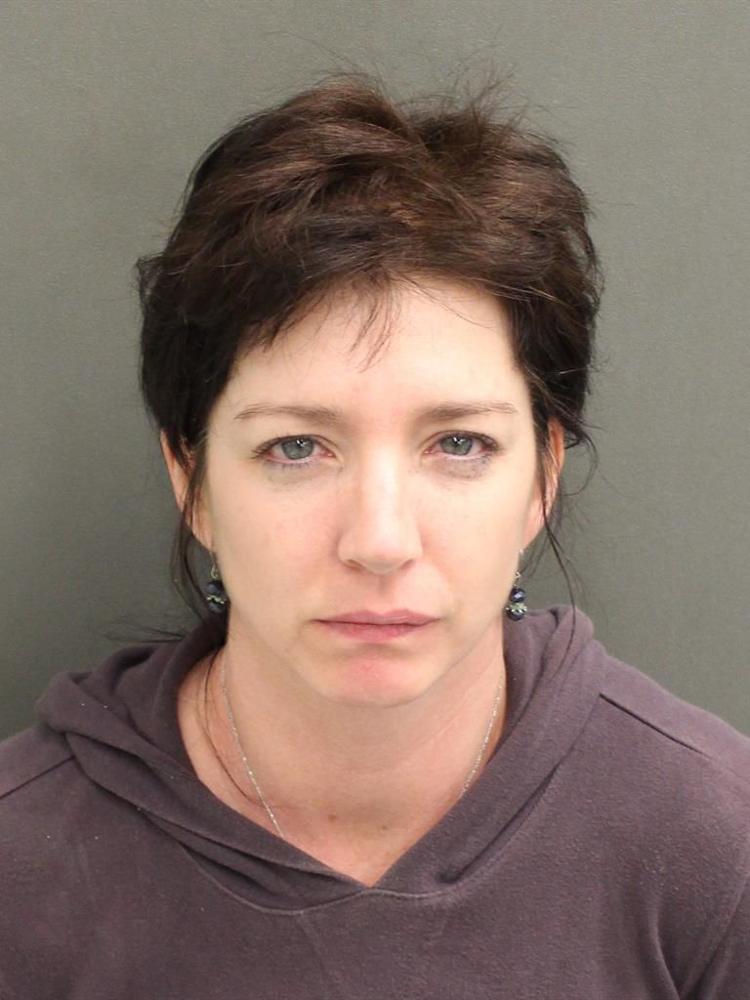 The wife of a UCF faculty member, whose death was ruled "suspicious" in January by the Winter Park Police Department, was charged with murder on Wednesday, Orange County jail records show.  
Today at approximately 9:30 am, officers responded to the 1200 block of Temple Dr in reference to a death. Once on scene, they located a deceased male in his 60's. We are calling this suspicious. We are not seeking anyone and feel there is no threat to the community.

— Winter Park Police (@WinterParkPD) January 12, 2019
WPPD deputies arrested Danielle Redlick, 45, at 11:57 a.m. on one count of second-degree murder and one count of tampering with physical evidence. 
According to a news release sent out by the police department, Danielle Redlick was arrested on a warrant obtained by the Criminal Investigations Division after an "extensive investigation."
Her husband, UCF Sport Business Management Program Director Michael Redlick, was found dead in his home on Temple Drive on Jan. 12. Police ruled his death "suspicious."
According to the arrest warrant, Danielle Redlick called 911 at 9:28 a.m. on Jan. 12.
"We had an altercation and he stabbed himself and I ran and hid in the bathroom," she said to a 911 dispatcher, according to the affidavit. "And when I came out I was trying to help him and saw he was lying in blood and then I tried to help him and I couldn't."  
The records show that in an interview with the Department of Family and Children, Danielle Redlick said an argument between her and her husband commenced during dinner. She was eating a McDonald's hamburger, and Michael Redlick, who she said had been drinking all night, stole her hamburger, took a bite out of it and then spat it in her face.  
Danielle Redlick then said a physical fight broke out between the two of them, ending with her husband "stabbing himself." According to the affidavit, she said that she ran and hid in the bathroom because she was "scared to death." When she returned, she said she came out to find him lying on the floor.
Danielle Redlick said she was hesitant to call 911 because she was on probation from a previous crime of resisting an officer and disorderly conduct in a January 2018 incident in Seminole County.
"I'm on probation and I was afraid, and I didn't think anyone would believe me, and I was just trying to get him to wake up," she said, according to the affidavit.
Eventually, she said she tried to call 911 but could not find her phone. 
When police arrived at the scene the next morning, records show that Danielle Redlick looked "disheveled," and that she had bandages on her wrists from self-inflicted wounds and would need be transported to the hospital. 
The crime scene had appeared to be tampered with, according to the affidavit. There was a strong smell of bleach throughout the house. Blood appeared to be saturated through Michael Redlick's jeans and on towels placed by his head, his right foot and right side, the records said. Markings were made in the blood as if someone had been trying to wipe it up. 
"Bloody towels were found in a pile," the affidavit read. "At the bottom of the bloody towels, the victim's shirt was found in the pile. The victim's shirt appears to have been removed after the stabbing, as it had a matching tear in the shirt consistent with where the stab wound was on the victim's body." 
In addition, the records show there was a large number of empty wine bottles in the outside recycling bin, a mop with blood on it, a mop bucket full of pink liquid, and three kitchen knives in the sink with blood on them. There were bloody footprints near the victim, couch and living room rug, and what appeared to be a blood trail coming from the master bedroom.
According to the affidavit, the detective decided that someone attempted to clean up the master bedroom, bedroom area and the living room area.
After the investigation by the Criminal Investigations Division concluded, the records show that police said they made the decision to charge her because of the overwhelming evidence and proof of probable cause that she both murdered her husband and attempted to cover it up.
The affidavit states that Medical Examiner Dr. Sara Zydowicz ruled Michael Redlick's death a homicide by a stab wound to the torso. She also noted that there was no evidence that CPR had taken place, that there were no indicators of a heart attack and that the stab wound was not self-inflicted. 
"Detective Woher noticed that the victim's ribs were intact and there was no bruising to the center of the victim's chest, commonly observed when CPR has been performed," the records say. 
The affidavit also says that Danielle Redlick's phone records show that she was checking messages on a dating app titled Meet Mindful roughly two hours before she called 911. When police searched Danielle Redlick's phone, they found that all of the texts between her and her husband had been deleted.  
A toxicology report also showed that Danielle Redlick had alcohol in her system, despite taking the test 13 hours after the incident and telling the 911 dispatcher that only Michael Redlick had been drinking. Additionally, she was not allowed to possess alcohol because of her probation, according to the affidavit.
Records show that Danielle Redlick waited 11 hours from the time of the stabbing to call the police. She also noted that her husband was moaning and "out of it" when he died.
"Danielle Justine Redlick committed an act imminently dangerous to her husband and evidencing a depraved mind regardless of human life," the affidavit says. 
As of now, Danielle Redlick is being held in the Orange County Jail on $15,000 bond and a hearing has not yet been scheduled. 
News Editor Marianna Wharry contributed to this report.
This article was updated on Feb. 8 at 5 p.m. to reflect new information from the affidavit and from court records.