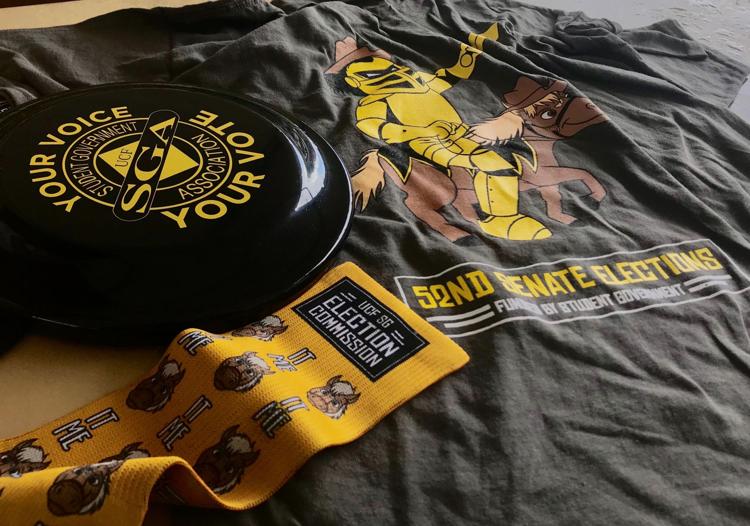 UCF students have the opportunity to vote for candidates who will represent each college during the 2019 Student Government Senate elections. The elections began Monday and will continue through 5 p.m. Wednesday.
The senate is made up of 69 student leaders who are elected by the student body each year, according to the Student Government website.
Student Government Supervisor of Elections Austin Wilson said it's important for students to get involved and cast their vote.
"The main kind of drive behind the election commission is civic engagement, because you're having people experience voting and everything," Wilson said.
Leading up to elections, students interested in running for a seat in the senate needed to collect signatures to get their name on a ballot.
The number of senate seats in a specific college is based off the number of students in that college, according to the website. For every 1,000 students in the college, there is one senate seat. Larger colleges, such as the College of Sciences, has nine open senate seats and the College of Engineering and Computer Science has 10.
Registered Student Organizations and other clubs on campus are funded by SG for things like travel, conference registration, and campuswide events and projects, according to the SG website. SG receives its funds from students' tuition.
"Essentially, the funds for student government — I believe it's a $20.4 million dollar budget — is to kind of go to student enhancement and everything like that," Wilson said.
This year, students had more options with the times and locations of voting, Wilson said. SG provided voting booths on Memory Mall, in front of the Student Union and at the Rosen and downtown campuses.
Students can vote Monday through Wednesday from 8 a.m. to 5 p.m at the booths. Online voting times are Monday from 8 a.m. to 12 a.m., Tuesday from 5 a.m. to 12 a.m. and Wednesday from 5 a.m. to 5 p.m.
In past years, SG provided students with laptops to make the voting process quick and easy. Due to internet and computer complications, Wilson and SG Election Commissioners asked students to use their phones to log into their MyUCF accounts to vote.
Elections were advertised on SG social media accounts and around campus to encourage students to vote. SG even advertised students would receive some freebies if they voted at the booths.
Mary Delgadillo, election commissioner and sophomore public administration major, said the Student Union location had already gone through almost two boxes of freebies by 4 p.m. on Monday.
"The candidates can't give away stuff, but they [Student Government] can give away things to encourage students to vote," Delgadillo said.
While the voting booths provided students with the chance to vote for candidates who were campaigning or any write-in candidates, they also provided free frisbees, koozies, and Knugget-themed shirts and socks.
Farah Boules, freshman health sciences pre-clinical major, and Adri-Anna Harris, environmental studies major, said they stopped by the Student Union booth to vote and grab some freebies.
Both students said they heard about the free socks being given away, which enticed them to stop by and vote.
"I really want to be involved in Student Government," Harris said. "It's kind of like the heart of the campus."
Voting closes Wednesday at 5 p.m., and students who are still interested in being listed as a write-in candidate still have the opportunity to do so.
The election results will be announced Wednesday at 8 p.m. in atrium of the Student Union. Check back for updates on the polls and results.