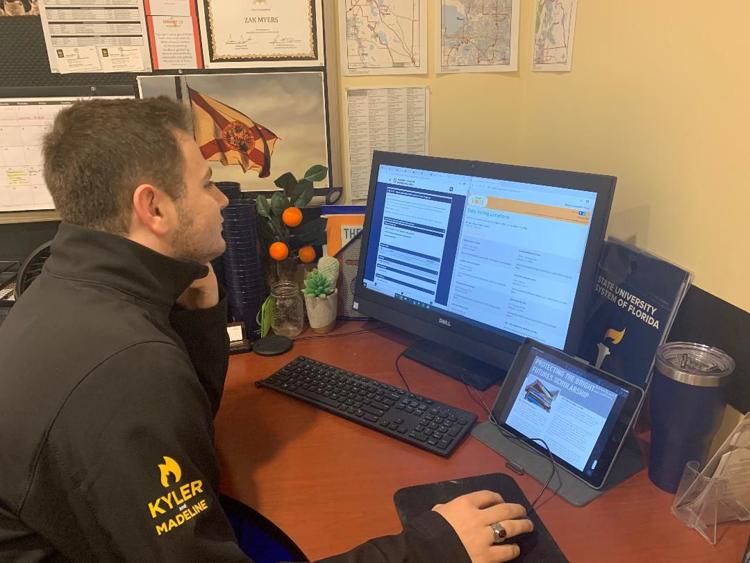 The 2020 election season begins with the Presidential Primary Election on March 17 and Orange and Osceola county government officials have started working on new changes that voters can expect to see.
Some of these changes include increasing the "no solicitation zone" outside early and day-of voting locations from 100 feet to 150 feet. Orange County Supervisor of Elections Bill Cowles said this change will force solicitors to stay farther away from the voting booths and will allow voters to take a photo of their own ballot before or after filling it out. 
Another change that is still being worked out is Amendment 4, which will decide whether a convicted felon is eligible to vote and how to deal with cybersecurity threats during the upcoming election season.
More than 10% of Floridians who are old enough to vote are unable to because they've committed felonies. Cowles said Florida Legislature is deciding how to determine whether or not someone can say a felon has paid off their debt to regain their vote. 
In order for convicted felons to regain their voting rights they are required to complete "all terms of sentence" such as full payment of restitution, fines, fees or costs resulting from the conviction.
Until a convicted felon is able to satisfy all legal financial obligations and has completed their sentences, such as completing time in prison, parole and probation, they are not able to regain their voting rights.
Felons who have convicted a murder or a felony sexual offense will not regain their voting rights even after completion of their legal financial obligation and sentences. 
Osceola Supervisor of Elections Mary Jane Arrington said that her office has toughened their security practices while increasing the importance of their cyber security training program. She said they are doing everything to make sure cyber security is not an issue this election season.
"We have deployed additional hardware and software to help detect any cyber threats and we have developed procedures and policies to help mitigate cyber security threats," Arrington said. "We have also developed a working relationship with other agencies to assist with cyber security, cyber security information sharing and cyber security training for IT staff. We will continue to be diligent to make sure every vote is secure."
Students who live in Orange County can cast their ballot early from March 2 to March 15 from 10 a.m. to 6 p.m. at the Recreation and Wellness Center. Only students who live on campus, however, will be able to vote at UCF on Election Day, March 17. They can do this from 7 a.m. to 7 p.m. at the Live Oak Event Center in Ferrell Commons.
Cowles said it is important that students at UCF know where they are registered to vote ahead of time. He said that just because someone attends the university and lives on or near the campus does not necessarily mean they are able to vote in that district.
"You have to vote in the county which you are registered in," Cowles said. "Only those students who physically live in campus housing or the fraternity or sorority houses on campus are allowed to vote on campus. On Election Day voters have to vote at their assigned polling place, which they can find on their sample ballot."
Student Governmental Affairs Coordinator Zak Myers said that Student Government has taken the steps necessary to make sure UCF remains a friendly voting campus. He says when the election dates get closer that SG will have campus-wide distribution and informational events, send out campus wide emails and have tabling events where students can get more information about the upcoming elections.
"We have I think made really good strides in the realm of civic engagement and overall registration numbers by making sure that voting is accessible to people while making sure they are well-informed about who they are voting for," Myers said. 
Cowles said his team is working hard to make sure people understand the process, how to participate and, ultimately, make sure that every voter who wants to cast a ballot is able to.
"We saw in 2018 that the young voters stepped up and increased their participation," Cowles said. "Now that we are into a presidential election and they understand the importance of voting for the president, I hope that they will continue to take those steps forward and be engaged in the process."