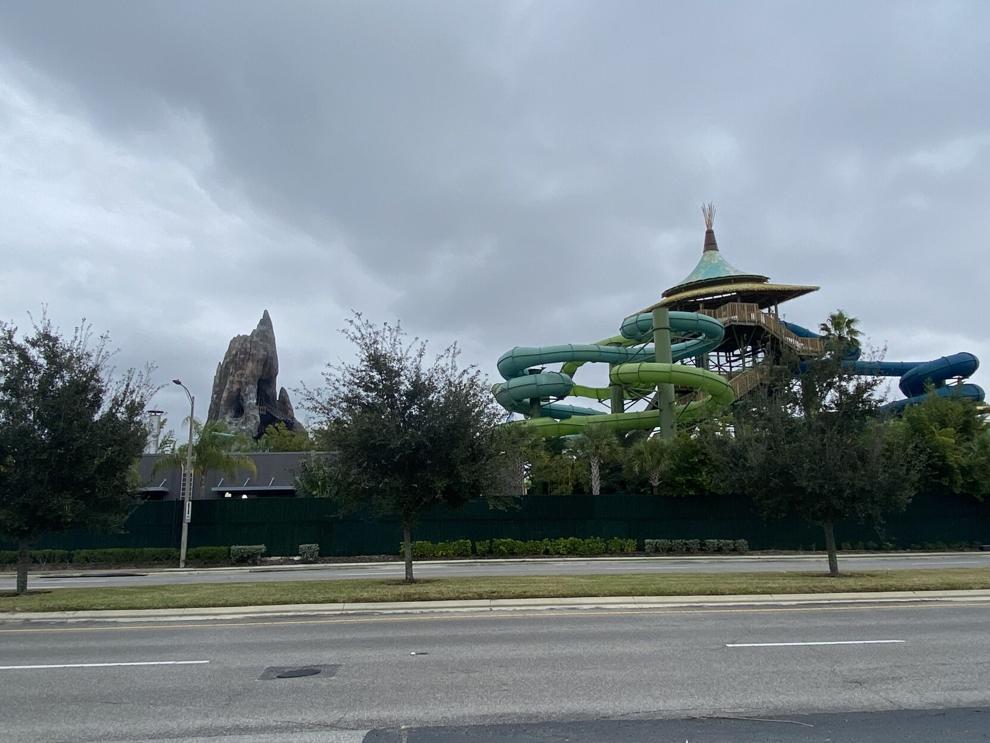 With Covid-19 numbers rising in Florida, waterparks plan to re-open to guests in March. 
Volcano Bay, Universal's water park, closed Nov. 2 for seasonal maintenance. This came after the park was open for months during the peak of the pandemic. 
Universal's theme park guidelines have put many procedures in place to keep park goers feeling safe and secure while visiting the park. While at Islands of Adventure or Universal Studios, the park requires a face covering at all times, has floor markings in ride queues, temperature checks before you enter the park, hand sanitizing stations, and staff extensive cleaning procedures.
Volcano Bay has many of the same measures as the parks except for one important one. You are not required to wear a face covering when on slides, walking to slides, or in the pools. Universal's other parks require one on rides. 
Robert Stephens is a UCF junior studying mechanical engineering. Stephens works for Universal at Volcano Bay. There are certain times where face masks are not required, he said. 
"We're okay with that," Stephens said. "If you are going to a food area, if you are leaving the park, you are going into our shop areas, then you are required to wear mask. But, if you're walking around to head to a new pool or you're going from one slide to another, then you're not required to wear a face mask.
"If you are not headed to a pool or coming out of a pool to go back to your seat to put on your mask again, then that's the only time you don't need to wear a face mask," Stephens said. 
Volcano Bay was open June through November in 2020. For context, Disney did not open their water parks when they reopened their theme parks last year. A possible reason Universal opened Volcano Bay was the report that the virus didn't spread in chlorine, Stephens said.  
"At the time of last reopening, there was no, I don't think there is any evidence that coronavirus spreads through chlorine at all," Stephens said. "I don't know if that has changed but when we did, there was no evidence." 
According to the CDC's website, "CDC is not aware of any scientific reports of the virus that causes COVID-19 spreading to people through the water in pools, hot tubs, or water playgrounds. Plus, proper operation of public pools, hot tubs, and water playgrounds (such as at an apartment complex or owned by a community) and disinfection of the water (with chlorine or bromine) should inactivate the virus."
Even though the park is taking precautions, some UCF students are still hesitant to go to Volcano Bay when it officially opens.
Ross Bernstein is a senior at UCF studying business finance. He said he hasn't seen enough from the theme parks to attend just yet. 
"No I don't feel comfortable at all," Bernstein said. "I know it's outdoors and I know Covid spreads less easier outdoors, but I don't think they are doing their best job to maintain safe social distancing guidelines and overall safety precautions."
Bernstein said he is going to hold off until a lot more people get the vaccine.
"The vaccine means nothing unless everybody takes it," Bernstein said. 
With the reopening of Volcano Bay, Disney World is following suit opening up their Blizzard Beach on March 7th, nearly a year since it closed in 2020 due to Covid-19. They have not announced any safety measures or procedures as of yet.