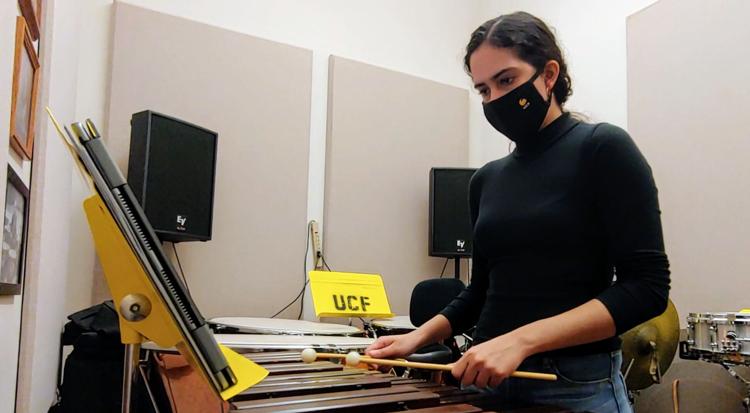 After a semester of virtual masterclasses, percussion students at UCF's School of Performing Arts said they have mixed feelings about them.
Lauren Perez, senior music education major, said the virtual professional instruction is not as enjoyable for her.
"It's harder to pay attention," Perez said. "And it's just not as engaging having to stare at a screen versus seeing the musician actually in person, getting to ask questions in person."
Perez said while she still gets some good instruction out of it, she can't wait for face-to-face instruction to begin again.
The masterclasses, held multiple times a semester, usually entail a professional and renowned musician coming to UCF to give face-to-face instruction to music majors.
UCF associate professor Thad Anderson coordinates the percussion studies program in the School of Performing Arts. He organized the Zoom masterclasses for the semester.
"It's actually increased the number of guest artist participants we've been able to bring in," Anderson said. "So this fall semester, our series has 15 guest artists."
Anderson said the Zoom classes have focused mostly on presentations and PowerPoints. They've been able to do some technical work, though Anderson said it is much more difficult over zoom.  
Christian De La Torre, a senior music performance major with a percussion focus, said between the sound and lag, some things are lost in translation in the technical workshop.
However, De La Torre and other performance majors like Christina Smith, said they feel the virtual classes have positives too. 
Smith, also a senior music performance major with a percussion focus, said she has been to a lot of the masterclasses over her five years at UCF. She said for her the virtual classes offer a different perspective. 
"It's really cool to see them in their element," Smith said. "And it's a nice change than just coming in person and presenting a topic, or having us play stuff."
De La Torre said in some ways, the virtual masterclasses lend a more genuine experience with the guest speakers, even though there is not the physical connection.
"There's a little bit of a disconnect when they come here, because you can tell some of them are not comfortable," De La Torre said. "Whereas, when they're in their own studio, they're there, they're comfortable and they're able to access whatever they need to."
Regardless of the campus allowing more face-to-face classes next semester, Anderson said the masterclasses will continue on Zoom in the spring.
De La Torre said his biggest concern is the face-to-face masterclasses had offered a way for students to build a professional network, and now they can only do so through email.
"That's great but, it's not the same as being there with the person," De La Torre said.
Despite that, De La Torre said he thought the virtual classes were overall great. He said it was interesting hearing how the guest artists adapted their profession when COVID-19 caused concert and performance cancellations.
"They're still finding ways to adapt to it, and that is inspiring to me as a student, wanting to be a professional," De La Torre said. "Regardless of the circumstances, we are able to do our craft and get better at it."