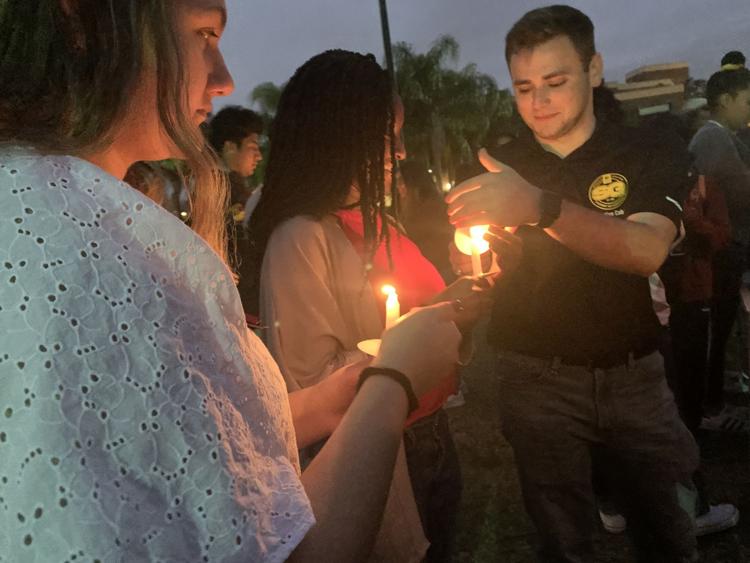 It wasn't until attending a candlelight vigil, when the names of her classmates were read, that UCF sophomore Alondra Cruz finally cried.
"Students that I saw in the hallways in between classes were now gone and it was all real," Cruz said.
Cruz's sentiments were shared Friday evening as March for Our Lives Orlando held a vigil in remembrance of the 17 individuals who lost their lives two years ago in the Marjory Stoneman Douglas High School shooting in Parkland on Valentine's Day. The vigil was held on Memory Mall.
Rayanne Anid, a sophomore political science major and Outreach Director for March for Our Lives Florida, wanted the event to be a safe place for those impacted to be with others who were affected.
"The mindset was for a time to remember and a place to mourn, but also to begin having conversations of change," Anid said. "We wanted those affected to be able to share their stories together."
Among those lost included senior psychology major Robert Schentrup's sister Carmen. Schentrup spoke on the effects he felt after the tragedy, some that he discovered recently.
"I notice all the experiences that Carmen is missing, such as being able to celebrate with me as I graduate this year to something as little as not being able to check up with her on Facebook," Schentrup said.
Schentrup also spoke about the impact the vigil has had on him as a survivor. He said that being able to come together as a community and surround himself with people who care about him has helped him tremendously.
"Around this time of year I feel a ton of grieving and anger, but being able to talk about it with familiar faces without having to explain why has really helped," Schentrup said.
UCF Student Body President Kyler Gray pointed out the change that students have undergone in response to this tragedy and the effect that hosting a vigil such as this has on both the UCF community and the Marjory Stoneman Douglas alumni. 
"Today is a day of love even though two years ago it was a day of hate," Gray said. "The healing process looks different for all of us but [the UCF community is] all doing it together."
The vigil concluded with students reading off the names, ages and a short biography of each victim. For those in attendance, this may have been the end of the vigil but the beginning of a much larger conversation.
"Going forward, we need to use our voice in the political process," Schentrup said. "Advocate before someone else becomes the victim."
For Cruz, the vigil will be a time for her to continue to move forward in her life, not just for herself, but also in memory of all the victims.
"I need to move forward and as a community we need to move forward in love," Cruz said. "We need to move forward for those not here today."