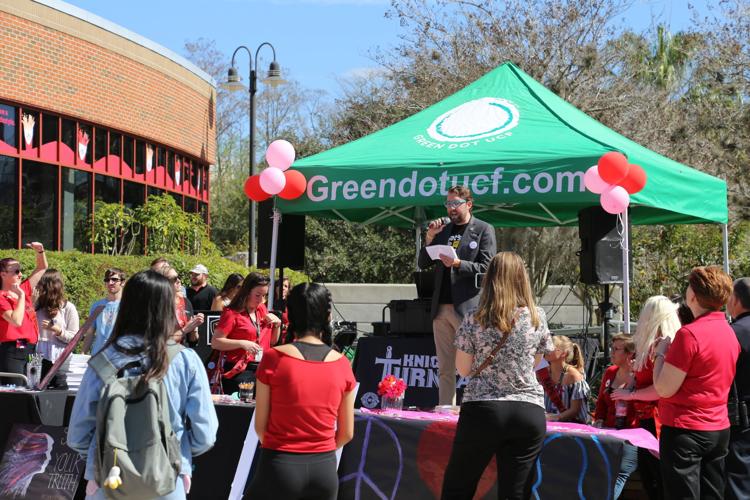 UCF Victim Services is working alongside campus partners to help end intimate partner abuse through a series of Zoom workshops this month. 
Jessica Baker, a UCF Victim Services advocate, said Victim Services holds an event every year in October which centers around domestic violence, intimate partner violence and dating violence.
In previous years, Victim Services held an event called "Light Up the Night", but due to COVID-19 it was unable to be held, and the Zoom workshops were created instead.
Light Up the Night was a domestic violence awareness event which talked about UCF students who have died due to intimate partner violence. The event also provided resources for those students who might have been going through intimate partner violence.
"When we thought about what we wanted to do this year, it was how to best serve our clients, how we can enhance our services and lower barriers for somebody to ask for help." Baker said.
Every Wednesday throughout the month of October, a Zoom workshop will be held featuring several campus partners as panelists including UCFPD, Green Dot, UCF Cares, Human Resources and LGBTQ+ Services. The workshops will each include a Q&A following a discussion on the topic of that week.
"We picked our panelists based on the topic and who we thought might contribute the most to that topic," Baker said. "So for example in the first workshop, we've done community partnerships with the UCF Police Department, so we wanted to include them for community engagement."
Baker said all the panelists are professionals that have work experience with each topic, which will help facilitate an easier Q&A and discussion.
The series kicked off on Oct. 7 with the "Let's Talk About It" workshop and focused on how dating abuse can affect a student's life. The next workshop called,"Close To Home" will be held on Oct. 14 and will focus on how domestic abuse can affect an employee's life. Panelists for this workshop will include UCF Victim Services, Victim Service Center and Human Resources.
Virtual events are something new to Victim Services and confidentiality is not guaranteed as the workshops will be held through Zoom, Baker said.
"We're wondering if maybe we get more attendance because it is not an in-person event, maybe somebody is more comfortable in their bedroom at home to talk or listen to this stuff," Baker said. "We have a decent amount of people registered, we're excited; we have about 25-30 people per workshop which we're hoping will lead to a good discussion group."
Caroline Allen, senior psychology major, said she previously attended Victim Services' "Light Up the Night" and hopes it has more success this year by holding the workshops through Zoom.
"There's a lot of flexibility now that everything is remote," Allen said. "I have a feeling, and I hope my feeling is correct, that this event will get more publicity. I hope that someone that isn't very busy can say 'Hm, maybe I should attend that.'"
Allen said it is great that UCF offers these workshops for students and said it is important for people to be aware — especially living on a college campus.
"The workshops make it more apparent to everyone how prominent domestic violence really is and how you don't know the signs," Allen said. "Your best friend could be suffering from domestic violence and you don't know the signs."
The 2018 Annual Safety Guide for UCF's Main Campus reports a total of three domestic violence cases on UCF's campus and its residential facilities. A total of 22 dating violence cases were logged onto the safety guide.
Jennifer Nguyen, junior computer science major, said she will be registering for the "Asking For A Friend" workshop.
"I personally know friends who have been through domestic violence and I care for my friends, I want to educate myself and support them in any way I can." Nguyen said.
Jessica Taylor, sophomore nursing major, said the "Asking For A Friend" workshop seems most beneficial to UCF students.
"I know a lot of people that are going through domestic violence don't even know they are going through it and don't want to speak up about it," Taylor said. "But they tell their friends and those friends could be more open to getting the help they need for them."
Baker said the workshops are always open for more people to join because more people will be aware of these topics.
"If they haven't registered please go ahead and do it, we'd love to have anybody that is interested involved in the conversation," Baker said.
This link allows students to register for any of the Zoom workshops.