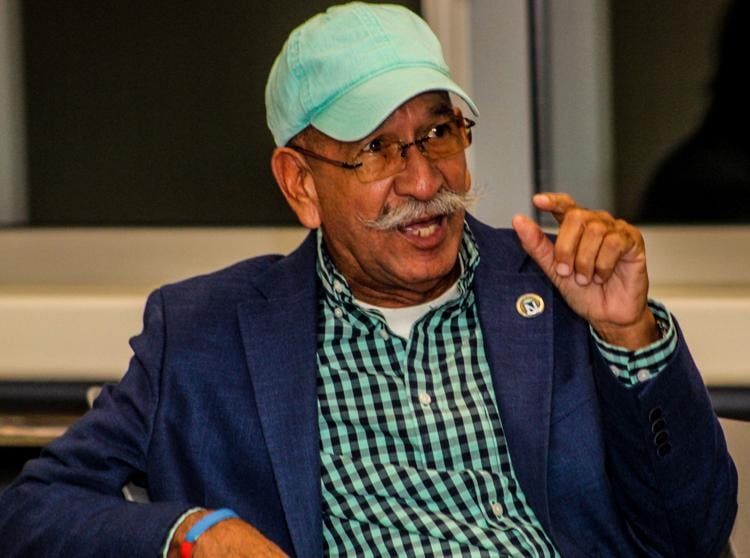 UCF held its first Voices of Venezuela panel Tuesday, bringing together Venezuelan immigrants that have made Central Florida their second home.
Hosted at Trevor Colbourn Hall, speakers consisted of Venezuelan immigrant students as well as members of Casa de Venezuela Orlando, an organization that gathers Venezuelans in Central Florida to help the ones that are still living in Venezuela.
Each speaker had a story to tell. First, the speakers introduced themselves to the public and shared their experiences leaving their home country.
Mariahn Mejias, sophomore biomedical sciences major, left Venezuela in 2015 at her parents' direction and arrived to Central Florida at the age of 15. She had no knowledge of the English language. Mejias' parents decided to leave the country due to the economic crisis and found Orlando a family friendly city to live.
"I have always liked to read and the first two years living here, that was what helped me with the transition and also how I learned English," Mejias said. "I even lost count of how many books I read during that time."
Mejias graduated from high school among the top 20 best students, which got her admission into UCF. She currently works as a tutor at the UCF Writing Center.
Venezuela has been dealing with an economic crisis since 1999 after Hugo Rafael Chavez became president, and it still remains with the current Nicolas Maduro regime. Constant power outages, gas shortages and lack of food and water are some of the issues that Venezuelans have to face every day.
Dhario Borges, UCF business administration alumnus, said he left Venezuela in 2010 after being kidnapped under political circumstances by the Maduro regime. This situation forced Borges to leave the country after noticing his family was at risk.
"One day my wife started to pack and asked me whether I [wanted to stay] in Venezuela or leave the country with my kids," Borges said.
Borges arrived in Altamonte Springs, where he and his family started a new life from scratch far away from their loved ones. Borges said 26 of his family members are now living in the area.
Alibeth Suarez, a journalist from the Venezuelan capital of Caracas, arrived in Central Florida five years ago due to the crisis that is going on in the country. 
Suarez worked for the Venezuelan news outlet Televen as an editor, producer and reporter. As a journalist, Suarez said she had been persecuted for sharing unwanted information about the Venezuelan government.
Besides volunteering at Casa de Venezuela, she also works for the Orange County Public Library system where she learned how to speak English.
Suarez and the other speakers discussed how migrating does not make them feel separated from their country because they are able to be more helpful for their family and friends in Venezuela by living and working in the United States.
"It is like having one foot here and another one there, trying to help as much as we can as Venezuelans living outside the country," Suarez said.
William Diaz left Venezuela 30 years ago and made Central Florida his new home away from home. In 2003 Diaz decided to found his own organization — Casa de Venezuela Orlando.
The organization not only helps Venezuelans by constantly sending supplies to the country, but also to those who have recently come to the U.S. and feel disoriented. They have workshops that guide Venezuelans through the immigration process and give advice on how to succeed in a new country.
The panel concluded with the speakers explaining what they are doing now to help their fellow Venezuelans whether that be through music or words.
Suarez, as a journalist, said the best she could do while she is not in Venezuela is to inform people of what is going on with the Venezuelan crisis and raise awareness through her words.
On the other hand, Diaz is planning to preserve Venezuelan heritage by starting an orchestra for children. This initiative does not have an opening date yet, but Casa de Venezuela is already working toward that goal. 
Borges showed his passion for music at the event by playing the cuatro — the national Venezuelan instrument that comes from the Spanish guitar but has  four strings instead of six — and maracas for the audience.
The panel concluded with everyone singing "La Vaca Mariposa" by Simon Díaz while Borges played the cuatro.
Borges said, "We can sing something together to make our souls a little happier tonight."