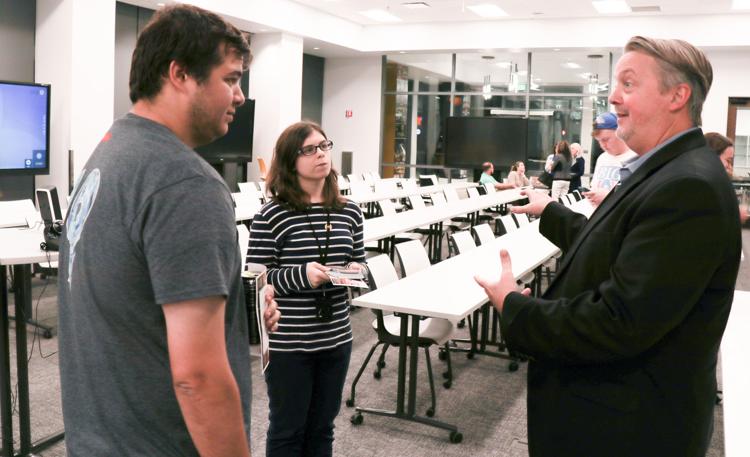 Student residents of the UCF Downtown campus gathered Wednesday to voice their concerns to UCF Housing and Residence Life staff at the UnionWest Town Hall meeting, and find solutions beneficial to their new community.
UnionWest residents started this semester looking for a fresh start as the first students to live at the downtown campus. However, for many the experience they expected was not the one they received.
"I felt like in the beginning there was a lot of things said that did not happen," said Jamelle Vickers, Valencia culinary management major.
UnionWest serves as the new student resident community for UCF Downtown and Valencia College Downtown at Creative Village. With approximately 600 students that arrived on August 21.
The residents were said to receive restaurants on the ground floor, student services, classrooms and amenities conveniently located.
Instead the UnionWest community has experienced some growing pains since the beginning of the semester. With students experiencing water damage, lack of amenities and even safety concerns at the UnionWest dorms.
Upon hearing the outcry from the student residents, the UCF Housing and Residence Life staff have taken it upon themselves to try to rectify anything detrimental to students' experience.
Due to the initial complaints from residents, the UCF Housing and Life staff in partnership with UnionWest ownership, offered students a $150 dollar credit for next semester. This became one of the primary topics of discussion at the meeting due to students not believing it was enough.
This semester the living rates for UnionWest range from $3,420 to $5,445 a semester, which led to some students wondering why they had to pay full price for an unfinished product. 
"The amount we were paying at that moment was not worth it because of the issues we were having in the first couple of months we were here," Vickers said.
UCF Housing and Residence Life staff informed the residents that the price point for compensation was determined by Creative Village LLC, who privately owns the UnionWest dormitories for the downtown campus.
"We heard about the $150 and that was the most ownership was willing to do in terms of the rent," said Peter Mitchell, director of housing administration and finance. "After we heard from students we tried to get it up to $275, but it was denied."
A $150 credit for 600 residents in next semester's housing agreement comes to a sum of $90,000. The desired credit which was denied was $275, which would have equaled $165,000.
No member of the ownership group was present at the town hall. Dr. April Konvalinka, executive director of Housing and Residence Life, said an invitation was sent to them and she does not know why they chose not to come.
"We will continue to try to get ownership to do more, and I think they understand that they have learned how to be engaged with student housing and we have heard your voice and continue to see what they will do," Mitchell said.
Students also said intrusive construction and inefficient maintenance were a concern. Construction workers are working at five in the morning to midnight, which students expressed has become a distraction, especially for those residents who may need to rest for early classes.
Students have witnessed construction workers working at their dorm windows, as well as repeatedly come back to their rooms to attempt to fix issues such as plumbing, and other water issues.  
"Work orders are saying they are completed when they are not completed and maintenance would come in and see a problem, but not fix it," said Jabett Middleton, Valencia College general studies freshman.
The Housing and Residence Life staff understand that the ongoing construction is frustrating but encourage students to be patient since there are some issues that still persist. 
"We were hoping for a nice, brand new building with contractors gone and all work to be gone, but unfortunately that has not been the reality," Konvalinka said. "We want to keep them close by since we need to fix the issues."
Due to the ovens not working in the community kitchens in UnionWest, food options were also a topic of concern. Despite UnionWest getting clearance from the City of Orlando to implement operational ovens in the middle of the semester, students were still focused on the missing amenities.
Students went about two months into the semester without having to use the ovens provided in the residence hall, which forced students to look for other alternatives for food.
"We did not receive [notice] that we were not going to have kitchens until move in date," Konvalinka said. "And as far as the restaurants, we did not have any information of when they would be complete."
Mitchell further elaborated to the students that the City of Orlando had a hand in the delayed approval for UnionWest.
"Ownership had submitted the plans two years ago, and were not given approval until it came time for you all to move in," Mitchell said.
The community kitchens lacked proper oven hoods to be operational within the new UnionWest building. 
With new initiatives such as cash giveaways and free food for residents, the UCF Housing and Residence Life staff reassured students that their voice is heard. 
The UCF Housing staff hosted a UnionWest resident appreciation dinner, funded by ownership, on Nov. 7 as a gesture of understanding for the students. 
"We will continue to try to get ownership to do more and I think they understand that they have learned how to be engaged with student housing," Mitchell said. "And we have heard your voice and continue to see what they will do."
As the meeting concluded, housing staff assured students that they will all be as transparent as possible and that these meetings are valued and allow them to improve as a result.
"As we continue to have these conversations, we can continue to explore to where it starts to feel more integrated," said Arian Bryant director of Residence Life & education. "[And we can] build and evolve with this downtown project, which has been a delicate process."
As for the residents, they believe the compensation should be more, but were happy to have been able to have an open conversation with the UCF Housing and Residence Life staff.
"I understand that it is a new building," Middleton said. "And the building is amazing. I just wish there was more transparency in the beginning."