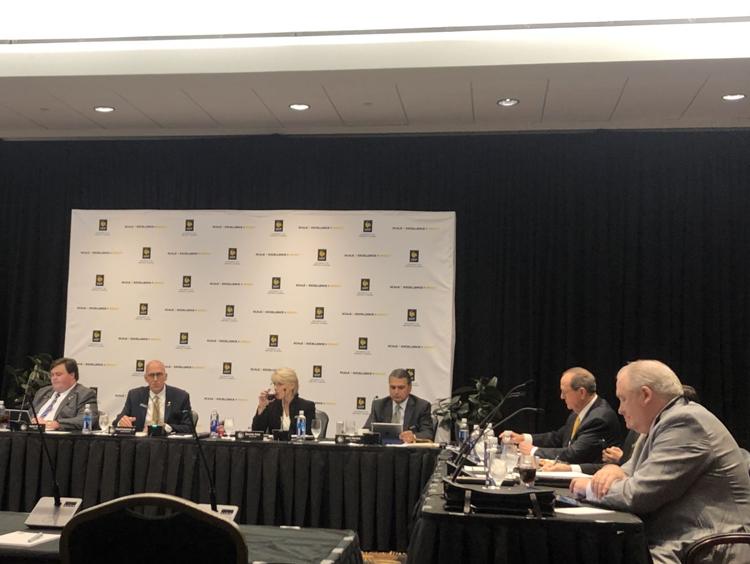 After two years and 31 bargaining sessions, the United Faculty of Florida and UCF Board of Trustees have ratified a new faculty contract.
The board ratified the contract on Sept. 19 at the Board of Trustees meeting. The contract includes improvement of language on nondiscrimination, added protections for faculty on auxiliary contracts and a 1.25% raise increase that went into effect on Sept. 20.
United Faculty of Florida is a collective bargaining agent for faculty members of colleges and universities in Florida. The chapter at UCF represents 1,660 faculty members, according to UFF's website.
The union represents faculty during collective bargaining sessions to negotiate salaries, privileges and university expectations in its contracts with the board. UFF at UCF ratified both the contract and specific articles to reopen for negotiation with a vote of 75-9 on Sept. 16. 
John Raible, associate instructional designer and UFF-UCF bargaining team member, said the board's original proposal included some "concerning language" with compulsory leave. 
Within Article 17.9C in the board's proposal, the university would have had the right to remove a faculty member from their position if they were "perceived to be unable to perform assigned duties" or had severely deteriorated performance and have the right to submit the member for medical evaluation that could lead to termination. 
Jennifer Sandoval, chief negotiator and vice president of UFF, said the UFF bargaining team is working to make sure the contract language "doesn't allow for any intentional or unintentional age discrimination because if unchecked, could potentially be a problem." 
"We want to mitigate the possibility for bias as much as possible and protect our faculty and quite frankly, protect the university from having a situation where people are engaging in age or ability discrimination," Sandoval said. "That is not only morally unacceptable, but it's actually legally unacceptable."
Sherry Andrews, UCF associate general counsel, associate provost and the board's bargaining team member, said the board is currently trying to find better ways to handle the process of compulsory leave and "revamp it to make it more fair, equitable, and compassionate."
Andrews also said in workplaces like academia where there is no mandatory retirement age, they will increasingly have to deal with people who are in cognitive decline.
"We never want to seem punitive," Andrews said. "We always want to act with as much compassion as we can." 
Faculty also received a 1.25% salary increase for the 2019-2020 academic year, according to the ratified contract and the Memorandum of Understanding in April 2019. A memorandum of understanding is an agreement between two parties or more. In Florida, public collective bargaining agreements can only be a maximum of three years. 
Raible said both parties had not come to an agreement on salaries, it was getting late in the bargaining process, so the board's bargaining team and the UFF bargaining team signed the memorandum. 
Andrews said it was rare for the board to sign off on a salary increase when the contract was not finished, but bargaining had gone on for some time. The rest of the university received a 2% raise the previous year while faculty waited to receive theirs because of the ongoing bargaining.
"I think the board and certainly the administration wanted to get some money in the hands of faculty," Andrews said.
The memorandum also granted a one-time bonus of $2,250 in May 2019 to bridge the gap between the next raise. 
Sandoval said including one-time bonuses instead of recurring raises that add to base salary is "problematic over time."
"It's just a temporary payment," Sandoval said. "It's just a band-aid on the larger issue of keeping up with the cost of living in Orlando in the state of Florida and competitive raises from the kinds of positions we try to recruit for."
UCF faculty were also eligible for an additional 1.25% salary increase, according to the memorandum. However, during the Board of Trustees meeting on Sept. 19, board member John Sprouls said the additional increase will not be given. 
The memorandum listed if the university did not receive new recurring funds, the additional increase would be void. Sprouls said the university actually received a cut in these recurring funds. 
Since the board denied the additional salary increase for 2019-2020, the bargaining teams will go back to negotiating on Oct. 8. The UFF bargaining team has requested budget documentation as to what led the board to this decision, according to UFF's website. 
Andrews said every one percent in salary increase for faculty costs the university more than an excess of a million dollars. 
The new contract adds protections for faculty with auxiliary contracts. These are generally non instructional faculty, whose salaries are funded by different types of revenue sources, such as grants rather than general university operating funds. Raible said UCF was previously not legally required to give auxiliary faculty notice of non-reappointment until a couple of days before their contract expires.
"If you don't know that you're not going to be reappointed, you don't know that you need to be on the job market, it can be incredibly detrimental to your earning potential and/or potentially a hire somewhere else," Sandoval said. 
Sandoval also said the academic hiring cycle differs from other fields where it's typical to post jobs in the fall and the hiring process can last until spring, notice of non-reappointment is a crucial notification for auxiliary faculty to look for jobs elsewhere. 
Now in Article 12, the university is legally required to give two to three months notice of non-reappointment to auxiliary faculty. 
Though the contract has been ratified, both parties have agreed to reopen and renegotiate two articles: Articles 17 and 18. Article 17 has parental leave but UFF at UCF would like to extend it to family leave. Sandoval said a more inclusive policy makes sense for faculty, where not every faculty member will be a parent during their time at UCF, but many may have to care for a sick parent or grandparent or children.  
Article 18 includes Invention and Works being reopened to address faculty's intellectual property rights. Raible said it's important to be proactive about protecting the time and investment faculty put into their intellectual property at the university since "content can easily be shared and stolen." 
"Having programs like family leave, a usable tuition benefit package without the threat of compulsory leave are very important to both recruitment and retaining," Raible said. "We are competing against other universities in the state."