Instead of putting on athletic clothing for a run, about 100 UCF students took off their clothes in the name of charity.
UCF's Sigma Nu fraternity held its Seventh Annual Undie Classic at UCF on Thursday, March 24.
The 1.5-mile run gave students the chance to strip down and have fun while benefiting the Goodwill Industries of Central Florida. Runners brought bags filled with clothes to donate before the race.
The course took students from Lake Claire, past the Reflecting Pond, through the Student Union, down Memory Mall and ended back at the lake. 
Sigma Nu added a few activities along the way to make the race more interactive:
•    Limbo station to bring island-themed fun
•    Water station to hydrate the runners
•    Basketball station for runners to test their hoop skills
•    Pool squirt gun station to cool the runners off
"We want to be able to interact with people because that's what makes the event fun," said Giovanni Ramos, a junior criminal justice major and Sigma Nu's philanthropy chair.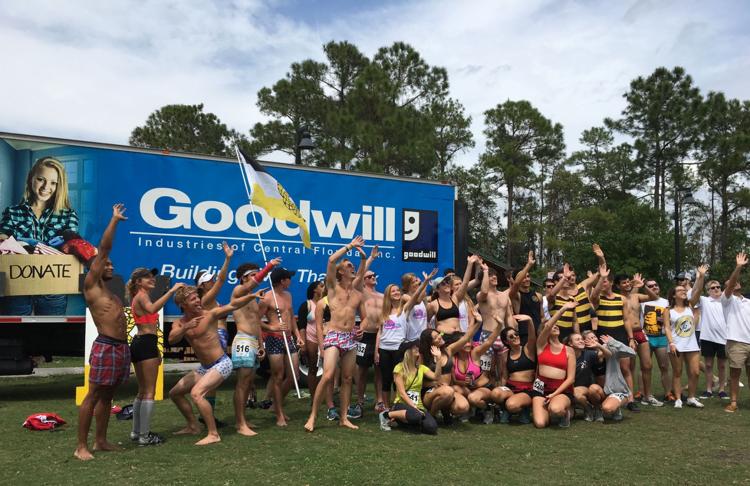 Tyler Copeland, a sophomore biology major, said the game areas were a pleasant surprise and he especially enjoyed the basketball station.
Victoria Gonzalez, director of Donor Services at the Goodwill Industries of Central Florida, can't thank the Knights enough for their donations.
"We're in need of textiles really badly right now, so this is great timing for this event," she said.
While the turnout was less than Ramos expected, participants still collected an estimated 1,300 pounds of clothes that were donated at the event, Gonzalez said.
Last year, about 2,800 pounds of clothes were donated, which is worth about $15,000, Ramos said.
"Overall, it was just a really fun run, and I'm glad I could come out," Copeland said.
Story originally published on March 24, 2016.