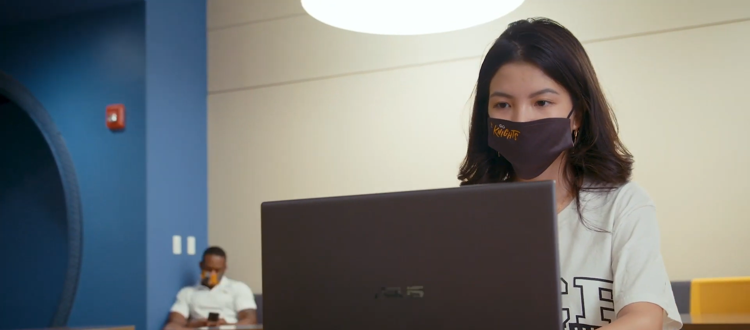 On Oct. 12, UCF sent an email regarding concern amid a significant increase in COVID-19 cases on campus.
According to the UCF campus dashboard, in the week ending Oct. 3 there were 30 student positive tests, and recently, with the week ending Oct. 10, it jumped to 152 student positive tests. 
Of those positive tests at the university, the campus dashboard shows five were positive self-reported cases by UCF faculty and staff this past week.
Overall, the dashboard showcases there are 716 student positive tests, 408 of those being self-reported and 141 self-reported faculty and staff positive tests.
"To prevent the further spread of COVID-19, with only six weeks left until the Thanksgiving break, we must remain vigilant in our precautions wherever we go," said Dr. Michael Deichen, associate vice president of UCF Student Health Services.  
In the email, Deichen said most new cases were traced to eating and drinking in indoor social settings such as bars, restaurants and any social gatherings without face coverings. 
"As more normal activity resumes and businesses reopen, we must not let our guards down," Deichen said. "We must continue to wear face coverings, wash our hands, maintain physical distancing and avoid large gatherings, especially those where these other precautions are not followed."
According to Florida's COVID-19 Data and Surveillance dashboard, there are currently 41,763 positive residents in Orange County. 1,443 of those are hospitalizations, 516 deaths and 456 positive non-residents.
Deichen said, "We are all in this together, and it is going to take each of us doing our part to keep UCF a healthy, safer environment for everyone. Armor up, Knights!"
Contact the UCF COVID Line 407-823-2509, to report positive tests or to request testing. They are available weekly from 8 a.m. to 8 p.m.