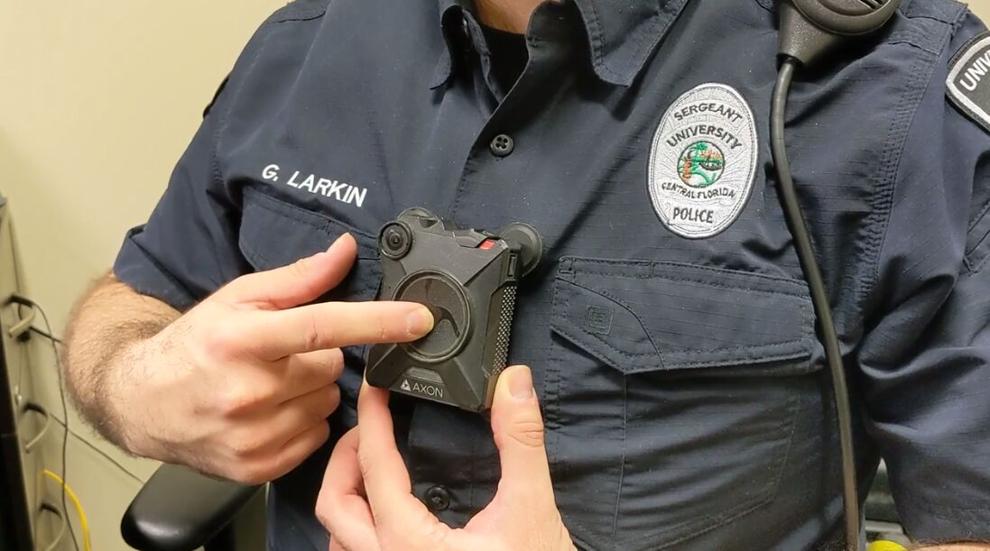 The UCF Police Department now has the ability to pull up a livestream straight from an officer's body camera to get information from a scene.
"The new cameras that we have, they're the same models that we've had for the last couple years," UCFPD Sgt. Greg Larkin said. "What we did was turned on some features that we didn't previously have."
Toward the end of October and the beginning of November, UCFPD worked to upgrade its body cameras to make sure that it's doing everything it can to make UCF safer. The new features include everything from tracking to new alerts.
"GPS tracking so we can know where the cameras are," Larkin said. "We now have the ability to get warnings and alerts, so we know when an officer draws their firearm, draws their taser, or even turns off the safety on their taser."
This updated technology is especially important on a college campus because there are numerous students in one place, and UCFPD can now learn about a situation faster. Larkin gave an example that helps explain just how important these upgrades are.
"Say we have a call about a missing or endangered juvenile somewhere, and the officers on scene getting descriptions, last seen, last known whereabouts, what they're wearing, we don't even have to wait for an officer to call that in and report it," Larkin said. "We have a team of officers ready to look for it, and we can relay that immediately."
Larkin said this immediate relay of information would help to warn the whole UCF campus community without any kind of delay.
UCF criminal justice professor Raymond Surette gave his thoughts on the new body camera upgrades.
"They're a logical extension of the body camera technology and actually a positive improvement in my opinion. Prior body cameras allowed only for a post event/encounter review," Surette said. "If something goes bad, all anyone can do is a postmortem assessment, and any sort of preventive action isn't helped.
"If the officers are going to wear body cameras it makes sense to have live links to them."
With this upgraded technology comes keeping up with updates. According UCFPD, part of its contract on these new cameras comes with updates that will happen every two and a half years as technology evolves, which keeps the department a step ahead in getting the new products as they come out.
"We bill ourselves as very innovative, and these features and these cameras are innovative," Larkin said.
Surette doesn't think that making these updates every two and a half years will be difficult but had some thoughts on potential cost.
"Two to three years sounds about right for the (shelf life) of body cameras," Surette said. "Once a capability is adopted, the supporting technology is seldom abandoned, so newer cameras that are more reliable shouldn't be an issue, but a substantial cost increase, either in new cameras, maintenance, or video storage costs, can be a factor."
Although there are concerns about cost, UCFPD has contracts for these cameras and a new vendor partnership to ensure that these updates are made properly.
Larkin said the biggest goal is always to keep the UCF community safe, along with the police officers who are a part of the UCFPD and these new upgraded body cameras help to enhance safety all around.