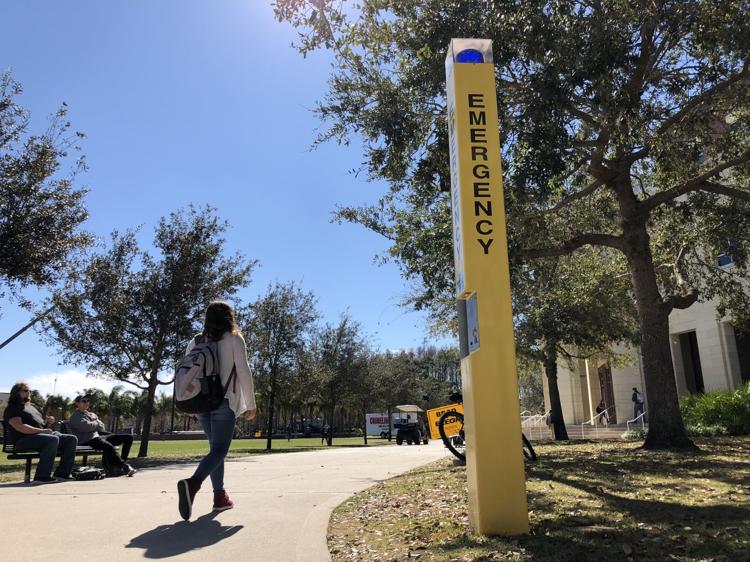 Tall, fluorescent yellow poles topped with blue flashing lights and labeled with the word "emergency" are placed strategically in 245 locations throughout UCF's main campus.
Once a student or staff member presses the red button attached to the pole, the emergency phone system connects them immediately to a UCF Police Department dispatcher and UCFPD will know their exact location.
The blue light emergency phones have been a beacon of safety for most universities across America, but some argue the phones are not worth the cost with a new mobile app in the works.
"I have never used the blue light emergency phones on campus," said Elena Berisha, junior computer science major. "I would be comfortable using them, although I would also use my phone first."
In an email, UCFPD's Public Information Officer Amanda Sellers wrote that UCFPD plans to increase the number of blue light emergency phones to 300 by 2020 despite the number of calls on the phones decreasing dramatically last year.
The university currently spends $147,000 annually to cover maintenance, nightly software updates and repairs for all 245 active phones, Sellers wrote in an email.
UCFPD received 8,250 calls in 2017 and 1,469 calls in 2018 — a decrease of 82.2 percent within the year, Sellers said in an email.
Sellers wrote that UCFPD does not have an exact number for how many of the emergency calls are maintenance tests, though "anecdotally, the vast majority of these calls are tests."
UCF's emergency blue light phones are managed through UCF Information Technology and Resources. The phones receive maintenance repairs as required and nightly tests are performed through a software program to ensure everything is updated.
"Typically, new emergency blue light phones are added to compliment new construction," Sellers said.
According to a Campus Law Enforcement report from the U.S. Department of Justice, 94 percent of public and private universities in America used blue light emergency phones to promote safety on campus between 2011 and 2012.
The University of Georgia felt that the blue light emergency phones across their campus were not worth the cost.
According to UGA's website, UGA was one of the first universities to install blue light emergency phones in 1988. Through technological advances in cell phones, UGA wrote on their website that overall, the school felt that students were more likely to use their cell phones instead of emergency phones. UGA referenced a Pew Research Center study that found 100 percent of Americans between the ages of 18 to 29 own a cellphone in 2018.
"The University of Georgia was one of the first campuses across the nation to install emergency call boxes," wrote Greg Trevor, UGA executive director of media communication, in an email. "But, data show that these call boxes had become obsolete. Over the last eight years that the system was in use on the campus, police received no emergency calls through the boxes."
Like many other universities, UGA turned to an emergency app that students could get for free called LiveSafe. The app acts as a blue light emergency phone, but with the added convenience of being mobile.
UCF Student Government Association considered the possibility of introducing the same accessible app for students in early 2018. They are trying to get the app up and running but have a long process ahead, former SGA Student Body Vice President Jad Shalhoub wrote in an email.
"We have agreed collectively to purchase this service, and we are waiting on process steps including contractual review through general counsel, followed by making the payment, and then finally the technical portion of integrating the app," Shalhoub wrote. "Originally, we planned to roll this out directly after spring break, but now it is looking like it will come into fruition mid-April."
Alexander Harris, junior film major, said that even though he hasn't used an emergency blue light phone before, he wants them to stay. 
"I've never thought to because I'm lucky enough to have never been in an emergency while on campus," Harris said. "I do think that the emergency phones are useful because like security cameras, they're a reminder to predators that they could get caught."