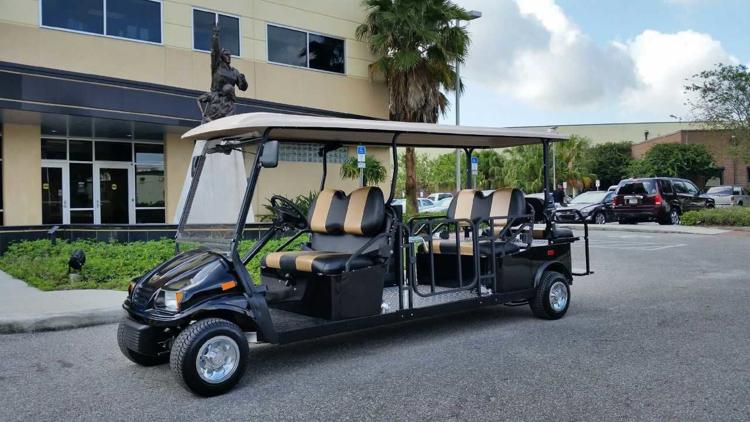 The UCF Police Department will introduce a revamped safe escort service called Knight Ride later this fall.
Because of the growing number of students on UCF's campus, UCFPD proposed the improved service Knight Ride, said Ryan Klimas, UCF Student Government Association's director of Rights. Klimas has worked closely with UCFPD as the voice of SGA throughout the Knight Ride project, which will ultimately replace SEPS, UCFPD's existing Safe Escort Patrol Service. 
SEPS is a service that gives anyone on campus a ride via a golf cart to any on-campus location from 7 p.m. to 1 a.m. every day while classes are in session, said Klimas, whose SGA position represents the student body's safety, ease of access, transportation and more.
"[UCFPD] wanted to increase the number of ways students could ride because we have so many students on campus so they wanted to make sure we're able to account for everybody," Klimas said. "We liked the logistics of the program [SEPS] as it stood, but as our campus grew we wanted to make sure that all of our programs are growing with it."
SEPS' golf cart will be replaced by a van, Klimas said. Though Klimas said the number of people the van can hold is not determined. Instead of riders calling the SEPS phone number to dispatch a golf cart to their location, Knight Ride will follow a route around campus with specific stops, UCFPD spokeswoman Courtney Gilmartin said. 
UCFPD is hoping to have Knight Ride ready for operation sometime in early October, Gilmartin said. 
The SEPS phone number is the only aspect of SEPS that will remain once Knight Ride begins operation. The phone number still allows people to request a UCFPD walking escort between the same hours of operation as Knight Ride, Gilmartin said. 
"The van will circle campus," Gilmartin said. "It'll do loops all night long and then if people have accessibility challenges or they're walking the inner core [of campus] where there's not a Knight Ride stop, they can still utilize the SEPS phone number."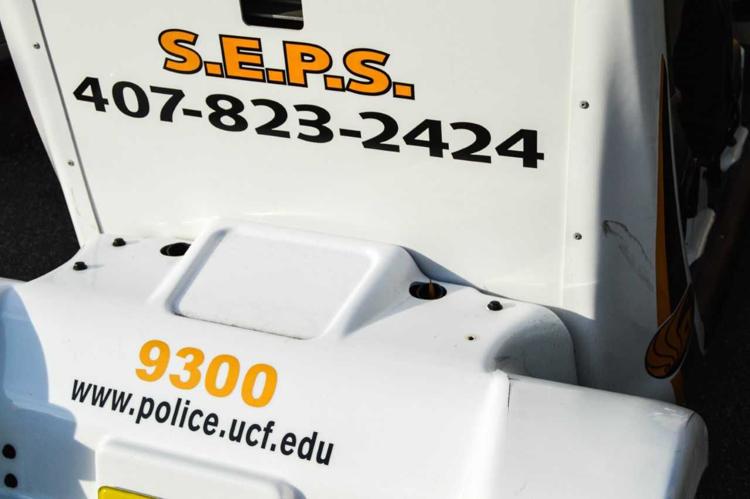 Gilmartin said UCFPD will make sure the department staffs enough officers during the evening in order to make walking escort requests a fast and easy-to-use process.
The only time SEPS isn't available is during holiday breaks, between semesters or on UCF football game days, UCFPD spokeswoman Amanda Sellers said. The same operation schedule will hold for Knight Ride.
Knight Ride will follow a route similar to the Pegasus Express on-campus shuttle, which has 11 stops on campus, Gilmartin said. But she also said all of the stops have yet to be officially selected and confirmed. Gilmartin said not to expect the route to follow the Pegasus Express exactly.
As for the confirmed stops, Gilmartin said Knight Ride will pick up and drop off near Orange County Fire Station 65 on North Orion Boulevard and McCulloch Road across from the Northview apartments. Gilmartin also said Knight Ride will make stops at Central Florida Boulevard across from The Marquee apartments.
SGA donated about $30,000 in total for the Knight Ride initiative so far, Klimas said. About $28,000 from SGA's executive branch budget was used for the van, and another $2,000 was for other unspecified financial costs. Specific details about the hiring and selection process of the drivers were not disclosed, but Sellers said the drivers will be civilian student volunteers who are vetted by UCFPD.
SEPS has been used on campus for the past 20 years and provided rides for about 12,246 students, faculty, staff and campus visitors in 2017, Gilmartin said.
Rachel Slater, a UCF senior nursing major, said she's always been a frequent user of SEPS, especially when she used to live on campus. But she said the golf cart SEPS uses could only hold a limited number of people, and the service was sometimes unavailable during bad weather. Slater said she thinks Knight Ride will solve those issues.
"It's good because it'll allow more people to use it and because [SEPS] always wouldn't drive people when it was raining sometimes," Slater said. 
Although UCFPD's goal is to introduce Knight Ride sometime this fall, Gilmartin said the official release date is not solidified as finishing touches are still being completed.
One of the tasks still at hand are creating signage for people to identify where the Knight Ride stops are located, Gilmartin said. 
Darienne Breininger, a UCF junior aerospace engineering major, said she often uses SEPS to avoid long and unsafe walks to her car late at night.
However, Breininger said Knight Ride could rule out the main reason she uses the current escort service. If the designated stops for Knight Ride aren't near her location at the time, she would still have plenty of walking to do, she said. 
"The whole point of using SEPS for me was that I didn't have to walk anywhere that I might've felt uncomfortable," Breininger said. "I would still have to walk somewhere alone and by myself to get to the location where the bus stop picks up. And then I would still have to walk to my car after they drop me off." 
When Knight Ride does unveil, it's going to be a safe and trustworthy upgrade to a campus that's continuing to grow, Klimas said reassuringly. 
"We want to make sure that in whatever way we need to, we can always accommodate for all the students and make sure that we always have channels for safe travel around campus no matter what amount of students we have here," Klimas said. "I think we're definitely going to do our best to advertise the fact that these are people [the drivers] you can trust, these are people that are here to help you."