The UCF Police Department went through training on Wednesday that focused on reducing implicit bias among officers.
"When someone walks in a room, that 'blink response' takes place," UCF Police Chief Carl Metzger said. "[People] make a judgement right away based on [a person's] appearance. This class is designed for us to recognize the fact that we all have that — we're all wired a certain way and need to overcome it."
Implicit bias, or unconscious bias, is the unconscious perceptions, attitudes and stereotypes an individual attributes to a particular person or group of people based on race, class or gender, according to a 2015 Implicit Bias Review from Ohio State University's Kirwan Institute for the Study of Race and Ethnicity.
The training is a combination of exercises, videos and research developed by Fair & Impartial Policing, a company that instructs and delivers comprehensive programs on reducing bias among police officers. Lorie Fridell, an associate professor in the department of criminology at the University of South Florida, developed the curriculum Fair & Impartial Policing uses to train officers, according to Fair & Impartial Policing's website.
Metzger stressed that implicit bias stems from more than just race.
"It's all about providing fair and impartial policing, regardless of someone's background, their culture, their race, their religion, their sexual orientation," Metzger said. "We should be providing the same level of service to everyone, period. And that's what this class is really all about."
Metzger said he saw a Fair & Impartial Policing presentation five years ago at an annual Florida Police Chiefs Association conference. He said he was then inspired to bring Fair & Impartial Policing to the Orlando Police Department, where he worked at the time.
The training was brought to UCFPD once before when Richard Beary was police chief. But Metzger, who succeeded Beary, said he wanted to bring Fair & Impartial Policing back to UCFPD for new officers who missed out on the first training opportunity. 
The production and research costs of the curriculum Fridell developed were funded by the U.S. Department of Justice, according to the Fair & Impartial Policing's website.
The training sessions are led by Mary Hoerig, a national instructor for Fair & Impartial Policing. Hoerig said she has traveled across the country teaching officers how to reduce and manage their unconscious biases for the past five years. 
Metzger said he wanted to find a way to give all UCFPD officers a refresher on the course. Through Fair & Impartial Policing, Hoerig hosts a new type of bias-battling class for previously trained UCFPD officers. Due to the size of UCFPD's sector, there will be two sessions of the same class for newcomers, along with a refresher class on Thursday. 
"We're putting on two full-blown classes for the people who've never experienced it, never had it and then we're not resting on our laurels — for those of us who have had it, like myself, this is a brand-new program, they're calling it a booster class, a refresher," Metzger said. 
The booster class uses research, videos and practices that untrained officers might not necessarily receive in the regular class, Metzger said. 
Metzger and Hoerig didn't comment on what specific types of research, videos and practices Fair & Impartial Policing will introduce in the booster class. The exact hours and prices of the training were not specified either.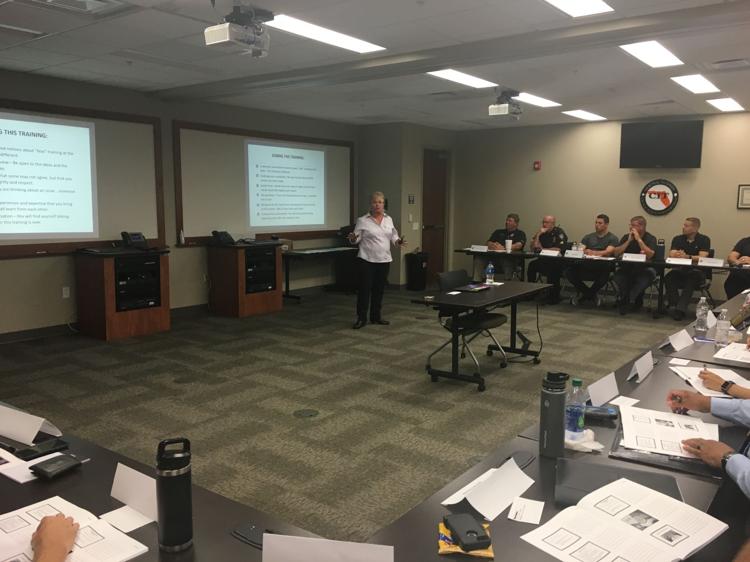 Kenneth Adams, professor of criminal justice at UCF, said he believes introducing this course to UCFPD moves Metzger to the forefront of combating implicit bias within the U.S. criminal justice system.
"If you want to get people to change their behavior, you need more than a one-shot effort," Adams said. "When push comes to shove, dialogue is the only way we have recourse."
The end goal for instructors who teach educational training is to help officers recognize and comprehend the science behind their unconscious biases, Hoerig said. Ideally, officers who've gone through the training are able to activate controlled responses in scenarios that might normally cause an officer to act on implicit bias, she said.
Metzger said he's guilty of his own form of unconscious bias. He said someone baring neck and face tattoos may cause him to jump to judgment.
"That judgement may be completely inaccurate," Metzger said. "They may be just the nicest person in the world. They may be just expressing their individuality, and they're certainly entitled to that and so that's something I need to work on."
But Metzger said when Fair & Impartial Policing arrived at UCF on Wednesday, it reminded him to continue improving his controlled reactions. 
"I didn't ever know I had that [bias] until I started thinking about it, knowing this class was coming up," Metzger said.
Hoerig said she is gathering statistics to prove the success of the training. However, it's still difficult to measure something that's based on conversation, mindsets and unconscious thoughts, she said.
"It's easy to measure procedural justice because you can ask the community if they feel they're being treated well," Hoerig said. "But implicit bias is often below the conscious awareness."
Sgt. Adam Casebolt, UCFPD's training supervisor, agreed that implicit bias is hard to measure due to its unconscious nature.
"I may not recognize what [my biases] are," Casebolt said. "As a young officer you get a 'television' mentality of what you might have seen in the world. And you have to be cautious and careful you're looking at it for what it is, not what someone else's perspective is."
Now that he's re-introduced implicit bias training at UCF, Metzger said he believes UCFPD is one step closer to achieving its goal in addressing unfair policing and being a role model for campus police departments across the country.
"We want to continue this conversation," Metzger said. "We want to continue this training. This is something that's not just going to be one and done. It's going to be a continuous process because we want to continue to strive to be the best, the most progressive, innovative and professional university police department in the country and this is a part of that process."