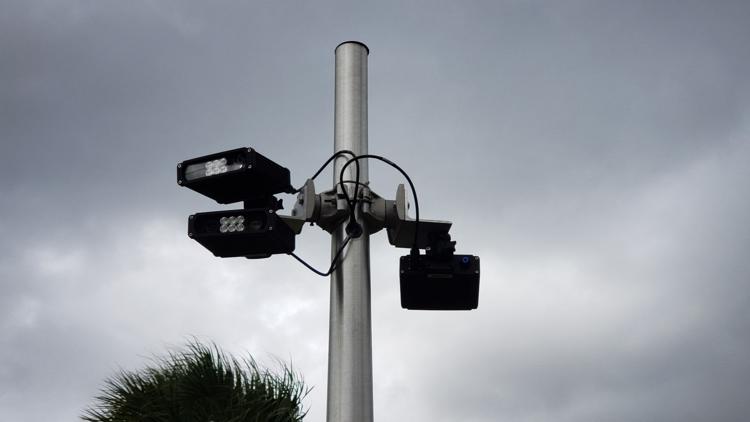 UCFPD has spent over $400,000 since 2018 on new equipment for transparency and safety, according to UCFPD. 
The equipment includes license plate readers, body cameras and over 3,200 cameras located around campus. Major Scott Freeman said that this is all a part of Chief Carl Metzger's goal for UCF's main campus.
"It's Chief Metzger's vision to be the most progressive, professional and innovative campus law enforcement agency in the country," Freeman said.
The body cameras, acquired through a partnership with Axon Technologies, have a special feature that allows them to automatically turn on in "high risk situations." Applicable situations include when an officer turns on their blue lights, removes their firearm from its holster or activates their tasers, Freeman said.
"They have to act so quickly to take police action that [officers] forget to turn on their body cameras," Freeman said. "The Chief wanted to eliminate this human error."
Sophomore biomedical sciences major Aniya Barclay said she sees this as a positive solution to a complex problem.
"In the long run, [the cameras] could be used to help stop unnecessary violence and would serve to allow more clarity for police and civilian incidents," Barclay said.
Freeman said the license plate readers, or LPR's, are placed around the campus at every main entrance and exit. These devices scan the license plates of cars and forward that information to a communication center at UCFPD and mobile dispatch terminals within police cruisers.
Furthermore, if there is a person of interest, such as an individual who is trespassing on campus, the officers can enter this information into the system to issue an alert when they enter campus, Freeman said
Sophomore digital design major Eric Osiro is not entirely sold on the privacy aspect.
"How do I know the information is being safely stored?" Osiro said. "What qualifications are needed to see the information?"
The software can determine what state the vehicle is from and if it is stolen. The information is then sent to the UCFPD communication center and an alert is sent out to dispatch officers. Freeman said that students can rest assured that their private information is secured.
"There are additional steps that need to be taken to see any personal information," Freeman said. "Personal information that is associated with your driver's license doesn't just pop up on the screen."
The cameras are used and operated by the department of security at UCF. The feeds are monitored 24/7 at the Emergency Operating Center next to the UCFPD building.
Each officer goes through training before using the new technology out in the field. Ther training includes how to log in, how the technology works and what an alert looks like from the system, Freeman said.
"It's exactly like a Webcourse for the new systems," Freeman said.
These technologies have been pushed out over the past four years, but there has been an extra focus on them since Chief Metzger was sworn into his position in Aug. 2018. Freeman said this initiative was pushed to help implement a new age of student safety.
"At the end of the day, to keep students safe, we want as much information as possible," Freeman said. "This new technology helps us make that a reality."