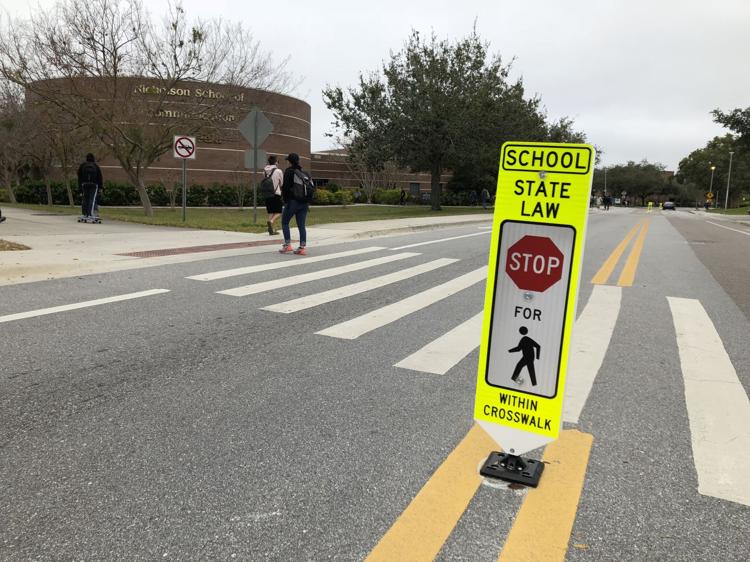 The UCF Police Department is now doubling down on its pedestrian safety project by placing officers at busy crosswalks around campus, according to a tweet sent out by the department on Friday. 
Starting today, UCFPD officers will be at crosswalks to enforce and educate the campus community about pedestrian safety laws.We want you to be safe as you walk and drive around campus. Please pay attention to where you're going and follow the rules of the road. pic.twitter.com/r0a0Mry9E4

— UCF Police Dept. (@UCFPolice) February 1, 2019
Last week, UCF and Orange County officials approved project funds to help make campus safer for pedestrians, following several pedestrian crashes that occurred around UCF within the past month. 
UCFPD has already placed neon signage in some campus crosswalks to remind drivers that pedestrians always have the right of way.
The first phase of the project is expected to include more signage; additional street lighting; and improvements to crosswalks around campus. The second and final phase will include the construction of new sidewalks in the area; improvements to crosswalks on minor roads around campus; and additional landscaping to keep pedestrians walking along the roadway a safe distance from traffic. 
An official start date for phase one of the project has yet to be announced, but UCFPD taking more direct action in order to keep pedestrians and drivers on campus safe. 
"We should all know pedestrian safety laws before we hit the streets," UCF Police Chief Carl Metzger said in a video released by UCFPD last week. "You must yield to pedestrians in crosswalks."
Pedestrian safety is an issue that spans all of Orlando. It was ranked the least safe city for pedestrians in the 2019 "Dangerous By Design" report from Smart Growth America and the National Complete Streets Coalition. In addition, 38 pedestrian crashes have occurred in Orange County alone since the beginning of the year. Three of those crashes resulted in pedestrian fatalities.