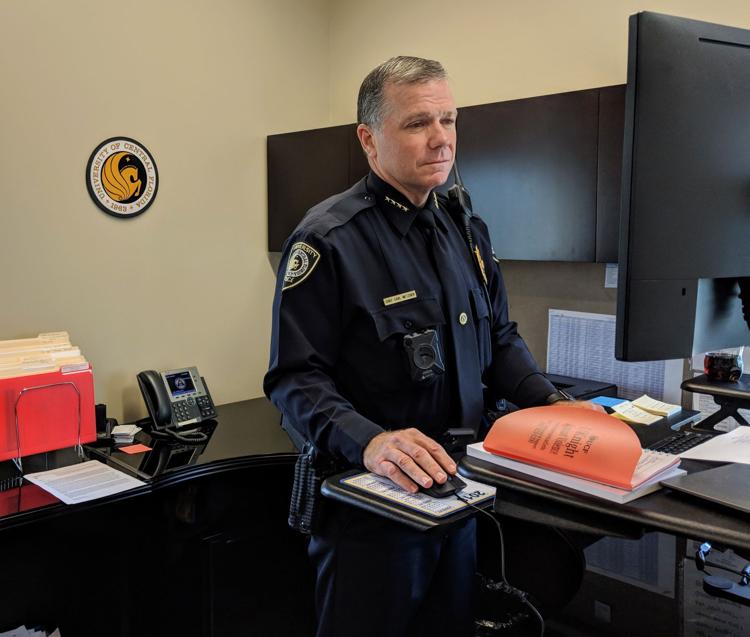 While finding new ways to improve UCF Police Department operations, UCF's new police chief said he wanted to make the use of body cameras more efficient.
UCFPD Chief Carl Metzger said he implemented a policy that would utilize new technology for body cameras that automatically turns on an officer's body camera once an officer unholsters their gun. 
Metzger, who was officially sworn in as UCFPD chief on Aug. 16, said he hopes the policy will improve transparency and maintain accountability between UCFPD and the UCF community. 
Axon, the company that supplies UCFPD's body camera technology, claims its devices will lower the number of false complaints and use of force, according to a company information sheet.
Metzger said the Axon cameras begin recording footage in a chain reaction, and they aren't only activated by unholstering a gun. 
"If [officers] draw a sidearm, if they turn on a TASER, if they turn on their blue [emergency] lights — then every officer's camera within a 30-foot radius would automatically start recording," Metzger said. "Not just the one officer, every officer. So we get every angle of an incident, because sometimes one angle's not enough."
The new technology started to roll out in early August and all officers are now using the updated system, UCFPD spokeswoman Courtney Gilmartin said in an Oct. 3 email. 
Gilmartin said the new technology automatically activates an officer's body camera if they turn on their vehicle's blue lights, deploy their TASER, remove their rifle from its vehicle rack and pull their firearm.
Metzger, who worked for the Orlando Police Department for 25 years before coming to UCF, said body cameras capture critical footage of an officer doing what he or she is supposed to do. 
"As a deputy chief [at the Orlando Police Department] I wore a body camera, and so we thought we were in good shape," Metzger said. "Until several high-profile incidents took place around our country." 
This summer, OPD received criticism regarding the battery life on police officers' body-worn cameras not lasting an officers entire shift. 
The Motorola Body Cams in use by OPD were selected after an open bid and testing process, OPD spokeswoman Michelle Guido said in a Sept. 19 email. She said the initial batteries lasted between four and six hours and because a typical patrol shift is 12 hours, officers were provided multiple batteries during each shift.
"We have rolled out and replaced over 400 cameras at this point. We are still using the Motorola Si500 but upgraded to the 1.5 model from the 1.0 model," Guido said. "The efficiency in this model when coupled with the ultra high capacity battery, gives us approximately 10 hours of battery life. Each officer is issued 2 ultra high capacity batteries."
Metzger said he also considers times when officers may be engaged in serious situations, adding that "they shouldn't have to think about the body camera" when lives are potentially at risk.
Rachel Mattie, an Orlando criminal defense attorney, said she's dealt with cases outside of UCF where body camera footage has provided the evidence necessary to prove her clients' defense.
Mattie said she has handled cases where officer's report did not match up to what was seen on the body camera footage. Mattie said sometimes clients read through their official police reports to find what's been said by law enforcement was "exaggerated." 
Mattie said that when she takes on a client's case, the first thing she requests from law enforcement is to provide the body camera video so it can be submitted as evidence. She said the footage from the camera, typically worn on an officer's chest, can make or break a case.
"In response to watching [a client's body camera] video, the judge [in that case] ruled that there was no probable cause to arrest [my client], Mattie said. "Without that body camera video, it would be very difficult to ask a judge to find that cop was being untrue in his police report."
Florida, a state with expansive open public record laws, creates a standard when it comes to accessing an officer's body camera footage, according to the National Conference of State Legislatures.
As UCFPD's new leader, Metzger said in July that he is focused on making the UCFPD one of the most progressive university departments in the country.
"My vision for the UCF Police Department is to establish the agency as the most progressive, innovative and professional university police department in the country," Metzger said. "I think we're getting close."