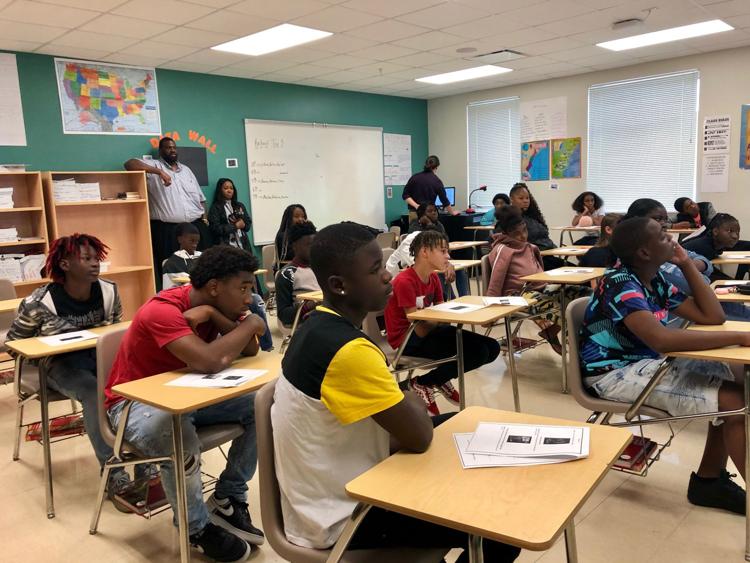 With the erection of a new UCF campus at the heart of some of Orlando's poorest communities, leaders and volunteers are stepping up to bridge a connection for Parramore youth.
Student veterans and historians from the UCF Veteran's Legacy Program shared the stories of African American World War I soldiers with students at the OCPS Academic Center for Excellence on Wednesday morning.
The presentation is part of a U.S. Department of Veterans Affairs-funded initiative that recognizes U.S. veterans buried at national cemeteries. The VLP program does research to develop high-tech solutions to relate the community to the memory of their local veterans.
"One tiny piece of the large project is the student lesson plans for K-12 classrooms," said Amelia Lyons, associate professor at UCF. "That way, what we do at the facility doesn't stay all in UCF but goes out to the community."
The presentation was shared with the eighth grade class at ACE and their Kindergarten class.
For the eighth grade portion, the speakers used interactive exercises to engage students, such as historical photos of the African American soldiers at the war and displaying a map of present-day Parramore. The map was marked with red dots to indicate how many African American soldiers had ties to the local community.
"What we were trying to do was engage the community, our new neighbors in Parramore, with some of our research," said Barbara Gannon, associate professor of history at UCF. "We just hope we can affect students by saying 'history isn't something far away. It's right here.'"
Simultaneously downstairs, the kindergarteners jumped up and down and yelled with excitement at the sight of the military uniforms being presented to them, which they even asked to smell.
Wendy Ivory, the ACE principal and UCF alumna, said she was happy to see her alma mater reaching out to her students in the context of their potential to obtain higher education or join the military.  
"As young African American students in this community, what was shared means a lot," Ivory said.
Gannon emphasized the struggles of African American soldiers 100 years ago to the eighth grade class, telling them that the soldiers of Parramore left them a legacy.
Fourteen-year-old Ethan Timothee shared with the class after the presentation that he wanted to become a U.S. Marine one day to become part of that legacy as well.
"I want to join the Marines so I can get paid a great value for my work, for my family, and for the legacy — so I can pass that on," Timothee said.
Correction: A previous version of this story stated that Gannon was an assistant professor at UCF, but has been updated to reflect that she is actually an associate professor.