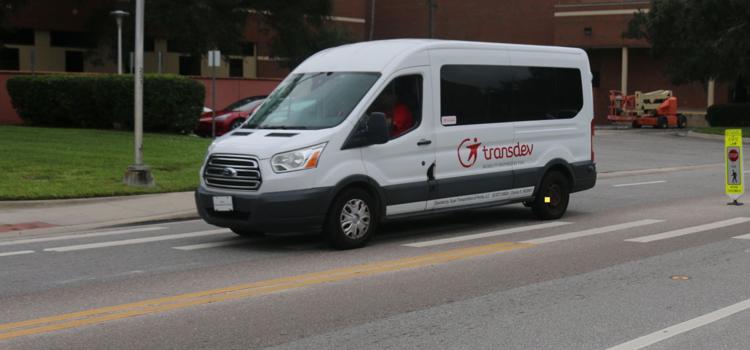 UCF shuttles will be changing transportation companies from Transdev to Groome Transportation in July 2020, which will save the university over $23 million dollars while increasing the number of shuttles.
In the new contract, Groome Transportation will provide 61 new buses with 45 Blue Bird propane-powered, 8 El Dorado biodiesel-powered and 8 Starcraft propane-powered.
Groome will also provide 10 more buses to current routes than Transdev has been providing in 2019, according to notes from the Board of Trustees' Finance and Facilities Committee's July meeting. The routes and times of the stops will not change.
Groome received a 10-year contract with UCF after offering their services and producing higher than average driver wages, while adding more buses than Transdev for only $86 million, as opposed to Transdev's offer of over $109 million.
"If we had maintained the same contractor, it would have cost $23 million more," said Krishna Singh, director of Parking and Transportation Services at UCF.
The new buses will begin rolling out during spring break 2020 and will be fully transitioned by July of 2020, Singh said.
With several meetings between both Transdev and Groome, UCF will decide the best method of smooth transition between the two companies in the coming weeks.
Singh said "new buses, no increase in student transportation fees to support the initiative, no additional permit cost, and more buses to UCF" are some of the student benefits of this switch.
UCF shuttles were boarded an average of 10,000 times a day before the UCF Downtown campus opened in August, according to the July meeting notes.
"I try to use the [shuttle tracking] app, but it doesn't always work so I usually just wait until one comes," said Kassidy Cantwell, a sophomore biomedical sciences major who lives in College Station. "Hopefully it's a good change. I think I'm excited for it."
Gabriel Pacheco, sophomore international and global studies major, said his current commute to campus is 30 minutes by car and an hour by shuttle.
"In my case, I see a lot of route nine and route five buses because they are close to campus, but in Lake Nona, there is only one shuttle and it takes one hour to go and one hour to come back, so if you miss the bus you're going to wait for a long, long time," Pacheco said. "So I think with more buses we will probably have a better service, and we will have more reasonable hours and they will respect our time more."
Most students believe more buses will decrease wait times for shuttles and improve the student experience at UCF. However, some who rely on buses closer to campus believe differently.
"I think that the buses come pretty often if they are on schedule," Cantwell said. "I think [more buses] would put more of a dent on the ecological footprint."
Groome will provide 53 propane-fueled vehicles as part of the contract, which are better at reducing greenhouse gas emissions than diesel fuel by about 15 percent, according to the July meeting notes. This initiative in the contract aligns with UCF's sustainability goal to become carbon neutral by 2050.
The over $8 million per year that the new Groome contract is costing UCF is part of UCF's auxiliary enterprise expenditures, which include transportation and other services that are self-supported through activity and service fees charged to students' tuition.
From 2018 to 2019, UCF spent over $208 million for these services, according to the State University System of Florida Operating Budget summary.
Groome has also agreed to offer students supervisory internship opportunities, driving positions, bus washing jobs and scholarships.
"Groome will provide $5,000 per year in contract years one through five and $10,000 per year in contract years six through 10 to fund scholarships and provide financial assistance to students pursuing a transportation-related degree," the July meeting notes stated.
The split from Transdev will be made official in July of 2020, ending their only 5-year run with UCF.
"Our business relationship has always been mutually beneficial,"UCF Communications Coordinator Anthony Moore said, "and we wish their organization well in all their future endeavors."