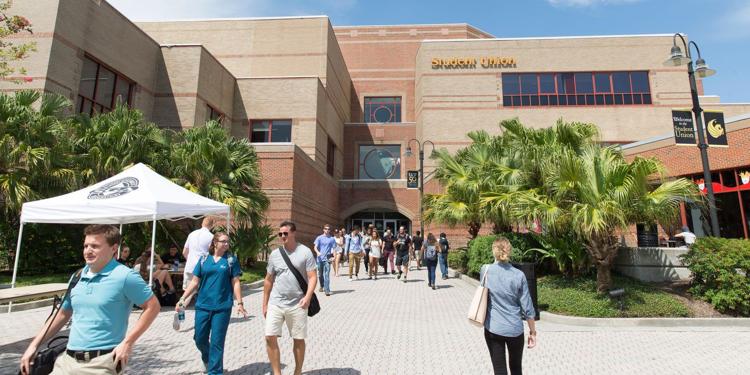 Seventeen-year-old Kerrick Roberts had a lot of time on his hands during the summer quarantine.
Eager for a sense of financial independence, Roberts decided to create a small business, Buy Cell Tech, which centered on Roberts buying and reselling used electronics. Over the course of four months, Roberts reached out to approximately 200 people and made about 100 sales, generating a profit of around $1,500.
As an aspiring entrepreneur and incoming UCF freshman, Roberts isn't convinced a college degree is worth the cost.
"The value of a degree is becoming less and less worth the money you have to upfront invest for it," Roberts said.
Roberts is not alone in his contemplation of college enrollment during the coronavirus pandemic. Although fall enrollment has increased 4.9% within the last two years, swelling to nearly 72,000 students according to UCF, the rate of admissions applications is currently down 22% from the previous academic year.
In the midst of this decline, current UCF students increasingly find themselves looking toward gap semesters as an alternative during the pandemic.
Gordon Chavis, associate vice president of Student Development and Enrollment Services, said the recent influx of newly-enrolled students for the fall semester is mainly the result of UCF accepting more local students, who Chavis said expressed concerns about enrolling at universities far from home during the pandemic.
"Many were planning to go elsewhere but told us they changed their minds and wanted to stay closer to home and attend UCF," Chavis said. "The president and board chair are always concerned about responding to the concerns expressed by our local community, and we did so by increasing offers of admission for local students."
Roberts, a Tallahassee native, said his decision to remain in Florida was mainly a financial one. He said as a state resident, he has access to unique financial aid opportunities, such as the Florida Bright Futures Scholarship Program.
Roberts' view on the value of a higher-education degree is far from outside the norm, according to a survey conducted by Third Way, a public policy think tank based in Washington, D.C. The survey found 70% of high school seniors feel that "a higher education is not worth the cost to students anymore."
Tamara Hiler, director of education at Third Way, said the shift to online learning many high school seniors have undergone as a result of the pandemic can frustrate these students and lead them to reevaluate the cost of college enrollment, in light of remote-instruction classes.
"High school seniors who feel like they have that clean break between high school and starting something new are going to think twice or are just going to be thinking more about what options they have, as to whether or not they're going to jump headfirst into a college experience that is going to look very different than probably what they've pictured their whole lives," Hiler said.
Casey Near serves as executive director of counseling at Collegewise, a college admissions counseling organization that offers assistance to families and students throughout the admissions process. Near said the availability of standardized testing during the pandemic may play a factor in the number of admissions applications universities receive.
"Most test dates and sites have been canceled, oftentimes last minute, which adds a lot of stress and when colleges held out until the eleventh hour to make decisions around their testing policies, then it was more likely those students are not gonna apply to those schools," Near said.
The State University System of Florida (SUS) still requires universities under its jurisdiction to collect standardized test scores from their applicants. However, Renee Fargason, director of strategic communications and advocacy at the Florida Board of Governors, said in an email the board has encouraged these universities to be flexible in their deadlines for the submission of these scores. The Florida Board of Governors is the administrative body in charge of managing SUS.
Roberts said in his own experience, the process of completing these tests was initially interrupted by the pandemic.
"I was intending on taking a few tests during this past summer, but because of the pandemic I had to wait a couple extra weeks," Roberts said.
Chavis said UCF is "closely monitoring the availability of this testing" and will continue to focus on supporting applicants by keeping its application deadlines flexible.
With regard to the impact of standardized testing on future enrollment at UCF, Chavis said although first-time-in-college (FTIC) student applications for next fall are lagging in comparison with last fall, the application window — which closes May 1 — is still quite large, which he said leaves hope for an increase in the number of applicants.
"The data on applications for summer and fall 2021 remain fluid," Chavis said. "We know COVID-19 is affecting our students and their families as they make decisions about the future, and students still have many more months to make decisions about next fall."
Incoming college freshmen are not the only students who have been significantly affected by the pandemic, according to a memo from Third Way on the impact of COVID-19 on college students. The memo states while a majority of college students have indicated plans to re-enroll next year, 9% of students are expected to take a gap semester.
Information technology major Gabriel Laaroussi, 21, said he has been contemplating taking a gap semester after a grueling fall semester.
"I could not tell you anything I've learned this semester," Laaroussi said.
Laaroussi said the independence of the online class format has not been a good fit for him.
"I have ADHD, so I do best in an in-person environment," Laaroussi said. "More of the work of studying and teaching myself has fallen on to me."
Gary Smith, an academic advisor at UCF, said about 20% of students he has spoken with have brought up taking a gap semester and have cited a discomfort with online learning as the main reason.
"Some students are uncomfortable learning in the asynchronous, online environment where they're kind of left to their own devices in terms of meeting deadlines," Smith said.
Laaroussi, UCF senior, said although taking a gap semester would delay his anticipated graduation, it would also allow him to effectively learn the material in his IT classes. This was also his reasoning for withdrawing from a class earlier this semester.
"I can continue in this class, but then once I enter the workforce, I won't know any of the information I need to get by and my degree will kind of have been pointless," Laaroussi said.
Smith said he isn't concerned about the long-term impact of students taking a gap semester because the quality of how a student completes their degree is more important than the span of time it takes them.
"It's better to finish more slowly than it is to finish more poorly," Smith said.
Students extending their enrollment may become more of a reality, according to Third Way, which reported that about one-third of college students surveyed said they will "definitely or probably" need additional time to complete their degrees as a result of the pandemic.
Political science major Tanner Braun, 22, was originally scheduled to graduate this upcoming spring. However, Braun has postponed his graduation by about two semesters after deciding not to enroll for classes this fall.
Braun said early on, he anticipated the transition of most UCF classes to remote instruction — "Zoom University," as he called it — and was turned off by the impersonal nature of these classes.
"I could see the writing on the wall, and I did not really feel like that was worth my time necessarily," Braun said.
Near said the ongoing pandemic and difficulties students have experienced in adjusting to remote instruction have highlighted the notion online learning may not be the one-size-fits-all approach it was initially perceived as.
"I think where that was seen as potentially as a solution for higher education and the future of higher education, I think we're seeing a realization that in-person learning certainly is something students are missing," Near said.
Braun said he plans to resume his enrollment at UCF next semester. Even though the spring 2021 semester is set to feature more face-to-face classes, Braun said this aspect didn't impact his decision-making one way or the other.
"I would've enrolled regardless," Braun said. "I would like to get my degree finished, over with, as soon as possible. It's been a while, I'm ready to be out the door."
Near said despite changes in students' views regarding the value of higher-education credentials, the social mobility a college degree provides will continue to drive student enrollment, as students pursue the professional advancement that accompanies a degree.
"Students are going to continue to question higher education, but right now, the credential of a college degree still has a boost in socioeconomic status," Near said.
Chavis said the impact of the recent uptick in fall enrollment on the UCF community is still unclear.
"I think it is too early to tell the long-term impact upon the university," Chavis said. "However, as long as we remain focused on ensuring all students who choose to become a part of our UCF community are successful and graduate, they will make contributions to our society and to UCF."
Although Roberts said his view on the value of a degree hasn't changed, he said conversations with friends and family during quarantine changed his perspective on how college enrollment can serve him in his career path. Roberts said he's come to the conclusion a college degree can "build your trustworthiness," as well as provide the opportunity to develop a useful skill set.
As a soon-to-be general marketing major, Roberts said he hopes to develop the negotiation skills needed for his entrepreneurial life, as well as take advantage of networking opportunities at the university. Roberts said his acceptance to UCF was "a sigh of relief" and he is grateful for the opportunity to decide the setting of this next chapter in his journey.
"I just feel really good I have the ability to choose what college I go to," Roberts said. "And that I get to choose my top choice, which is UCF."