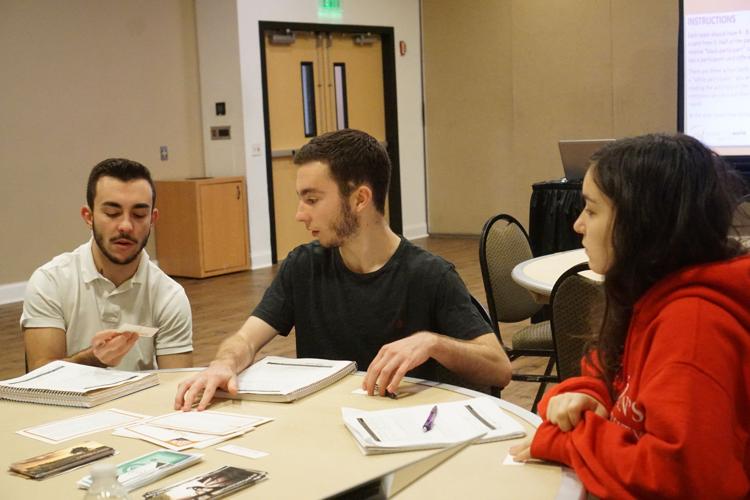 The Knights Helping Knights Pantry in association with Bread for the World presented a Racial Wealth Gap Learning Simulation in the Student Union Wednesday.
Initially created by Bread for the World, a nonprofit organization dedicated to fighting hunger in American communities, the Racial Wealth Gap Learning Simulation is an interactive tool that helps people understand the connections among racial equality, hunger, poverty and wealth. 
Presented as something similar to a card game, students in attendance were assigned a "race card" of either black or white and read scenarios in which they would draw or withdraw money cards, opportunity loss cards and land cards.
The scenarios were factors that resulted in structural inequalities in communities of color, such as federal laws and disenfranchisement. Structural inequality is any racial, economic, or gender-based bias that has been systematically built into society.
The simulation was brought to UCF by Naseeka Dixon, senior political science and legal studies double-major that serves as the Pantry Manager of Knights Helping Knights Pantry.
"My initial step when I first heard of the simulation was to say, 'I don't think anybody knows about this,'" Dixon said. "So I thought, alright, let's bring it to UCF where there's a whole group of people ready to be educated on this topic and are willing to learn and understand."
Dixon's main priority was getting participants to gain a better understanding of the racial wealth, income and hunger gap so that they could grasp the importance of racial equity. As a black female, Dixon shared her experience of when her and her mother were charged higher interest rates for being in a majority white neighborhood, which is something she said is the reality for many other black individuals. 
"We were unaware that we were being charged such high interest rates," Dixon said. "That's why we really need to look into having a racial wealth equity lens when having these discussions." 
According to statistics supplied by Bread for the World during the simulation, people of color are more likely to experience hunger, live below the poverty line and be one paycheck away from becoming poor, more so than white individuals.
Florida regional organizer for Bread for the World, Florence French Fagan, spoke at the event and emphasized the history of racial-based inequalities that are embedded into the United States. Beginning with slavery, advancing to Jim Crow, and continuing today with obstacles such as voter ID laws which make it difficult for people of color to vote. Fagan gave political context to American systems of oppression. 
"What is profound about this is that these are federal policies," Fagan said. "These are things the U.S. government put into place. These are the foundational systems that made this country, which is why they are so integral to our everyday life."
At the event, Fagan shared her experience of being a victim of predatory lending via subprime loans, which are loans lent to low-income individuals with higher interest rates than normal. According to Fagan, subprime loans devastate communities of color and she herself fell victim during the housing crisis that lasted in the U.S. from 2006-2012.
"I was living in Virginia, and had a beautiful townhouse," Fagan said. "My father was living in Florida and got sick, so I put my house on the market unbeknownst that this housing bubble was about to burst, and I got caught inside of it. I didn't do anything wrong, I just got caught. I ended up losing my house because after six months, it still hadn't sold."
In order to keep making payments on the house, Fagan took out subprime loans that left her in dire financial straits, she said. As a result, she blew through her 401K and savings trying to pay them off.
Students in attendance such as Kervin Louis, junior biomedical sciences major, related to the struggles mentioned by Dixon and Fagan about home ownership. As a first generation American whose family came from Haiti, Louis shared his experience with lack of access based on race.
"I never had the opportunity to own land, and coming to America, home ownership for black people is already low as it is," Louis said. "My mother, for example, can't gain access to home ownership. Because of mortgages and because of her low-paying income she doesn't have access to owning a home."
By the end of the simulation, those with the white race card had accumulated thirteen money cards, seven land cards, and only one opportunity loss card, while those with the black race card had no land cards, one money card, and 12 opportunity loss cards.
Dixon said she hopes the importance of racial wealth education would spread because of this event.
She said, "When people do attend these things, I ask that they push forward and pass the message on or even hold it in their own organizations."