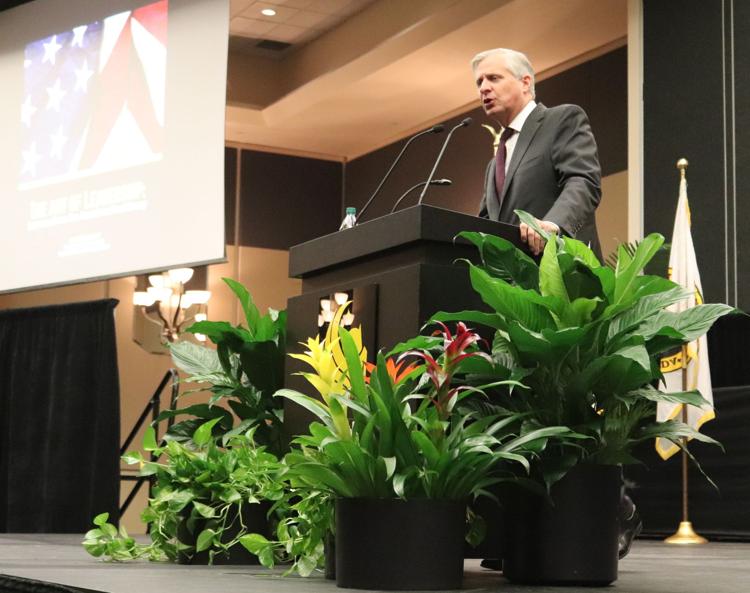 As the country nears the 2020 presidential election, students have revealed the lack of trust they have in their political leaders.
Students gathered in the Pegasus Ballroom Thursday afternoon to hear from Presidential Historian Jon Meacham about the attitudes and decisions of past presidents and what future presidential administrations can learn from them. Meacham is a Pulitzer Prize winner, New York Times bestselling author and serves as a regular commentator on CNN and MSNBC.  
Meacham spoke to attendees about the attitudes and decisions of past presidents and what future presidents can learn from them.
A common theme found in both the politics of the past and present was the idea of ethics. Meacham said that it is a concern that is on the minds of many Americans and plays a huge driving factor in how they perceive their political leaders.
According to a 2019 Pew Research study, 71% of Americans believe that members of Congress experience little to no consequences for unethical behavior. Half of Americans believe the same of their locally-elected leaders.
This level of distrust was reflected among students to various degrees.
While junior political science major Nannette Esquijarosa questions the actions of some political figures in government, she doesn't wish to place a broad judgment either.
"Even though they're our leaders they are also people, so I can't say every politician's corrupt when not every person is corrupt," Esquijarosa said.
Senior political science major James La Pierre Cutts holds a different view. While he says he "wants to trust them [politicians]," he can't help being skeptical.
Meacham acknowledges that the present-day federal government has made questionable decisions; however, he does not believe them to be comparable to the immoral actions of the past.
"Indiana, Colorado and Oregon had governors a hundred years ago who were members of the KKK," Meacham said.
History Adjunct Instructor David Morton reflected on the positive strides that the nation has made, particularly when it comes to including more people in the political process.
"Despite many issues that we continue to face in terms of voter restrictions and problems attached to gerrymandering and so on and so forth," Morton said. "We have seen over the last 200 years this greater and greater push for inclusivity."
Meacham said that while most choose to focus less on positive strides and continue to express dissatisfaction in the political system, people can only blame themselves, as ultimately the government is a reflection of society.
"Fundamentally we are complicit in this. A republic is the sum of its parts," Meacham said.