With UCF ending its first week back to in-person classes and events, students are already learning to adjust to a new normal.
NSM Today reporters fanned out across campus Thursday and interviewed about 20 students to gauge the mood on attending the most populated university in Florida amid the spread of COVID-19. Most of them expressed both excitement and ambivalence about returning to a campus that is once again teeming with people and activities.
"I'm excited," said Kendall Ayash, a 23-year-old visual arts and emerging media management graduate. "I started coming here in 2019, so I did have to go through that whole COVID period, and it's really sad because that was my senior year. So, it felt like I had to miss out on a lot of things, but now that I'm back for my graduate's (degree), it's really exciting."
Among the students who said they enjoyed being around people again was health sciences major Muhammad Sardar, 18. 
"I like it," Sardar said. "I mean, I'm a freshman this year, so like half of my junior year and all of my senior year (in high school) were online, so I didn't get to interact with people as much. So, I like having classes in person and getting to meet people."
The atmosphere on campus felt "kind of close to normal" for 20-year-old biomedical sciences major Wesley Matthiesem, he said, given the health measures provided to students.
"It feels safer now that we have the vaccine," Matthiesem said. "I see a lot of people are wearing masks, more than I expected. So, you know, it's kind of back to normal, but some things are kind of different."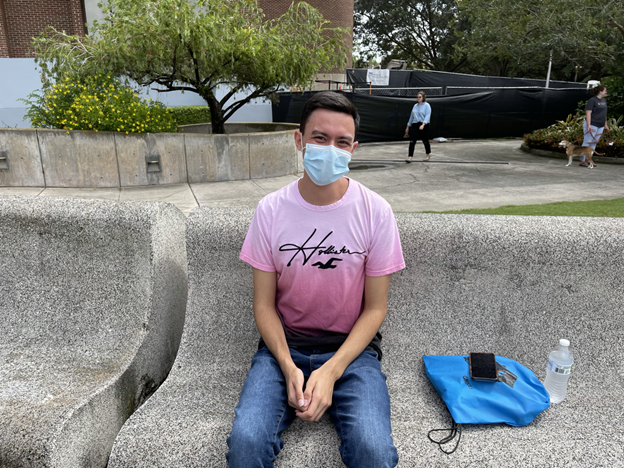 Even with UCF's safety precaution and emergency policy, which advises wearing masks and getting vaccinated when possible, some students said they are still concerned about COVID-19, which is still raging in Orange County.
Fueling these concerns is data from the Centers for Disease Control and Prevention's COVID Data Tracker, reflecting the high transmission rate of COVID-19 in Orange County. The Florida Department of Health also reported over 9,000 new cases of COVID-19 in Orange County from Aug. 20-26. 
"I'm honestly really excited, but people need to keep themselves in check," studio art major Oliver Barnhart, 19, said. "I don't want to get sent back home." 
Other students said they are worried a lack of mask-wearing by some will become an issue inside classrooms.
"In buildings, I feel like a lot of people are not wearing masks, so I think there will be a spike in COVID in the near future because some students aren't really paying attention to that," said Jared Zach, a 21-year-old senior health sciences major.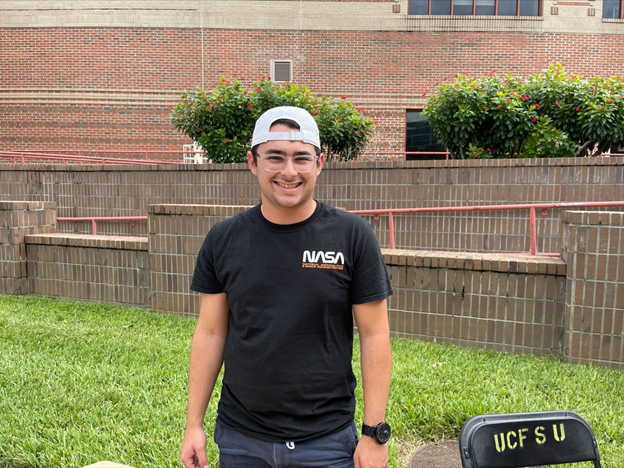 Many registered student organizations have already started having general body meetings and inviting students to join. Civil engineering major Alejandro Mendez-Ruiz, 21, is president of the campus chapter of Habitat for Humanity, which together with the Orlando chapter builds about 20 homes each year for individuals in need.
Mendez-Ruiz said that while his club is looking forward to resuming in person, he recognizes the "new normal" still requires having options for members to attend meetings from home.     
"We do realize that there are people who don't feel comfortable still going to school and being in person," he said. "So, we're providing our members a hybrid option, and we will have a live Zoom recording taking place during our in-person (general body meetings)." 
Mirroring current CDC suggestions, UCF's COVID-19 guidelines encourage all members of the university, as well as visitors to the university, to wear face coverings while indoors and to get vaccinated. 
In a July press release emailed to the campus community, UCF Interim Provost Michael D. Johnson stated that while offering more in-person activities contributes to student success, so does heeding these important practices. 
"We want this to be a good and successful experience for you, and we strongly encourage you to get vaccinated as soon as possible if you have not done so already," Johnson said in his statement. "Doing so is critical for your health and for the good of our campus community."
NSM Today reporters Brooke Aliberti, Elisabeth Campbell, Francesca Duarte, Sarah Mora, Emily Paul, Bailey Shoffner, Alexandra Sullivan and Patricia Tolley contributed to this story.
A previous version of this article gave incorrect numbers for new cases in Orange County. The Florida Department of Health reported 9,048 new cases of COVID-19 in Orange County from Aug. 20-26. This story has been updated to reflect that.