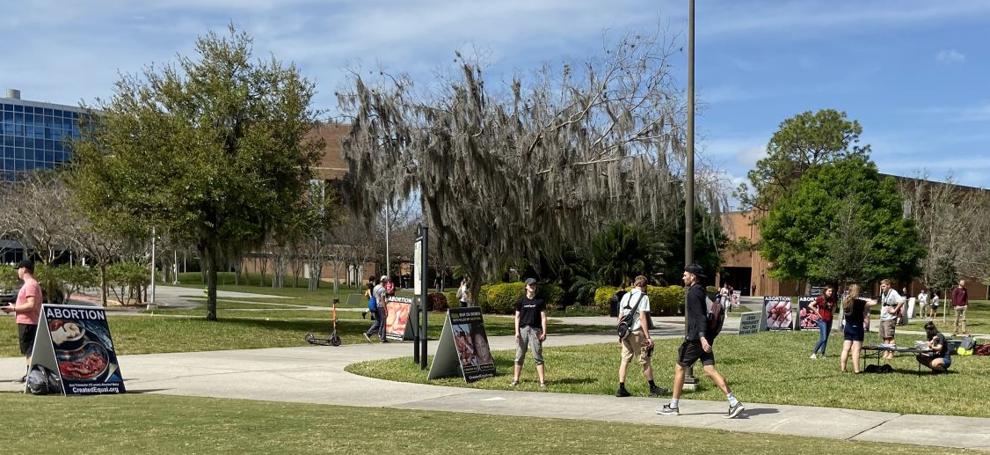 More than 50 student activists with the anti-abortion organization Created Equal took part in protests on UCF's campus on Tuesday, March 3.
The protest comes just weeks after the Florida Legislature passed a new bill called HB-265 that prevents girls under the age of 18 from getting an abortion without parent's permission. 
The Senate approved the bill and the House will send it to Gov. Ron DeSantis to potentially sign the bill into law. The House voted 75-43 in favor of the bill. If signed, the bill is expected to take effect July 1, 2020. 
Created Equal event coordinator Evangeline Dunn said some typical surgeries, which might not be as scary as abortion, already need parental consent.
"I think it is highly inappropriate to not have parents involved," Dunn said. "Parents get sick when they sneak out of the house, so parents do know what is best for us and abortion is definitely not that."
Dunn said its shouldn't just be a discussion between a woman and the doctor performing her abortion. She said abortion doctors should not be trusted. 
"Abortion doctors are going to do what they can get the money and not help them," Dunn said. 
Political science pre-law junior Andrew Porter believes bills like HB-265 are reasonable rules that can limit abortion.
"It's a first amendment issue for me," Porter said. "You want to be able to have students be able to come to campus and talk about difficult issues like that's the plan in being in college is so you can face intellectual diversity and challenge yourself grow on certain issues." 
Porter said seeing the images on campus can be helpful and, if the end goal is to get students to speak on issues like abortion, organizations like Created Equal are allowing students to. 
"It's one of those things that, for me, I would rather see and face a hard truth than to just ignore it," Porter said. 
Some students, however, disagree with their message and the use of graphic images.
Junior business economic major Erika Winton said she considers herself pro-choice and doesn't think the organizations should be protesting at UCF. 
"I go on campus for my education, not to listen to various groups of individuals tell me that something is wrong and shouldn't be allowed," Winton said. "I feel that I cannot say one party isn't allowed on campus and the other is, but I don't believe a college campus is where they need to be protesting about it." 
Winton also said the signs are really disturbing to see as she walks to class. 
"I get their angle with using the photos, but again, not on a college campus. We don't want to see pictures of that first thing in the morning," Winton said. 
Winton said she believes that abortion should be a woman's decision about what she wants to do with her own body and she shouldn't have to have people telling her what they think is right for them.
Her feelings extend towards the recent abortion bill HB-265. She said she has read up on numerous cases in which young girls get pregnant due to rape or other reasons and their parents don't allow them to get an abortion due to religious beliefs. 
"It is her body, not her parents. A child or adult should never have to go through with an unwanted pregnancy. Especially in situations where the individual was forced against her will and is now suffering from the consequences of unprotected non-consensual intercourse," Winton said. 
Freshman theater major Emily Nardoni said she does not like seeing graphic images on her way to class because it catches her off-guard. 
As for providing an educational perspective on certain limitation on abortion, Nardoni said she does not agree with HB-265 bill because having parental control on almost adults can be challenging. 
"I think maybe a lower age, maybe 16 or so but I feel like around the age of 17 you sort of can make your own discussions on something like that," Nardoni said.
Dunn said Created Equal's goal on campus is to get students to sign up with the anti-abortion fight but sometimes they get a lot of discrimination from it. 
"Sometimes we have to deal with people knocking out our signs or destroying our property which is somewhat unfortunate, we should live in a society where we except people's views," Dunn said.