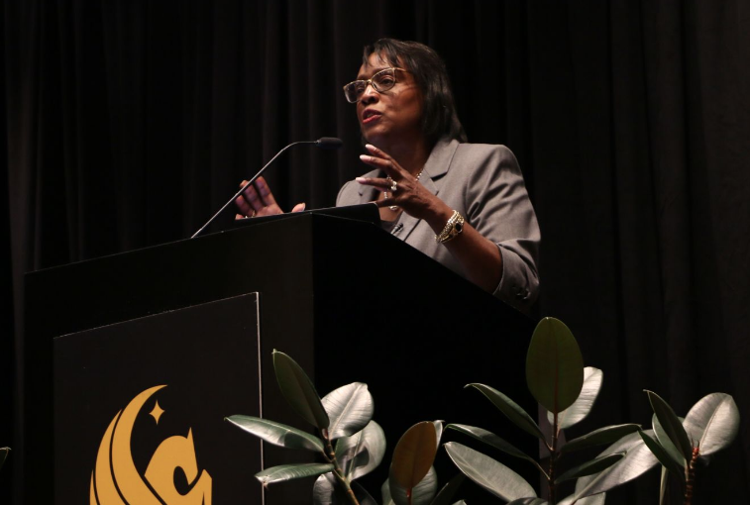 In the week following UCF Provost Elizabeth Dooley's placement on paid administrative leave, students are learning and reacting to the news, showing very mixed responses including shock, confusion and disappointment.
Dooley, the first female provost in UCF's 57-year history, was asked by Interim President Thad Seymour Jr. to temporarily step down as provost while the university works to "fully understand concerns that have been raised." 
Few women hold higher education leadership positions, according to the most recent report from the American Council on Education. There is an upward trend, but the incline is slow.
Senior political science major Ranya Eid said she is thrilled to see more female representation in leadership, but found herself frustrated by the news of Dooley's temporary departure. She believes that if a man were in Dooley's position, the discipline would not be as swift.
"We don't have a lot of women in leadership positions," Eid said. "And when we finally do, it's like that, so I'm really saddened by that."
Dooley is also the first African-American provost at UCF. 
Undeclared freshman Imani Stringer said she was concerned that the allegations behind Dooley could be racially-charged.
"I don't want to say that race would be an issue," Stringer said. "But you just never know."
Undeclared freshman Aqila Kandoker did not express anger or confusion, but rather disappointment upon herself for not educating herself enough on the issue.
"I feel like students aren't really thinking too much about who is in administration because there's already so much to be thinking about in our own lives," Kandoker said. "But especially when it comes to corruption, that is something we should be more conscious of."
Upon learning about the news, students' emotions turned to action and pride for a sense to act on this news and create change in several arenas including intersectionality and awareness of the university's administration.