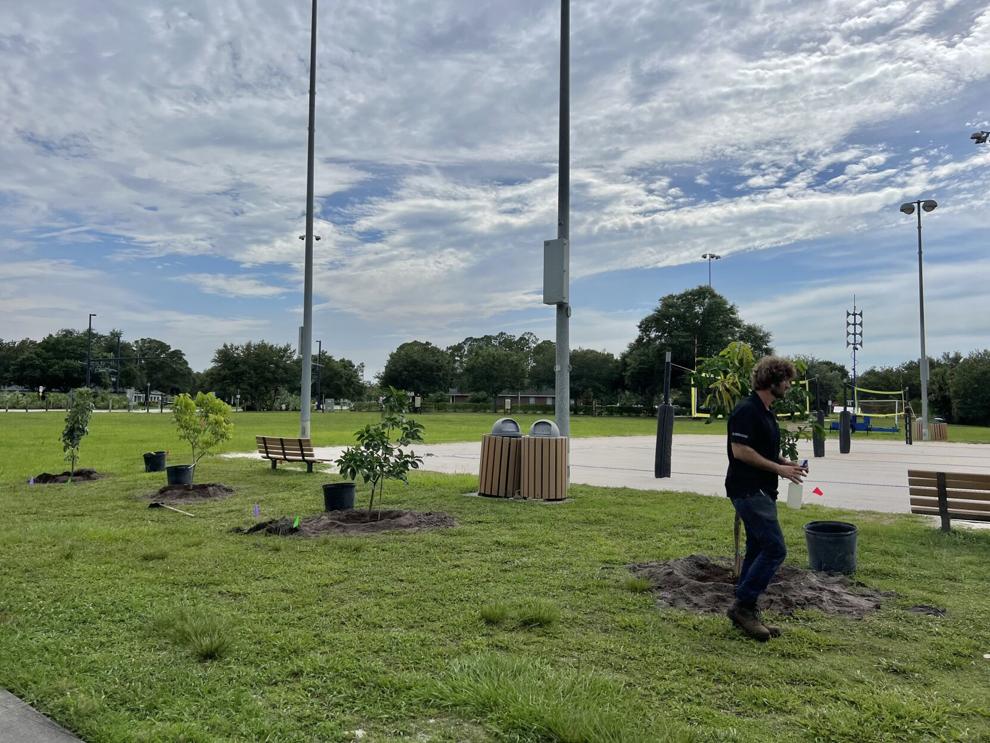 Students and faculty got their hands dirty in hopes of seeing their hard work come to fruition on campus.
Those involved with One Tree Planted and the UCF Wellness and Health Promotion Services planted around 15 to 20 fruit trees to create more opportunities for local food systems for students at Lake Claire on Thursday.
Kristin Anderson, UCF '20 alumna and chief branch officer of IDEAS For Us, said many of the problems the organization focuses on solving are food scarcity and food apartheid.
Anderson said IDEAS For Us is a global and environmental nonprofit organization that helps solve global problems with local solutions in its headquarters in the Orlando community. 
She said a lot of the communities that do not have access to fresh and local foods allow the organization to step in and build gardens, farms and fruit trees so that people have access to this food. 
"With the prices of fruit and food in general skyrocketing, I feel that students should have an easier time accessing organic foods like the ones we plant," Anderson said. "I think this kind of event is something that can provide that easy access for students."
Fruit trees can also contribute to a healthy ecosystem and produce fresh oxygen, providing cleaner air and encouraging wildlife to flourish, according to Rustic View Home and Gardens.
Anderson said the organization normally has great turnouts for these kinds of events because people look for ways to give back to the community. She said that this is also the first time the nonprofit has collectively been able to plant fruit trees on the main campus in a more public area, which made this experience that much more special.
Junior business management major Julianna Hayman said that one of her best friends, Amely Caceres, helps run the organization. Hayman said she was asked to go out to help make a difference.
"UCF is already such a beautiful campus but with the work this organization is doing by planting these fruit trees," Hayman said.
Caceres, senior environmental studies major and branch manager for IDEAS For Us, said that adding more biodiversity to the Lake Claire community has been a great way to bring people together by doing good for the environment.
"These kinds of events are great ways to engage and be a part of something that is bigger than ourselves," Caceres said. "We want to attract UCF students to be more involved in their campus."
Hayman said that Lake Claire is very minimalist, but once the volunteers and everyone involved finish, it will add more color to campus.
"I encourage other people to do their part in helping to make the world more beautiful, and a better place really starts with all of us coming together," Hayman said. "It may seem small, just planting a tree, but it can make the world prettier than it already is."