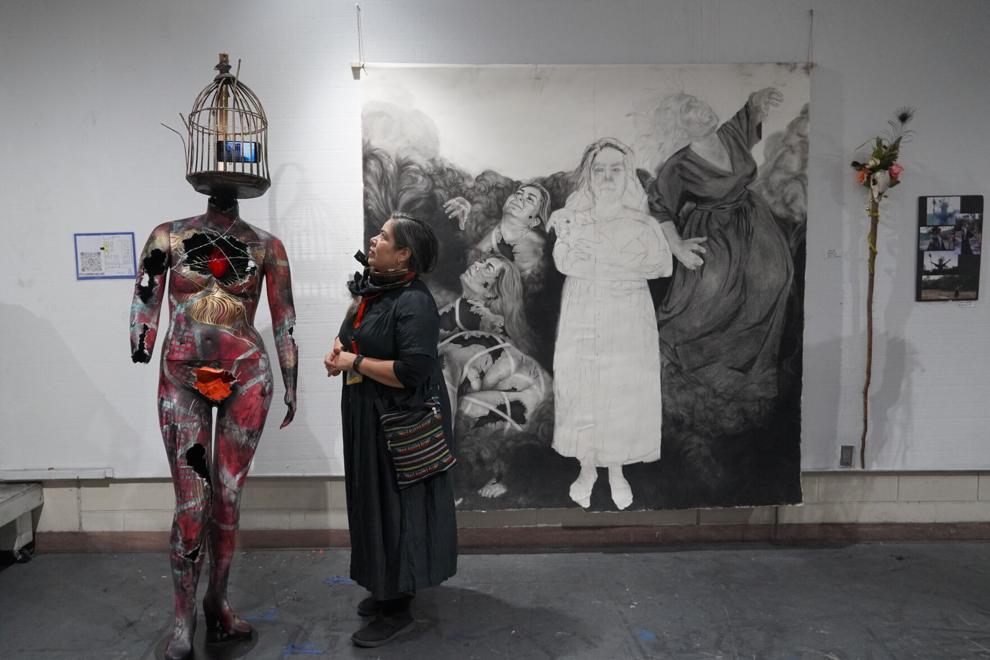 The students at the UCF School of Visual Arts and Design poured their hearts and creative minds in their first Art Knight event on Friday.
Jason Burrell, assistant director of the school, said he wanted to emphasize what makes SVAD special. 
"My strong colleagues who make our students' creative dreams come true —  the students who work so hard to make their futures real and manifest —  and the facilities, even though it's made of ding, beige cinderblock, this is a dream factory where creative futures happen to students," Burrell said.
SVAD hosted the open-house event at the UCF Visual Arts Building. The program designed the inaugural Art Knight experience to showcase the students' work to the public and offer a tour of their studios and classrooms. Faculty walked through the entire building answering the public's questions as students talked about their projects.
The Fall 2022 BFA Exhibition in the UCF Art Gallery was also added to the event. 
Burrell said that many students who have never had an art class come to the school of visual arts and dream of doing something meaningful in their life, something creative. He said Manga, anime and the Marvel Cinematic Universe has inspired them. 
"They want to be part of it by coming here, learning how to draw, learning how to paint and learning about color; and they make their dream come true that they can join Disney, Pixar and the hundreds of companies that make our culture," Burrell said. 
Robert Aiosa is a new assistant professor at SVAD who has brought a unique component to the program. 
He is currently teaching a foundation 3D design course that teaches students to the fundamentals of working in the three-dimensional realm. 
"I specialize in woodworking, so expressive kind of sculptural woodworking carving, so I really wanted to emphasize bringing the students into the wood shop and show them the process of working with the machinery and carving techniques, and I thought that was very exciting to kind of bring into a fundamental course," Aiosa said. "Sometimes I come to the class, and I don't see a student, and I come down to the wood shop, and they are already working, so that to me is really exciting."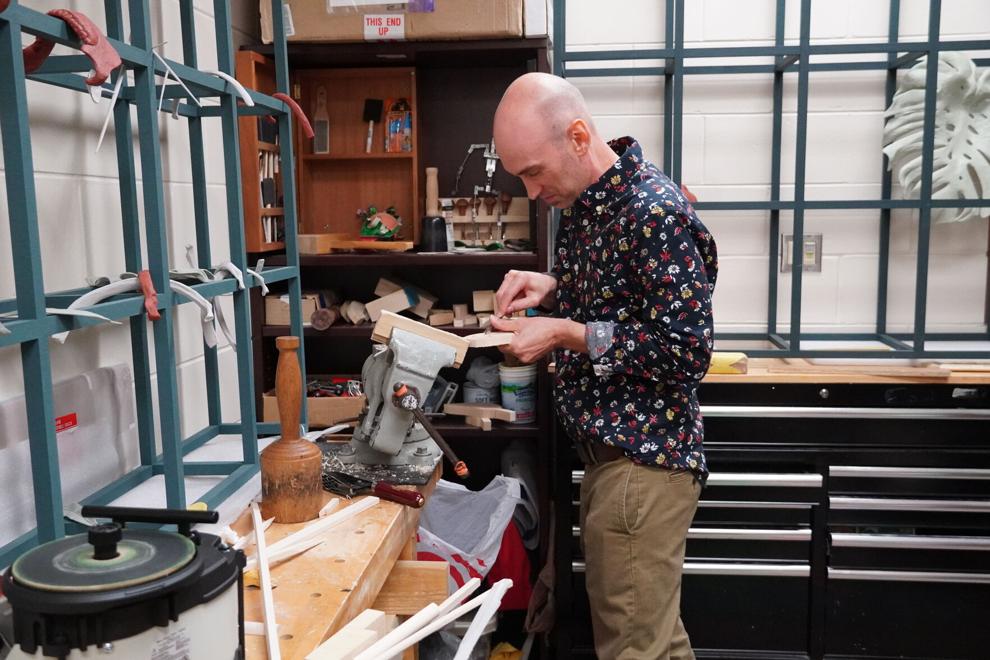 Aiosa said it was exciting to see the community come out and support the school as students displayed what they had been learning in class and showed their work to their families and friends.
Several SVAD students shared their stories and their dreams, and how they face their challenges through art.
"They've come together to perfect, to advance their identity as it's made into visible objects outside of themselves, and they make objects that express the beauty of their lives," Burrell said.
Stella Arbelaez, a first-year master student in fine arts, said her artwork dealt with healing through different journeys in her life, learning to be herself again after a divorce and her daughter becoming independent.
Arbelaez said she named her art "The Broken Woman" to represent what she went through. "The Broken Woman" is a mannequin that allowed Arbelaez to express her anger.
"When my former husband told me he wanted a divorce, he texted me this, and I literally fell to my knees," Arbelaez said. "So this mannequin has hollowed knees in the back because I could not stand up."
She said that the mannequin has a big hole in her chest because that's how she felt when her daughter left.
"After my divorce, my daughter left. I had homeschooled her all her life, and so I really had a huge void in my heart," Arbelaez said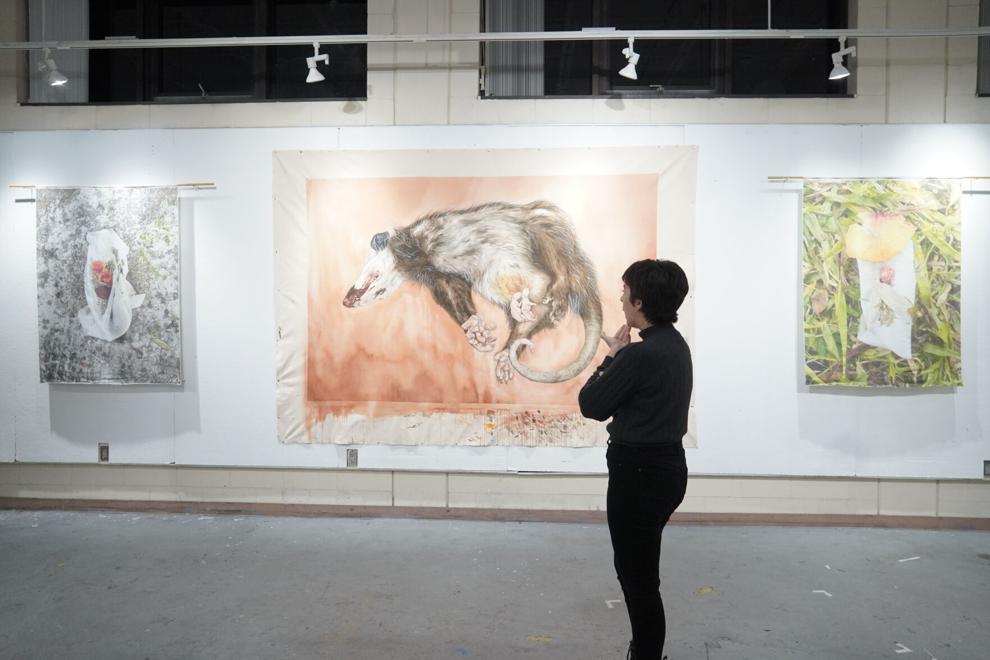 Brittney Fucheck, a fine arts master's student, had a piece that dealt with the appreciation of life through the acknowledgment of death. She said that a lot of the imagery that is within her work revolves around dead animals, mainly roadkill and other animals that friends and family members happen to find.
"So it's, you know, it's a little bit shocking," Fucheck said. "The animals are not only depicted, but I have actually used some of the bones and sculptures as well, and I couple that with like natural materials, too, so namely branches and copper and different metals. There's a lot that goes into the work, you know, especially as a collaboration with nature and whatnot and just kind of interpreting my relationship with nature."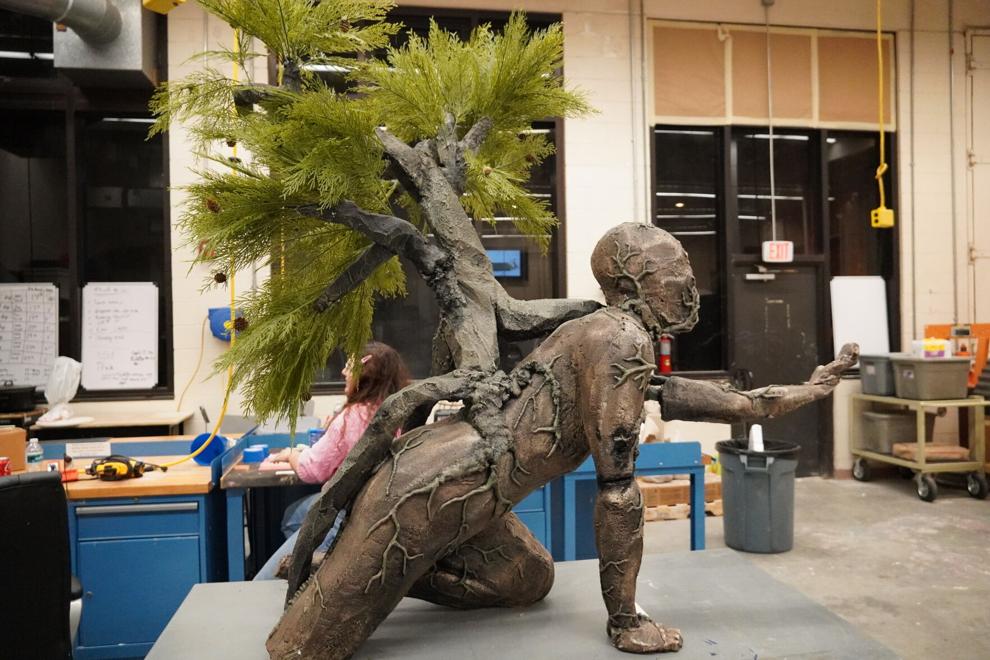 Joshua Long, a senior majoring in studio arts with a focus on sculpture, chose to make art about nature and the end of humanity.
Long said he named his sculpture "Patricia and The Tree," and the whole thought behind Patricia is a post-apocalyptic theme.
"My thought was like 'humanity died, people died, but nature didn't.' So, they are growing out of the people, and it was very Pompeii-inspired, and I wanted her last moment like reaching out for help," Long said.
Justin Hoskins, a senior majoring in fine arts with a concentration in acrylic painting, said his biggest inspiration was his late grandmother Regina Hoskins, who was Catholic.
His paintings use catholic imagery with dark and red colors because red transmits rage and passion. Hoskins said painting is an outlet to express rage and passion in general. He shared that his other inspiration comes from general media.
"I look at the general art, whether that's movies, video games, music videos, those are all poured into my paintings and what you see is the outcome of all that inspiration, and I am constantly inspired by media in general," Hoskins said. "It is just a recreation of media, which the term 'Memisis' is actually like the copying of objects within our world and, you know, minds in general, they kind of copy the average life."
Hoskins said he remembers when he first came to an art exhibition in the UCF Art Gallery, and he was inspired by the artists and talked to them about their 3D art, digital art and paintings. He said UCF has been the best school to work out his art muscle, to create at his best capacity.
"That's what kind of what's happening, and we are kind of passing the torch to younger students or just people in general," Hoskins said." I mean, anyone of any age, they can be inspired to create or to go and explore a subject, whether that is art or any other form of academia at UCF."