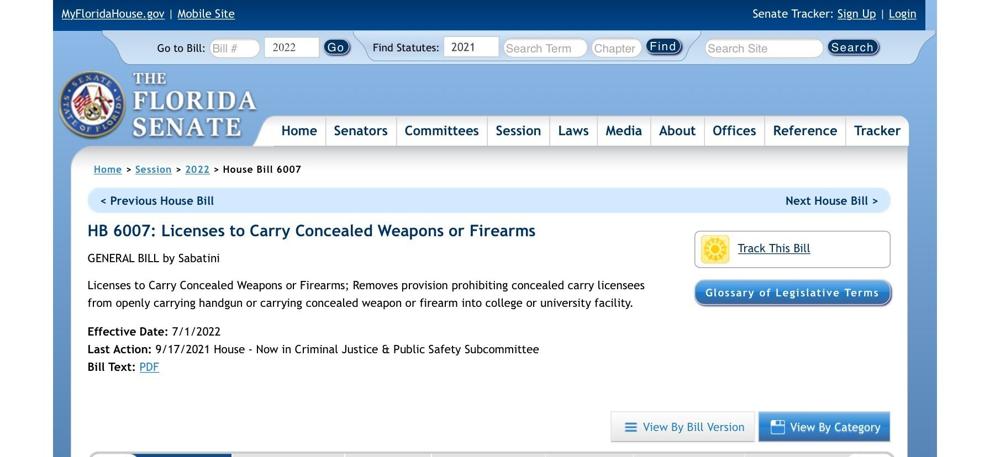 A bill in the Florida House pushes to loosen gun restrictions for the 2022 legislative session.
The bill suggests a constitutional carry state, whereas anyone who can legally have a gun will be able to haul it including on college campuses, according to House Bill 6007.
With the Nov. 6 brawl that occurred during a homecoming tailgate party and the recently released annual security report by UCF PD revealing a variety of crimes on campus, the hotly debated subject of open carry on campus has once again resurfaced.
Many conservative UCF students expressed concern if they aren't allowed to open carry on campus on the potential they fall victim to crime, while left-leaning students said they think an open carry policy could bring more violence to the school.
UCF's current gun policy states an adult may possess a lawfully concealed firearm or weapon within a private conveyance so long as the firearm or weapon is securely encased or otherwise not readily accessible for immediate use. Meaning that a student can keep a gun in their car if secured properly.
Stephen Holmes is a criminal justice professor at UCF and not a big fan of UCF's current gun policy. Nonetheless he said it is a step in a positive direction away from open carry.
Holmes said he is concerned of having an open carry on campus because of the variety of ideas and disagreements that can happen in the classroom, student union and even in the front of the library which could potentially lead to violence.
"I understand what the second amendment means, and I am fully in support of it; that is the law of the land, however. We must use the law to regulate firearms judiciously," Holmes said. "Any place where things can get heated there probably should not be a gun."
According to Gallup's annual crime survey, 65% of people would feel less safe if concealed firearms would be allowed in public places such as a restaurant or the movies.
On social media, there were comments stating how fortunate it was that no one had a gun during the incident at the homecoming party, where multiple students from three separate fraternities got into a violent altercation caught on a video that went viral. The user said in their comment the fight could have ended tragically if UCF gun laws were different.
Christy George, a psychology freshman, is a supporter for this new bill and thinks guns would not have made the tailgate brawl a potential tragedy.
"I don't think necessarily if presences of guns would made it worse," George said. "I think that implying it could've been worse is harmful, especially to people who have guns in the first place and wouldn't use it that way."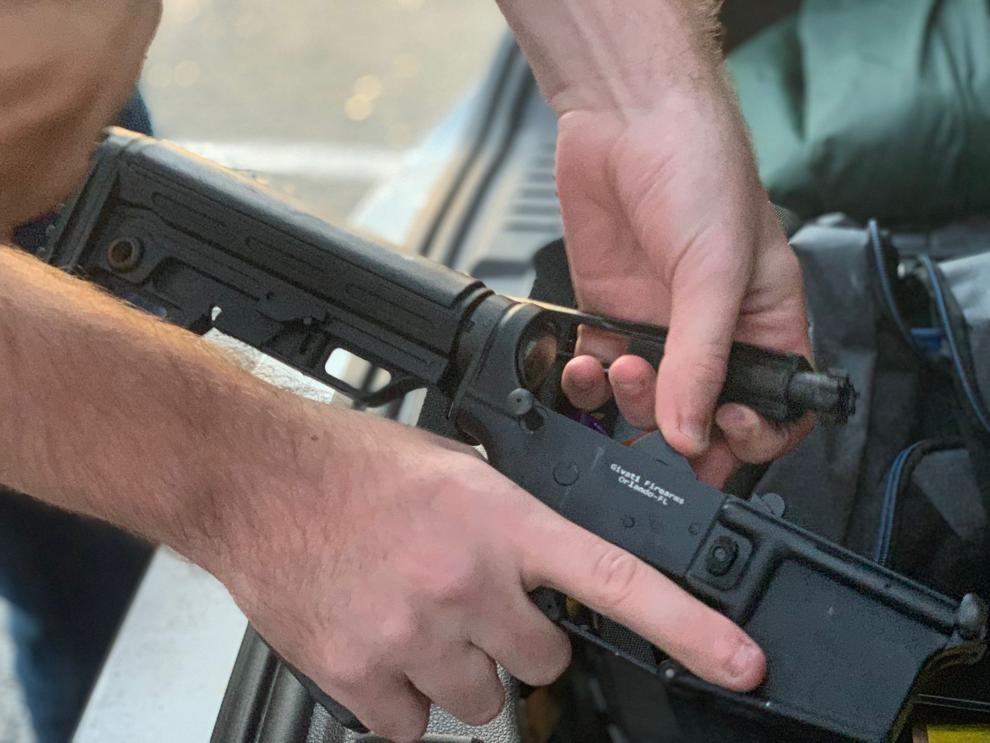 According to the gun violence archive report, 46 people have been injured due to gun violence during 2021 in Florida's seventh district, which is where UCF resides.
George also said students should be allowed to have guns on campus to protect themselves from crimes.
"I think that having a peace of mind to know you are able to defend yourself would also give people more courage," George said. "I just think people should have the right to own arms."
According to the security report, rape was reported eight times and dating violence was reported 13 times in 2020 at UCF main campus.
On the discussion of why students would want open carry laws on campus, Holmes said "they do it for all the reasons people own guns: (to protect themselves) but rather wanting attention." When people open carry, Holmes said, other people notice.
According to Gallup's annual crime survey, 88% of gun owners say they own a gun for protection against crime.
Faith Camarena, a creative writing junior, said her views on not wanting open carry on campus are due to safety reasons. She is not a supporter of HB 6007 and would rather have more restrictive gun bills in place.  
"I do think safety concern is valid, but I don't think firearms on campus is the valid way," Camarena said.
In terms of safety from crimes on campus, Camarena said she wanted to find solutions that would not revolve around violence.
Overall, Camarena had a different view of this open carry policy compared to George. Camarena said that if guns would have been present in the homecoming brawl, chances for a violent ending would have increased.
"The more guns are in a situation means more likely the chance for violence," Camarena said "If anything, I would want there to be no firearms; nobody has any".
According to Everytown, a nonprofit research organization, schools in Florida have not witnessed gun violence this year, as there were at least two incidents of gunfire on school grounds, resulting in zero deaths and injuries. 
According to the U.S Bureau of Justice Statistics, gun owners say they want to have guns to protect themselves from crime, nonetheless. 
"I don't think it is a great idea," said Greyson Glick, video game design freshmen said. "As a whole, there is not enough certainty to know what would happen if this policy was enacted, so I wouldn't feel comfortable living on a campus if it was enacted."
There are two resources currently provided by UCFPD to help students if they feel uncomfortable or uneasy in a situation.
According to the UCFPD website, students can call UCFPD at 407-823-5555 to ask for a walking escort anywhere on campus. Also, there is a "Safewalk" feature on the UCF mobile app that will allow users to share its location with friends or family members.
As a way of self-protection, students are also allowed to carry pepper spray, according to UCF's current gun policy.