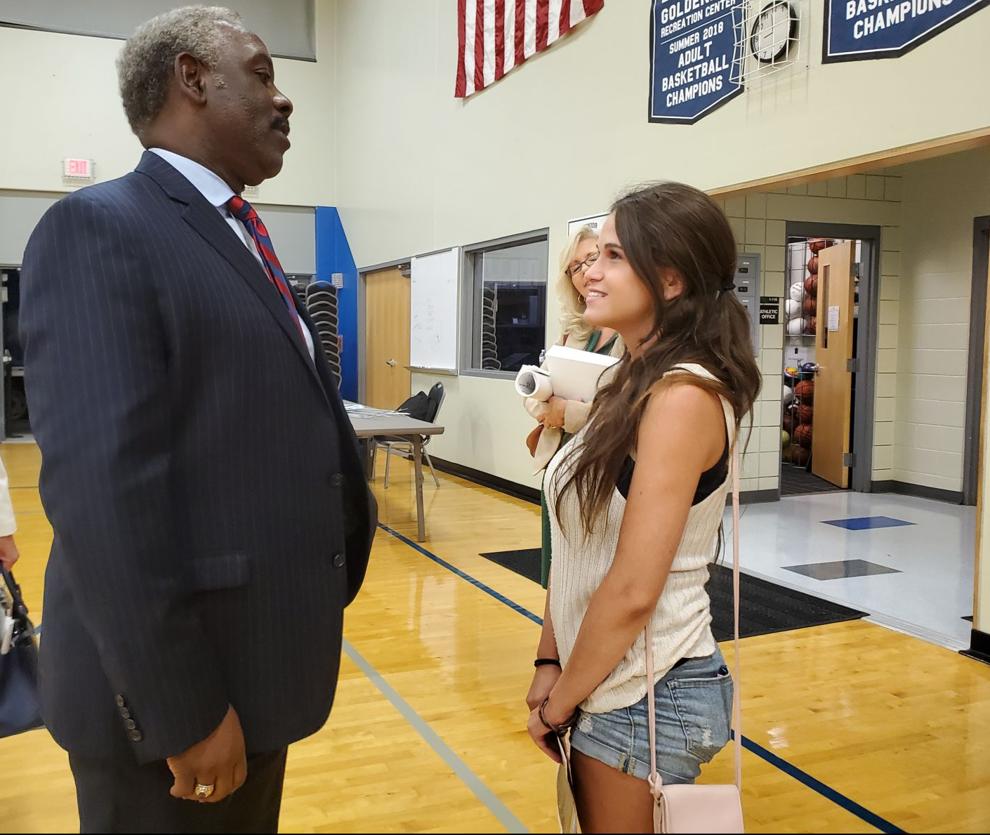 UCF students voiced concerns about the lack of street lights along McCulloch Road at the Orange County District 5 Transportation Town Hall Meeting held on Thursday.
In May, Orange County Mayor Jerry Demings proposed that a one cent transportation sales tax be added to the ballot in November 2020.  The Florida Department of Business and Professional Regulation projects this tax would add around $596 million dollars in annual revenue for Orange County.
The town hall format of the meeting gave Orange County residents the opportunity to inform county officials which transportation projects they feel should be funded by the additional revenue generated by the tax. 
Senior elementary education major Jenna Cohn used the opportunity to advocate for her desire to see street lights installed along McCulloch Road, which borders UCF to the north.
Cohn believes that installing street lights on the busy, yet unlit road is essential for protecting students and animals who frequently cross the road at night. Her passion for the roadway improvement project is personal, as Cohn's beloved cat, Pumpkin, was hit by a car alongside McCulloch road in the middle of the night this past March.  
"For one thing, I don't want her death to be just a death," Cohn said. "I want her to look down from heaven and see that no one else is going to get hurt because of her."
Freshman film major Justin Pauley shared Cohn's concern while attending the meeting. He often drives along McCulloch at night and is shocked by the lack of proper lighting on the street.
When he saw a passionate Reddit Post Cohn made advertising the town hall, he decided he wanted to come out and support the cause.
"I think [the addition of street lights to McCulloch] would mostly just encourage you to take that street more," Pauley said. "It would take away from the traffic going through University Boulevard, Gemini Boulevard. It would also just be safer."
According to the manager of Orange County's Traffic Engineering Division, Christy Lofye, students who wish to advocate for roadway improvements like street light installations should not hesitate to make their voices heard.
"Involvement by students and all citizens is very important and helps us to identify where the needs are," Lofye said.
Lofye advises students advocating for roadway improvements to do so through contacting the Traffic Engineering Division by dialing 311 or by downloading the 311 app, both of which will route requests to the correct traffic division. Students can also contact their local commissioner.
During the town hall, Strategic Planning and Development director Carla Bell Johnson informed the audience of a current five-year program to add streetlights to major roadways. By the conclusion of the program, 85 miles of major roadways will be lit.
Over 190 miles of unlit major roadways will remain, however, as further installation of street lights will require more money.
That is why Mayor Demings hopes Orange County citizens will vote for the transportation sales tax next fall. He sees many ways the sales tax could benefit transportation at UCF long-term, such as the creation of a Bus Rapid Transit connecting the UCF main campus to Downtown Orlando and other areas in the community.
"If we were able to provide better transportation for UCF students and faculty, it relieves some of the pressure on the university itself that's spending hundreds of thousands if not millions of dollars now on transportation," Demings said.
After speaking to Demings and Lofye, Cohn said she left the town hall feeling hopeful for change and confident in her ability to speak up for what she believes in.
"They really inspired me to keep fighting and really let me know that they are on my side," Cohn said.
UCF students and other Orange County residents who are interested in having their voices heard by their county officials may fill out the transportation survey provided on the Orange County website or attend the remaining transportation town hall meetings also listed on the website.