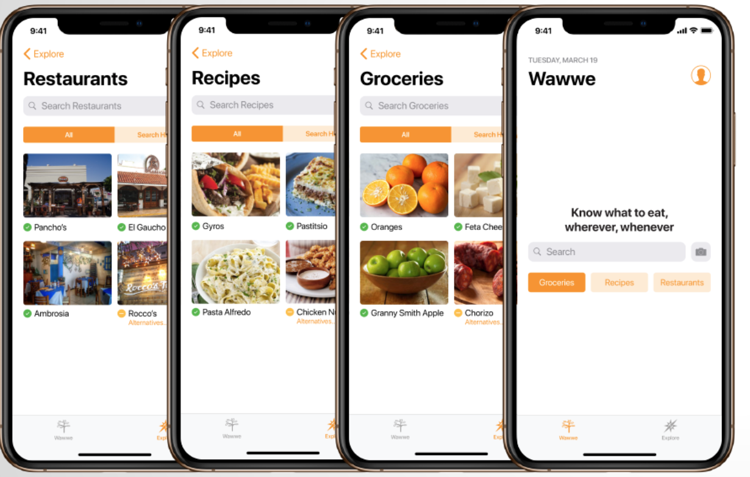 Senior photonic science and engineering major Rafaela Frota won over the judges of the 2019 Joust New Venture Competition with her startup business Wawwe, or "We are what we eat."
Wawwe is a personalized phone application aimed at helping people with diet restrictions or illnesses become aware of what they can eat, according to the company's website. 
The website also states that Wawwe "provides customized grocery, recipe, and restaurant menu item suggestions based on user preferences and personal needs."
The Joust New Venture Competition is a student entrepreneur competition, according to its website.
Frota presented her business pitch by herself to a panel of judges from successful companies in Central Florida such as Viatek, Darden Restaurants and Deloitte, and an audience after making it past the first round of the competition. Four other teams also presented.
The judges awarded Frota $12,000 in cash and thousands of dollars worth of guidance and aid from renowned entrepreneurs.
Frota, 23, is both the founder and CEO of Wawwe. She said her entrepreneurial eagerness started when she was 14 years old — after she watched the documentary, "Food Inc.," which explains the farming industry in America.
The film motivated her to become a vegetarian after seeing what the farming industry can be like.
At 14, she said she turned to Twitter and tweeted about having an idea for an app. Forty-five minutes later, the CEO from Aisle Finder in Silicon Valley replied to her tweet asking to talk, Frota said.
Frota said she was both shocked and elated.
"We ended up talking for about an hour," Frota said. "He told me three things. He said, 'find out all you can about the startup world — because it's a totally new world — know your competition and make something so that others can visualize what's in your mind.'"
Since that conversation, Frota said she has worked on her dream by participating in startup weekends and competitions like the Joust New Venture Competition.
She said she and her team are excited to see what's next for Wawwe. 
Frota said she has already contacted Advent Health Hospital and Nemours Children's Hopsital in Central Florida to partner with her and her company.
"We're going to be using this opportunity to further develop the conversations we've have with Nemours, Advent Health and a couple of the other hospitals and scale Wawwe to be what we have the vision of it becoming," Frota said. 
UCF Center of Entrepreneurial Leadership Director Cameron Ford said he has worked closely with Frota for several years now and he believes she will be very successful. The CEL aids students in their entrepreneurial efforts, according to its website. 
"It's really rewarding for someone like me to see her grow as an entrepreneur over a two- or three-year period," Ford said. "I don't think people in the community get to see that personal development that we get to see teaching students on campus."