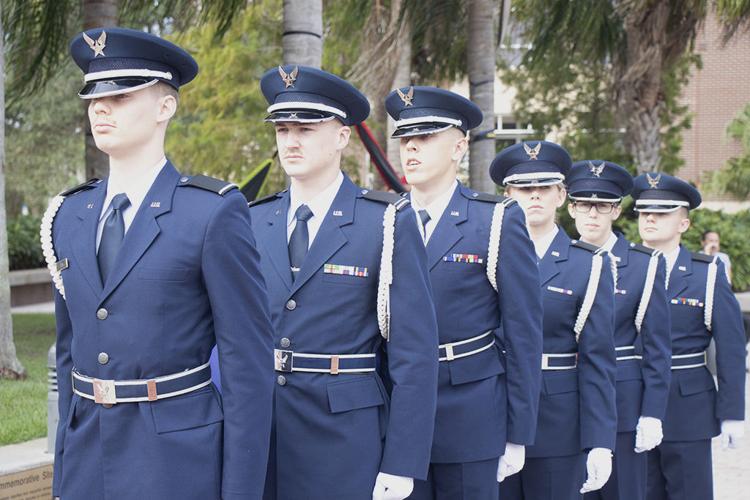 Student veterans at UCF will have access to free school supplies starting in 2020 thanks to the UCF Community Veterans History Project.
Tiffany Rivera, assistant director of the UCF history department said this information after the flag raising ceremony to honor the 1,500 UCF student veterans Friday. Rivera said some basic school supplies, such as USB drives, pens and pen voice recorders would be free to UCF student veterans next year.
Barbara Gannon, associate professor in the history department who researches veterans and U.S. military history, said she joined the UCF Community Veterans History Project to help student veterans. She said the project would show UCF's friendly attitude and enthusiasm toward student veterans.
"It's a welcome home and that was one of our important channels," Gannon said. "From the very beginning, one of the reasons we did this — we have so many student veterans and we wanted to have a tangible way of showing that they were welcome here."
Now, the UCF Community Veterans History Project is trying to get funds to purchase supplies that student veterans need. Rivera said they welcomed donations from all organizations and individuals. There is now a dedicated space for the project and the organization will formalize the process of requesting supplies for its launch next year. 
For student veterans to access the free school supply vault, they need to be enrolled at UCF as a full time student. Rivera said this project could be helpful for student veterans to focus on their academic endeavors.
"It's a great opportunity for those who will join us in this mission to also donate supplies to the school supply vault," Rivera said. "This project is a community-centered project. It helps veterans by giving them an opportunity to share their story and it gives us an opportunity to honor them."
Natalie Hintz, junior mechanical engineering major, joined the Central Florida Yellow Ribbon Project to macramé yellow ribbons. She said that many of her friends were student veterans and that the school supply vault would help student veterans have a better and more convenient way to study on campus — especially those who are disabled. 
"I know that a lot of my friends here that I've met that are student veterans have certain types of disability," Hintz said. "Like the pen with a voice recorder — I know that would really help them with taking notes because it can either be really slow or they might not have the ability to take notes. They've given so much to us already and giving them something back, even the smallest school supplies and taking that off their plate is wonderful."
In addition, UCF held the flag raising ceremony and partnered with the Central Florida Yellow Ribbon Project to macramé yellow ribbons on trees along Memory Mall and honor and salute student veterans. This kicked off National Veteran and Military Families Month.
 Kayla Campana, history department administrative assistant, said she taught volunteers how to create the yellow ribbon macramé early Friday morning. 
"I think doing a project like this really impacts the way we see Veterans Day," Campana said. "There really is an important thing and I feel like I said the project really brings the community together, the UCF community and those who are even outside the UCF community come and participate in this."