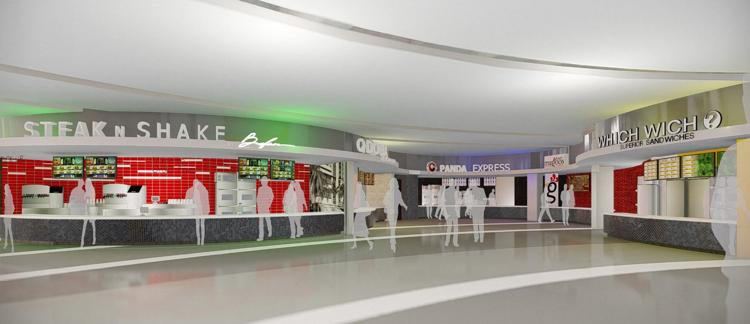 The first phase of construction in the UCF Student Union, originally scheduled to open at the end of September, is now projected to open within the next three weeks.
"We are painfully close to opening three of our restaurants – Which Wich, Panda Express, and Huey Magoo's," David Oglethorpe, associate director of the Student Union, said in a Tuesday email. "I'm hoping within the next three weeks we will see them be fully functional."
Oglethorpe couldn't be reached by time of publication to comment on the specific reasons for the delays, and a specific opening date was not provided. 
Construction in the Student Union began during the first week of the fall 2017 semester, and the renovation process has experienced permitting and scheduling issues along the way. The first phase of construction and remodeling was set to be completed in summer 2018, according to the Student Union's website.
Tyler Worbington, a UCF aerospace engineering graduate student, said he thinks UCF officials try to complete too many construction jobs at the same time.
"It's annoying that it's taking so long for the [Student Union] restaurants to open up," Worbington said. "I'm a little less mad now that Gringos Locos finally opened, but it seems like UCF spreads itself too thin when it comes to construction."
Kyle Nord, an environmental and engineering recruiter for Aerotek — a global recruiting and staffing agency — said although the exact reasons for the Student Union delays are not known, construction delays are usually due to permitting and scheduling issues. 
"When it comes to city and county permits, there is a mandated response time but no mandated approval time," said Nord, a UCF senior real estate major. "This makes it hard on the project managers to properly estimate total construction time; however, they should have erred more on the side of caution."
Despite the most recent delays to the first phase, Oglethorpe said Steak 'n Shake and Qdoba are scheduled to open in early spring 2019.
The Pegasus restroom project is scheduled to be completed in early January 2019, Oglethorpe said. It will offer larger bathrooms for men and women, a gender-neutral bathroom and a mother's room for breastfeeding.
Additional renovations to the first floor are scheduled to be completed in early January 2019. The SGA Ticket Center will be moved across the hall, ATM machines will be relocated and there will be a new space for the Reflection Room, which is used for religious purposes and relaxation. 
"Once these two projects are completed, we will be moving forward with our three-story buildout onto the north patio area," Oglethorpe said. "We're targeting a spring 2020 completion of this final phase."