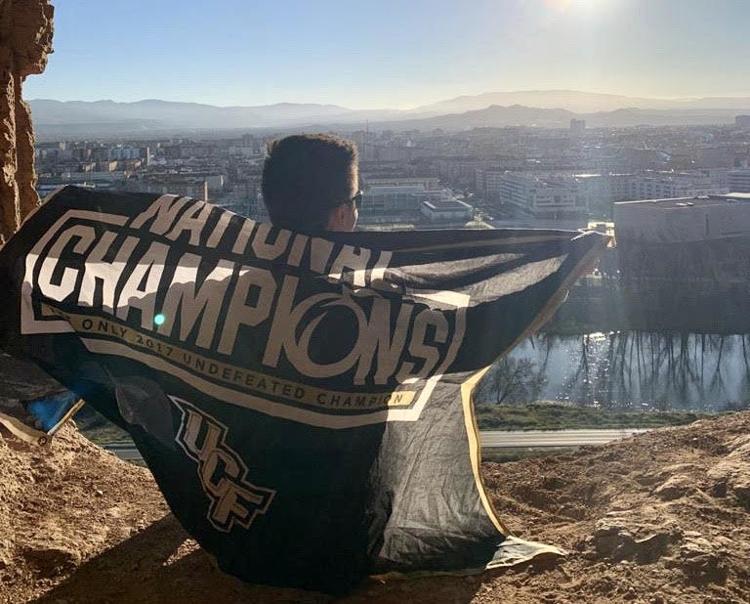 It took Chris Brady three months to prepare for a semester abroad in Spain. He needed time to acquire his travel visa, get a copy of his birth certificate and exchange currency — and pack.
Although he didn't know it at the time, the preparation for his trip to Spain lasted longer than the actual semester abroad.
"It was just crazy how quickly everything changed," Brady, a senior advertising and public relations major, said. "I had settled in and built a little life in Madrid. So to uproot that in a matter of 48 hours was pretty weird and surreal."
UCF study abroad programs were cut short due to the rapid spread of the COVID-19 virus in Europe and around the world, sending several students back home. Five students were studying abroad for the spring semester and additional students were planning to leave in April but were unable to due to the coronavirus outbreak, UCF spokeswoman Heather Smith said. 
UCF notified students about this via email about a week ago and within hours, students were on flights back to the United States.
"Out of an abundance of caution, all faculty-led trips, international exchanges and participation in partner programs for students, faculty and staff members have been canceled for the spring and summer semesters," Smith said in an email.
Brady is one of those displaced students. 
He said he never expected things to get this bad, this fast; enough to where he would actually need to leave the country. Brady was in Spain from Jan. 1 to March 14; however, the plan was for him to be there through the first week of June.
"It was all so quick. Everything happened so quickly," Brady said. "At like 6 p.m. last Thursday I was set on not going anywhere and by 7:30, I had a flight booked."
After Italy, Spain has the second-highest number of coronavirus cases in Europe, specifically, according to the World Health Organization. The Prime Minister of Spain, Pedro Sánchez, declared a state of emergency on March 14 and, a day later, the country imposed sweeping restrictions — a national lockdown.
As of Friday, 21,571 cases and 1,093 deaths have been reported in Spain, according to the Johns Hopkins Coronavirus Resource Center. The president of the Region of Madrid, Isabel Díaz Ayuso, said that 80% of people in Madrid will get COVID-19. 
When Brady became aware he needed to fly back to the U.S., he spent his last afternoon roaming the streets of Madrid and making one last visit to each of his favorite cafes, bars and restaurants before they shut down.
He said the pivotal event when he noticed things were changing was when he got word a local dispensary was shutting down in the middle of the day. Typically, it is a place that is always packed, Brady said.
"I left in the nick of time," he said.
Brady hopped on a flight to Miami International Airport and then one more flight to Orlando International Airport on March 14. Upon landing in Miami, he said the pilot announced the CDC would deplane 20 people at a time for screenings.
"We were greeted from people from the CDC," Brady said about his experience once he got off the plane. "They asked me my name, my date of birth, my city of residence and then they took my temperature. When I didn't have a fever, they were like, 'you're good to go!' And then they handed me a flyer."
The flyer listed the protocol for passengers landing in the United States after international travel, along with tips and practices for staying healthy: wash hands frequently and get tested if any symptoms arise, in addition to self-quarantining for 14 days. 
"I thought [the process] was ridiculously light, it was so easy," Brady said. "It just really shouldn't be like that."
Brady also made it clear that he hasn't felt any symptoms related to the coronavirus. 
Quick summary of my arrival:The captain told us the CDC would deplane the flight 20 at a time. I was greeted by the CDC. They asked me my name, DOB and city of residence. Then they took my temperature & after not having a high temp I was put through to normal customs. That's it.

— Chris Brady (@chris_brady17) March 14, 2020
According to the CDC, Spain is considered a country with a level-three travel health notice because of the ongoing and widespread transmission of the virus. American citizens, lawful permanent residents and family members are allowed to reenter the U.S., as stated in President Donald Trump's travel ban, but are subject to screenings at airports for COVID-19 symptoms including fever, cough or shortness of breath.
The Department of State issued a level four global health advisory on Thursday, discouraging U.S. citizens from all international travel. 
"Travelers without symptoms will be told to stay home and practice social distancing," according to the CDC's website. 
As of Friday, two TSA officers at Orlando International Airport tested positive for the COVID-19 virus, a TSA spokesperson said. One TSA officer also tested positive at Fort Lauderdale-Hollywood International Airport and three more tested positive at Mineta San Jose International Airport in California.
Screening checkpoints will remain open and all officers are receiving medical care, according to the TSA.
Brady said the CDC, along with recommendations from UCF and IE University in Madrid, encouraged him to stay home for at least 14 days to monitor the possibility of showing symptoms for the coronavirus.
He said he was happy to be home with his family and playing a lot of video games. 
But, during this period of quarantine, Brady is unable to go back to his serving job at a local restaurant, he said, making things difficult. In the meantime, he said he wants to start freelance writing in addition to starting a Florida sports podcast.
School is another thing occupying Brady's time. Even though the study abroad program was canceled, students are still required to attend class online.
However, the class must be completed in accordance with Central European Standard Time, the time zone in which Madrid is located, according to the International Mobility Team at IE. For Brady, this means waking up at 5 a.m. for classes four days a week that would have otherwise started at 10 a.m. if he was still overseas.
UCF has already restricted travel to Azerbaijan, China, Hong Kong, Italy, Iran, Japan, Mongolia, South Korea and Turkmenistan. The university said it will continue to add more countries to the list as the virus spreads.
The university disclosed its first positive COVID-19 case on Thursday in a statement by Dr. Michael Deichen, the associate vice president of UCF Student Health Services. Additionally, a military contractor who works in Research Park adjacent to the university tested positive as well, according to the statement. 
UCF is scheduled to remain closed and hold classes through remote instruction through the end of the semester and summer semesters A, C and D as the coronavirus outbreak progresses.