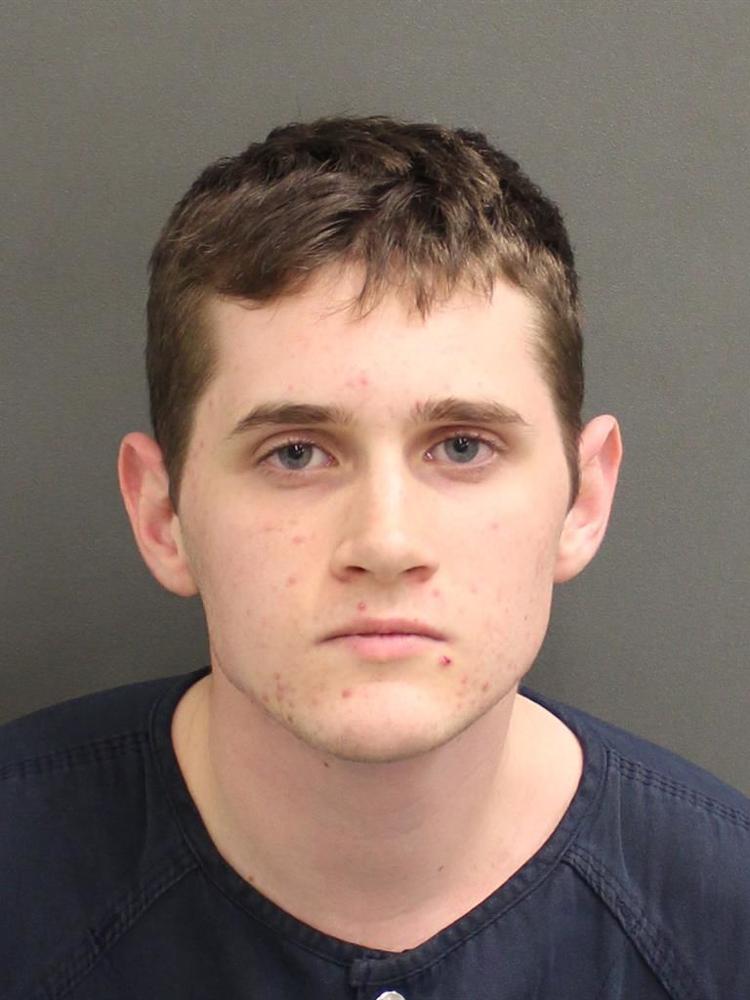 A UCF student was arrested Tuesday after campus police discovered he was keeping a fully-automatic AR-15 in his vehicle at an on-campus dorm, police said.
The UCF Police Department investigated Max Chambers, 19, after receiving an anonymous tip that he possessed a conversion kit to turn a semiautomatic rifle into an automatic weapon, according to a UCFPD news release sent out Wednesday. 
Police searched his vehicle and found three drop-in auto sears in addition to a black AR-15 rifle. A drop-in auto sear is a bump-fire stock that turns a semi-automatic assault rifle into a fully automatic assault rifle, according to the arrest affidavit.
Drop-in auto sears are illegal in Florida as a part of the state's bump-stock ban. According to Florida Statutes, a "bump-fire-stock" is a conversion kit, tool and accessory used to alter the rate of a firearm to mimic automatic weapon fire. The law took effect in October 2018 and a similar federal ban will be put in place in March. 
UCFPD conducted the search of his vehicle at Tower III at Knights Plaza, an on-campus dorm building. Chambers lived in Tower III during the time of the present incident. It is still unclear which dormitory the incident occurred in, said UCF Police Public Information Officer Courtney Gilmartin.
Chambers told UCFPD he manufactured and processed three drop-in auto sears. According to the arrest affidavit, he purchased the kit online in December 2018 and admitted to testing it in January with the AR-15. 
Chambers admitted to knowing that possession and manufacturing of a bump-fire-stock is illegal "but said he does not like laws," the affidavit reads.
The Florida Department of Law Enforcement test fired the AR-15 and confirmed it operated as a fully automatic rifle.The test fire confirmed that the AR-15 is a machine gun, according to the affidavit. 
Chambers was also in possession of a new six-round magazine. It was able to fire at least 19 consecutive rounds in a single trigger pull because of the bump-stock, according to the reports.
Chambers' possession of the firearm piece was not illegal, but it does violate UCF's safety policies and Florida Statute 790.115 prohibiting the possession, storage or use of weapons on university property defined in Florida Statute 790.001. 
Additionally, an adult may possess a lawfully concealed firearm or weapon within a private storage, so long as the firearm or weapon is securely encased or otherwise not readily accessible for immediate use, according to Florida Statutes section 790.25. 
In a news release sent out Wednesday morning, UCF Police Chief Carl Metzger said the student did not express a direct threat to the university community. 
"However, his disregard for firearms laws was concerning — and ultimately illegal — especially in this day and age," Metzger said in the release.
UCF police previously had contact with Chambers in spring 2018 after receiving an anonymous tip. Chambers had an upper part of a rifle in his on-campus residence, but the complete rifle was not found during the 2018 incident, according to Metzger. 
Police spoke with him during the 2018 incident and educated him about campus policies and state laws regarding gun ownership, Gilmartin said.
Metzger also referred to Chambers as a "gun enthusiast" and said that he "taught himself [modifications] as a curiosity, and [it was] something that was a novelty to him more than anything else."
Detectives are still investigating the modifications made to the firearm to turn it into a fully automatic assault rifle and how Chambers purchased the drop-in auto sears, Metzger said.
Chambers is currently undergoing the student conduct process and has been given an interim suspension until he has a university conduct hearing. He has also been issued a trespass from campus, according to Metzger. 
Chambers was booked into the Orange County Jail at about 4:15 p.m. Tuesday and charged with possession of a machine gun and a bump-fire-stock.
His bail was set at $5,150, according to Orange County Inmate Records.
Allison Chambers, listed as Chambers' next of kin on the arrest report, did not return NSM Today's request for comment.
This story was updated on Wednesday, Jan. 30, 2019 at 9:15 p.m. to include more information from the UCF Police Department's press conference this afternoon, including interviews with Courtney Gilmartin and Carl Metzger.
This is a breaking news story. Check back later for updates.