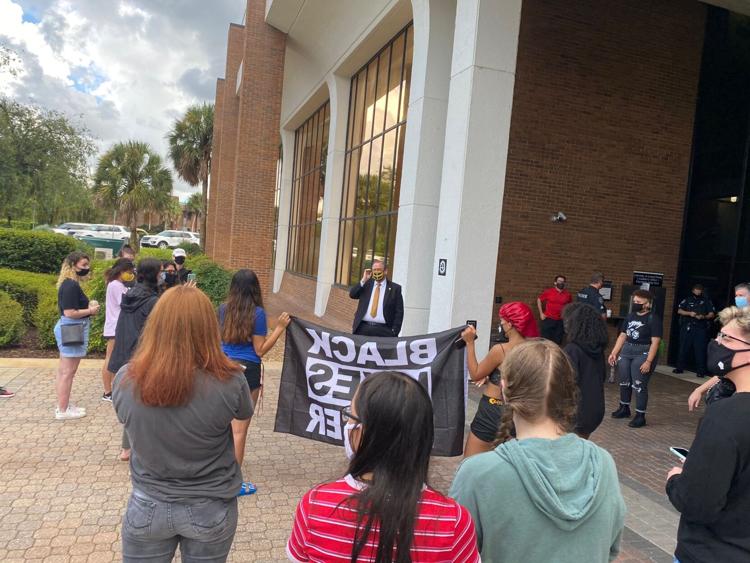 After an altercation between students and internet gun-rights personality Kaitlin Bennett, a group of student activists released a statement demanding UCF take action in ways that will protect its students.
On Thursday, Bennett arrived on campus without a face covering and interacted with students. Video footage circulated on social media shows students yelling at Bennett to wear a face covering, according to NSM Today.
Freshman, March For Our Lives activist Krunali Brahmbhat released a statement Thursday evening, urging UCF to address why UCFPD allowed Bennett on campus without a face covering, given the current face mask policy the university has. 
UCF, who do you work for? Your students or white supremacists? pic.twitter.com/FrAw60PzbL

— krunali #blm (@krunalibr) September 11, 2020
"Kaitlin Bennett put UCF students at risk by intentionally breaking on-campus COVID-19 Guidelines and refusing to wear a mask," Brahmbhat said.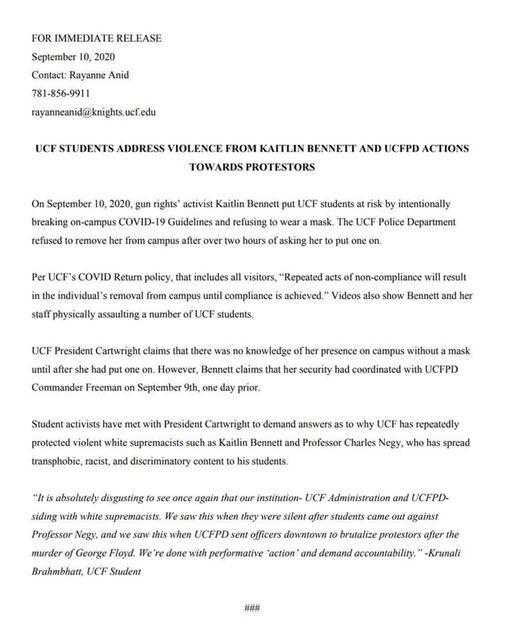 Director of Outreach of College Democrats, Matthew Lago, said College Democrats at UCF demand accountability from UCF and UCFPD.
"We understand that officers simply can not escort anyone off campus, as she has a right to free speech," Lagos said. "That doesn't excuse the allowing of violence to occur against our students and the decision to not enforce COVID mask guidelines despite numerous accounts and videos of her breaking them."
Bennett said her visit to UCF was already planned and that she was told she did not need to wear a face covering. 
My head of security went to campus yesterday and walked around with @UCFPolice Commander Freeman to tell them exactly why we were coming, & be proactive in making sure this wouldn't happen. They also said they wouldn't make us wear masks, then threatened to arrest US. #DefundUCF

— Kaitlin Bennett (@KaitMarieox) September 10, 2020
Junior political science major, Rayanne Anid, said the actions by UCF, UCF Police Department, and UCF Student Government was unacceptable. 
"Our university has gone out of their way to protect known white supremacists and yesterday was no different," Anid said. "President Cartwright assured us that there was no knowledge of Bennett coming to campus prior, but she stated the UCFPD were made aware the day before."
UCF Media Relations coordinator Rachel Williams said no arrest was made on Thursday but UCFPD did take several reports for battery.
"We are reviewing those statements, along with video, and it's an active investigation." Williams said. 
Anid said she and other activists will be providing President Cartwright with a list of demands to "ensure the future safety of our campus."