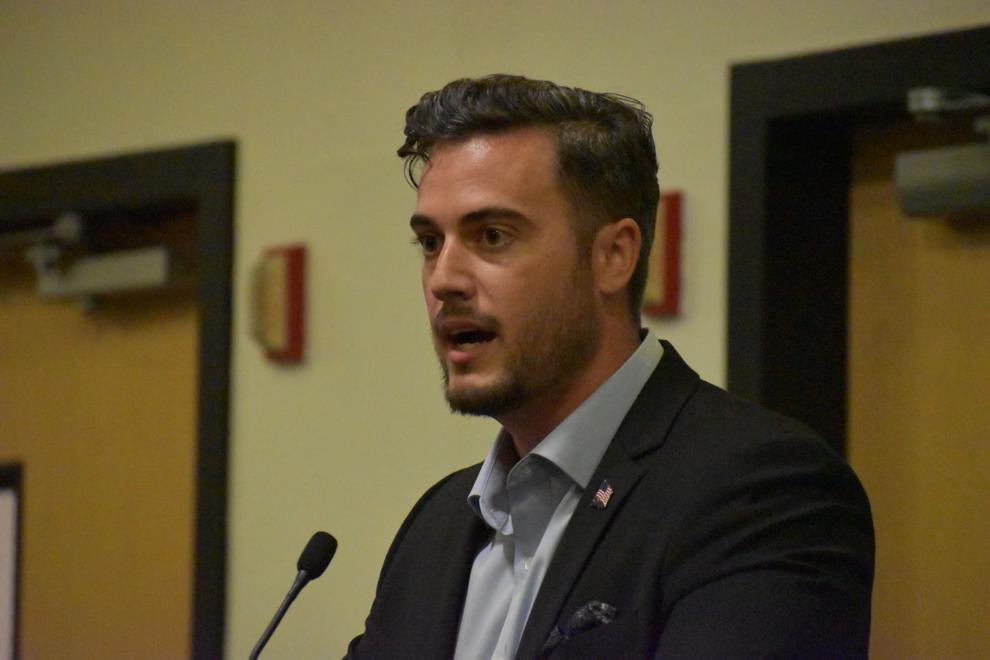 After two weeks of emotional debate, College Republicans at UCF received funding to bring conservative speaker Ben Shapiro to campus.
On Thursday night, UCF's Student Government Association Senate voted to pass Fiscal Bill 52-60 in a 25 (for) - 15 (against) - 2 (abstain) vote. The bill allocates $17,875 of student Activity and Service Fee funds towards bringing Shapiro to speak on campus on March 23.
According to the bill, the total cost for Shapiro to speak at UCF is $35,750. That number includes both Shapiro's speaking fee as well as the cost for six UCF police officers for event security. The remaining half of that cost will be paid for by the Young America's Foundation, which works with students to bring popular conservative speakers to university campuses across the country, according to their website.
"I think the most climatic moment in the entire hearing was when they said 'we're going to take a vote' and you just heard silence," said Israel Booth, a freshman computer science major who supported the bill. "You could feel the tension in the air. There was no longer the sensation of talking, suddenly it came to the moment and you could see it in people's faces." 
At the very start of the meeting, 50 students from both sides took the opportunity to speak out during an open forum, although students' enthusiasm for debate did not end there.  
During Senate recess, Chad Mallard, a freshman from the college of business who was against the bill, walked over to the Republican side of the room and began to engage in friendly debate with Booth, who was surrounded by his fellow conservatives. A crowd of debaters from both sides, as well as a couple of Senators, quickly encircled them.
"I did that because I used to be conservative, so I kind of know where they are coming from," Mallard said. "I might disagree with them, but I know that they are all probably good people and they are here in good conscious and I wanted to hear what they had to say in person and I wanted them to hear what I had to say."
As Senate reconvened, both men shook hands before returning to their seats on opposite sides of the Key West Ballroom.
Even with these moments of searching for common ground, both sides were still passionate in their advocacy of their beliefs.
During the open forum, Democrats quoted an article published by YAF on SGA's Feb. 6 vote on the bill.
"Whether they like it or not, Ben Shapiro IS coming to the University of Central Florida. A dose of reality is just what these leftist students need to get out of their liberal bubbles," Kara Zupkus, program assistant for public relations at YAF, said in the article.
The director of political affairs for College Democrats, Shahaan Khan, said he found the statement disappointing.
"For people who really love free speech, they do a lot to undermine the free speech of others," Khan said.
Despite the evening not ending in their favor, Khan said the College Democrats remain committed to advocating for marginalized students and promoting inclusion at UCF. He said that while he is unsure if he will be able to attend the Ben Shapiro event, he is considering attending future Senate meetings.
The College Republicans also came prepared for the open forum with supporting documents.
In her speech, senior business management major Emily Manning cited a large settlement paid by the University of Florida in 2019 after the university's student government was accused of violating free speech by preventing conservative speakers from being funded using student fees. She also cited President Trump's March 2019 executive order which addressed the topic of free speech on college campuses.
Looking forward, College Republicans Vice Chair Didi Malka said he hopes that students against Shapiro will take the time to attend the event and engage with different viewpoints than their own, as he believes this will only strengthen UCF.
"I know last week I actually teared up a little bit because just hearing a few Senators who I didn't even know just defend our bill just made me feel really proud so that was a really good feeling," Malka said. "Of course, I was nervous this week considering the bill had to have passed majority wise in order for it to go through, but I was just relieved once it passed to know that we fought our best fight and we came out standing."