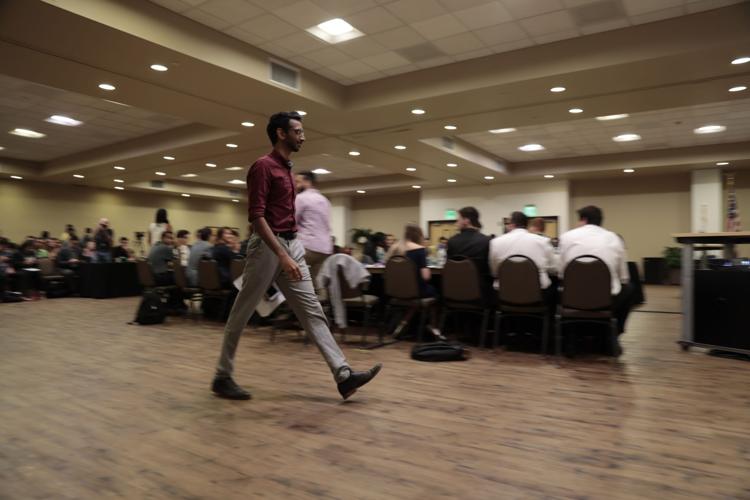 Two affidavits have been filed for both major and minor campaign violations against a UCF student running for the UCF Student Body Senate. 
SGA Senate member John Tuley filed an affidavit on Tuesday against Chandra Kethi-Reddy, who Tuley claimed violated SGA's Election Statues. The proposed violations include campaigning outside of approved active campaigning times, misrepresentation of campaign material as that of another candidate and accusations of extortion or blackmail.
Kethi-Reddy is a triple major in industrial engineering, mathematics and philosophy. He's running to represent the College of Engineering and Computer Science. Tuley is a senator who currently represents the College of Health and Public Affairs. He is running to represent the College of Arts and Humanities in the 51st Senate. 
Kethi-Reddy responded to the claims, calling them "self-contradicting" in a now-removed Thursday post on his personal Facebook.
Tuley stated in the affidavit, or a written statement used during a hearing as evidence, that a person named Russel Campbell "sent an email on Sept. 10 to members of [Registered Student Organizations] listed on the website KnightConnect informing them of the intent to form and run [for senate] as a party known as 'All Knight.'"
Campbell sent the email on Kethi-Reddy's behalf while Kethi-Reddy recovered from surgery.
All Knight Party's primary goal is to occupy "as many seats in the Senate as possible," according to the party's landscape memo. This would enable the party to make significant changes to the legislative branch, including moving RSO funding to the Office of Student Involvement from the Senate, creating positions on county advisory councils and enforcing policies that will aim to make UCF a carbon-negative campus, the memo stated.
"By campaigning together, we can bring together support from every college," Campbell's email states. "With the help of social and print media, we will have a strong campaign presence."
The creation of the party is classified as a minor violation in the Election Statutes because it falls under active campaigning before the specified active campaigning time, the Election Statutes states. 
Active campaigning began Monday and ends Sunday, and the senate election begins next Monday, Sept. 24 to Wednesday. 
"They had charged me for this because I had sent out recruitment emails to RSO officers asking if they want to run for Senate with us," Kethi-Reddy said. "So, this wasn't campaign, it was recruiting people to run with us."
Another violation stated in the affidavit accused Campbell's email of misrepresenting campaign material and making it seem that Campbell was actually Kethi-Reddy, which is a major violation of the Election Statutes.
"[Tuley] said that I was misrepresenting another candidate with the same document they claimed was representing me," Kethi-Reddy said. "It just doesn't make any sense. How can I be misrepresenting another candidate or ticket if I'm the one being represented in the material in question?"
Election Commissioner Reina Chehayeb announced on Thursday's SGA Senate meeting that the hearing to address the violations will be on Monday at 5:30 p.m. in the Hub in the Student Union. After the hearing, KnightConnect states the Election Commission will deliberate and decide whether or not the accused is guilty and, if so, the necessary sanctions to follow.
The Election Commission is responsible for promoting and facilitating both the fall senate and spring presidential elections. This includes making sure that all candidates follow all rules within the Election Statutes. 
Students can still vote for Kethi-Reddy, but the outcome of the trial will determine if he is kept or removed from the ballot, SGA Chief Justice Michael Soviak said. 
This is not the first time Kethi-Reddy has been involved in controversy with SGA.
Kethi-Reddy was the SGA Facilities, Safety and Transportation Coordinator last year from July to November. He was terminated from SGA last November after former SGA Student Body President Nick Larkins terminated him for accusations made against Kethi-Reddy's work ethic.
Following his termination, Kethi-Reddy called for Larkins' resignation, as well Office of Student Involvement Director Shane Juntunen and SGA Office Manager Sandra Briggs, for violating UCF's Golden Rule. A few of the accusations cited intimidation and coercion tactics by Larkins, Juntunen and Briggs. However, no action came from the calls for resignation.
Tuley's affidavit was notarized by Briggs, who Kethi-Reddy accused of using "her powers as a public notary to mess with the Student Government election." 
Kethi-Reddy sent a private message to Tuley's personal Facebook page about the affidavits.
"I will completely overlook all of this, because I noticed that your notary is Sandra Briggs, who I publicly called to resign in front of well over 1,000 people last November for a series of Golden Rule violations…that go back even years before I entered SGA in 2016," Kethi-Reddy's message said.
The private Facebook message was publicly posted by Kethi-Reddy on his Facebook Thursday evening.
In response to this message, Tuley filed a second affidavit against Kethi-Reddy on Thursday in which Tuley accused Kethi-Reddy of threatening him. Tuley said he felt threatened that Kethi-Reddy was going to file a violation in retaliation for filing the original affidavits.
Tuley said he felt "worried because of these threats," and filed the second affidavit, which claimed the messages were a major violation of Election Statues in that they were "committing or attempting to commit extortion or blackmail."
In a statement of defense, Kethi-Reddy called the charges against him as "demonstrably false and arguably malicious." Kethi-Reddy later stated that he will be represented by Orlando defense attorney Markus Murden throughout the trial.
"I'm taking it all in stride because I have to, because I know that a part of me is grateful for these obstacles because they're training me for more real obstacles that I will face over the course of this century," Kethi-Reddy said.