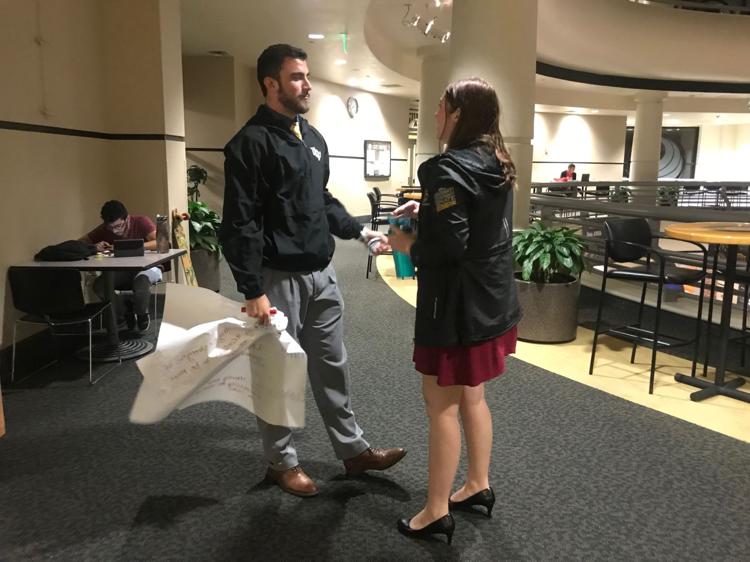 The UCF Student Government Association Senate elected a new senate president and senate president pro tempore during the first meeting of the 51st session on Thursday.   
Sierra Scott, the self-proclaimed biggest fan of UCF SGA, received 38 out of 55 votes to win the leadership position. To win, Scott needed a two-thirds majority vote. Scott is a 20-year-old junior legal studies and political science double major who served as senate president pro tempore during the 50th session.
"I'm in shock," Scott said. "I'm so happy. I've been dreaming about this since I was a little freshman. I'm so excited for how much we can do. There's a lot to get done, and we're going to start immediately."
In addition to residing over the senate meetings every Thursday, the senate president is also responsible for the affairs of the legislative branch and communicating with the executive and judicial branches on behalf of the legislative branch, according to UCF SGA's website.
One of Scott's goals as senate president, a position formerly called the speaker of the senate, is to make members of the senate "feel closer." Scott said she hopes to achieve this by holding one-on-one meetings with senators to get to know them, having retreats with both new and old senators and holding professionalism workshops.
"There's a lot of new senators, and I want to make them feel like they have a home here and make them feel connected to something," Scott said.
Other senators who ran for senate president were Joseph Davis, a senator for the College of Sciences; Fritz Farrow, a senator for Nicholson School of Communication and Media; and Robert Hill, who represents students in the College of Sciences.
Former Senate President Ashley Samson, a junior education major, ran against Scott for the position during the 50th session. Samson said she's happy that Scott got the position this session.
"She literally came to senate to be [senate president], that was her goal, so I'm just over the moon for her," Samson, 20, said. 
The first meeting of the 51st session also saw Forrest McClellan, a senator for the College of Engineering and Computer Science, get elected as the senate president pro tempore with a close 29 to 28 vote in a runoff election with former deputy pro tempore of Legislative Affairs Theressa Tong.
The senate pro tempore connects Registered Student Organizations to the senate, is in charge of the RSO funding process and oversees the bill process.