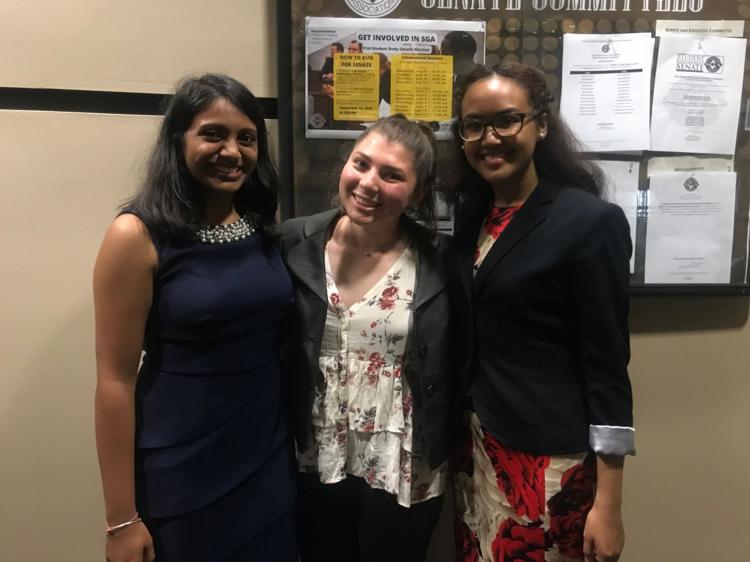 The UCF Student Government Association Senate confirmed three new students into three empty Election Commission seats during a Thursday meeting.
The Election Commission primarily promotes and facilitates the fall senate and spring presidential elections for SGA, according to the official UCF SGA website.
The three new Election Commission seats were appointed to Rebecca Zerbo, sophomore political science and interdisciplinary studies double major; Riyah Shah, sophomore biomedical science major; and Emma Custis, freshman anthropology major.
Each commissioner plans to bring new ideas to the Election Commission with hopes of increasing voter engagement. 
Zerbo, who served in SGA last year, said she wants to use social media to enhance voter turnout by creating Tinder profiles for candidates.
The "profiles" will have pictures of the candidates with their majors, names and platform points in the description, Zerbo said.  
Lack of outreach to UCF's regional campuses is a major platform point for Shah, who said she only saw one election sign at the Lake Nona regional campus.
"I think it's important that we try to market more over there and try to understand that all these regional campuses are a part of UCF inherently," Shah said.
An initiative that Custis said she wants to implement is to enhance voter knowledge.
"How do we know how [the voters] felt about the election in itself?" Custis said. "I would like to create some sort of way to get their feedback — maybe through a survey before they leave — because we're here to serve the students, and how are we supposed to get better if we don't know how their experience was?"
The commissioners are also responsible for ensuring that all candidates and campaigners follow the rules set in place in UCF SGA's Election Statutes.
For example, candidates cannot misrepresent themselves or any information within their campaign. Candidates also cannot destroy other candidates' campaign materials or bribe students into voting.
For more information on the responsibilities of the commissioners, visit UCF SGA's Constitution and Statutes page.
Campaigning for the upcoming UCF SGA senate elections begins Sept. 17 at 9 a.m., and voting will take place from Sept. 24 to Sept. 26 via the online myUCF portal.