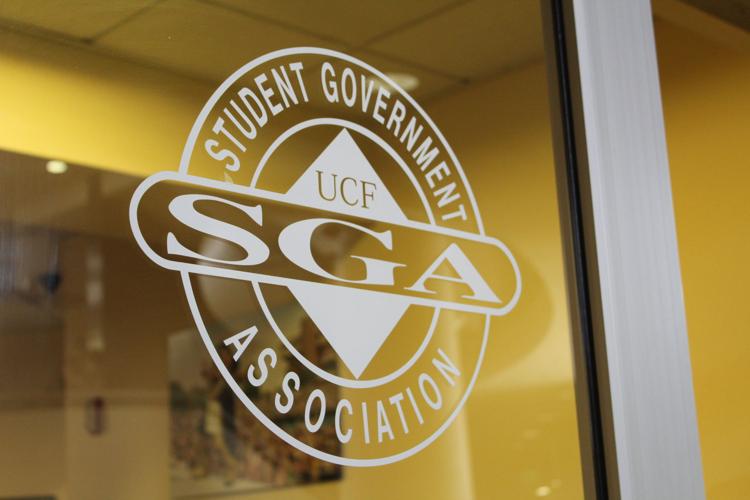 More than 100 UCF students are running to represent the student body and various colleges in the Student Government Association's 51st Senate.
The senate allocates funding for Registered Student Organizations, represents UCF's 13 colleges and proposes various legislation that affects students and the university. 
The 66 senate members will be able to serve in leadership positions, such as speaker of the senate and president pro tempore, once elected into the senate, SGA Supervisor of Elections Reina Chehayeb said.  
Four SGA Senate candidates went in-depth about their platforms and plans to represent students within the College of Business Administration, College of Undergraduate Studies, College of Arts and Humanities and College of Medicine.
UCF SGA's Senate election page has a complete list of all candidates and their intent to run statements, as well as the candidates' platforms.
College of Business Administration
Jose Luis Rivera, founder and former president of the Puerto Rican Student Association at UCF, said he is running on a platform that emphasizes networking and professional development.
"I use the importance of networking as one of the key parts of my platform because I've seen that if you want to get anything done, if you have any objective, if you want to get a good job or just have a meeting with someone you admire and just want to open doors, you need to network," Rivera said.
The 21-year-old senior economics major said he wanted to take representation in leadership to the next level in hopes of inspiring other students to follow him.
"I wanted to kind of encourage other students," he said. "I have seen the potential within very talented students to actually get engaged, and so that's why I kind of wanted to step out a little bit from the [Puerto Rican Student Association] but still mentor [others]."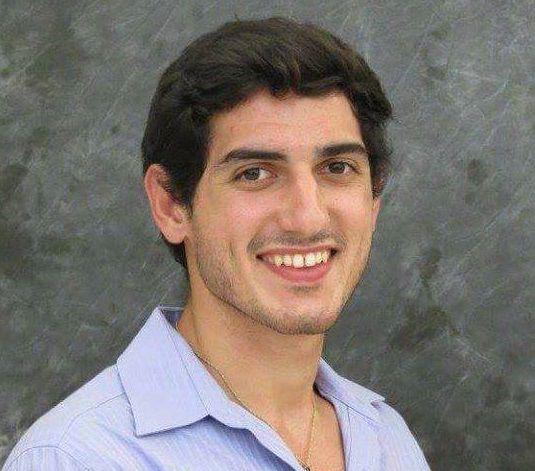 Through mentoring, Rivera said he wants to set the bar for other students so they can inspire those around them and pursue leadership positions in SGA and beyond.
Rivera said creating and maintaining existing opportunities for all students is a main platform point in his campaign. He also said professional development is an important part of his campaign because the way students present themselves can impact what opportunities they are given.
In addition to running to represent the College of Business in the senate, Rivera will also represent students outside of UCF.
Orange County Sheriff Jerry Demings, who will become Orange County's mayor on Dec. 4, chose Rivera to be part of a 37-member transition team that will help him when he becomes mayor.
Other candidates running for College of Business are Moutasm Badawi, Adrian Guerra, Matin Tadzhiev, Ishmam Ahmed, Daniel Robles, John Mosca, Matthew Gold, Jeremy Sutton and Abdullahi Musa. Candidates up for re-election for College of Business are Logan Mahan, Jawhar Coleman, Ari Bell and Marc Wheeler.
College of Undergraduate Studies
Theressa Tong, 21, is an interdisciplinary studies major. She currently serves as deputy pro tempore of Legislative Affairs in SGA. She has decided to maintain the platform that she ran on during her presidential campaign last spring with running mate Karen Caudillo. Tong said her platform describes a vision she "just can't give up."
One of her main platform points is campus safety. More specifically, Tong wants to address the blue light emergency phones found across campus that she said have increasingly stopped working. When the blue buttons are pressed, the UCF Police Department is called to help students in an emergency. 
"I think as a campus where we promote safety for everyone, we need to get those up and running again or figure out some new alternative to ensure student safety here as they're walking around campus late at night," Tong said.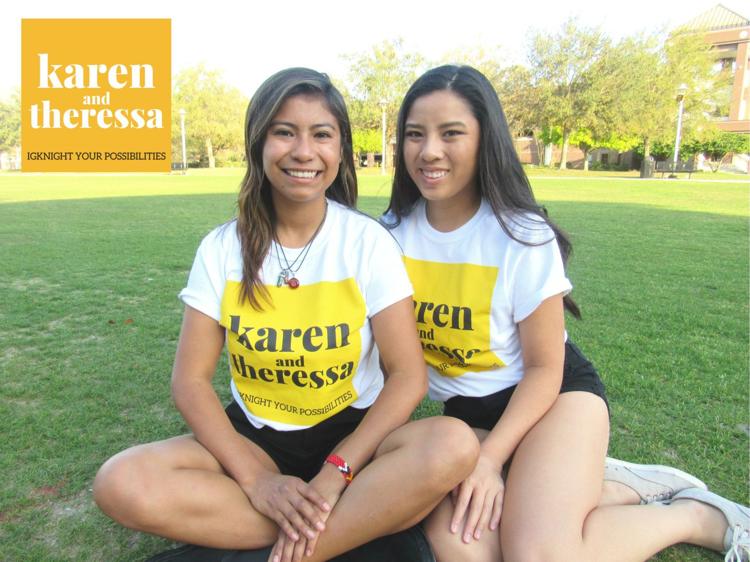 Tong also said she wants to increase healthcare access for students by expanding Student Health Services' acceptance of different Health Organization Maintenance plans. HMOs are insurance plans that provide a variety of services "through a network of providers who agree to supply services to members," according to eHealthInsurance.
"[UCF] Student Health services actually doesn't accept a lot of insurance plans," Tong said. "[I believe] HMOs are one of the most popular insurance plans in Florida. It's crazy that our on-campus health service doesn't accept insurance that the majority of people in Florida have."
If elected to represent the College of Undergraduate Studies, Tong said she plans on working with the Student Health Advisory Committee to increase access to a larger variety of healthcare plans, even if it is just "the most popular one in the state"
A final initiative Tong said she wants to accomplish is to work with Parking and Transportation Services to introduce a "parking pass payment plan." 
Tong said purchasing a parking pass, which is around $100, can be a huge financial burden on top of the costs of rent, tuition and textbooks. Tong said she will potentially suggest a plan that allows students to provide a 20 percent down payment on parking passes.
Candidates running for the College of Undergraduate Studies are Imari Clark and Anthony Pagano. Current senate members running for re-election for the College of Undergraduate Studies include Randy Larson and Robert Sells. Sells currently serves under the College of Sciences.
College of Arts and Humanities
George Holland, 21, is a senior history major. He said the importance of being involved in the legislative process is what pushed him to run for a seat in the UCF SGA Senate.
Holland said he has a couple of ideas for SGA, but his main focus is on efficiency.
"Trying to get the senate to be efficient with its time, trying to get UCF to be efficient with its money," Holland said. "At the end of the day, SGA is in charge of $19 million. How we spend that money matters and we should be spending it as efficiently as possible."
Holland is running under the All Knight Party. The party was formally created in the beginning of September, and the SGA website shows eight students are running under this platform.
One of Holland's main goals is to move the Registered Student Organization funding to a small panel of senators instead of having the entire senate discuss the disbursement of funds.
Other goals of All Knight Party's platform are to create positions on county advisory councils and help UCF become a carbon-negative campus, according to the party's landscape memo.
An agreement of two thirds of the senate is needed to amend the UCF SGA Constitution, so party members are trying to work together to make passage of amendments easier, Holland said.
"What we're coming to do is make UCF and the senate run more efficiently and give us more time to go through and talk about important things like our concert spending and our firework spending," Holland said.
Holland also plans on using his platform to create a grant for clubs that center on research and development. He said passing a bill that allows grants to pass through senate for approval could be a way to make his goal happen. 
"I'm in my last year," Holland said. "I'm not here to change these things for me. I'm here to change them because I'm proud to have gone to UCF, and I want to make a lasting impact that would make a better place for all the students."
Other candidates running for the College of Arts and Humanities are Rachel Huss, Luisana Castillo and Gabrielle Orphali.
Returning candidates up for re-election are John Tuley, Alexander Dieguez and Isabella Bustamante.
College of Medicine 
Emma Trittin, 19, said she's running for a seat in the College of Medicine because she wants change. Trittin, sophomore biomedical sciences major, said she's been handing out flyers and campaigning via Instagram.
"If you want change to happen, you have to speak up, voice it and step up," Trittin said.
She said she plans to use her platform to host expos for the College of Medicine to connect students with doctors. She said she wants to make shadowing for medical students more accessible for those who are interested in it.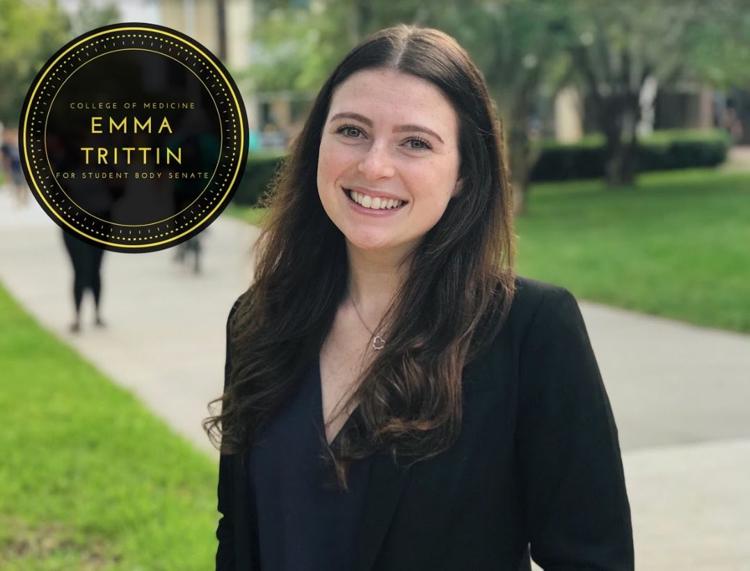 Another one of Trittin's goals is to open up a lecture hall for students to give them a place to study. 
Although the Student Union and the John C. Hitt Library provide study spaces, Trittin said she wants a lecture hall that is tailored to students in the medical field. She said she wants to create a place where students can get help from peers and form study groups more easily, aspects that she considers to be crucial to students' success. 
Trittin said she would also like to make it easier for students who don't have time to join groups and organizations to meet new people. She proposed the idea of having groups of friends or classmates meet at Memory Mall for socials. 
In the future, Trittin plans to continue her political career and earn a joint medical degree in law and medicine. She said she hopes to advocate for public policy with her background in medicine. 
Other candidates running for the College of Medicine are Mansoor Qureshi, Diego Lanza, Aine Reaney and Yaqub Kassoo. Erika Lytle is up for re-election.
The senate elections will begin on Monday and end on Wednesday at 5 p.m. Students can vote online through the myUCF portal. 
The winners will be announced Wednesday night in the Student Union Atrium at 9 p.m. Senate election campaigns ran from Sept. 17 until Sept. 23.
Update: Chandra Kethi-Reddy, a student running to represent the College of Engineering and Computer Science, was removed from this story as he was disqualified from the senate elections in a hearing Monday night at the Hub in the Student Union. Last week, UCF SGA senator John Tuley filed two affidavits against Kethi-Reddy for violations involving active campaigning outside of the allowed time, misrepresenting campaign material and accusations of extortion or blackmail.