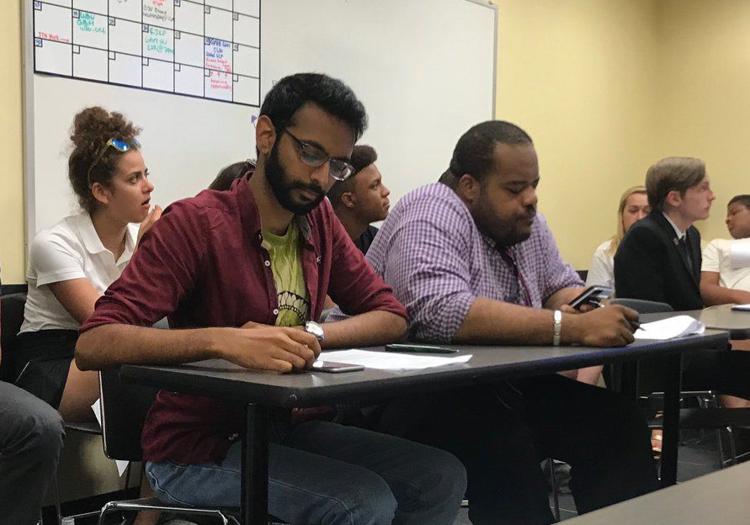 The UCF Student Government Association Election Commission disqualified a student running for SGA Senate after he was found guilty of two election violations in a hearing Monday night.
Chandra Kethi-Reddy, who was running to represent the College of Engineering and Computer Science, was found guilty of active campaigning outside of the allowed time and extortion.
SGA Sen. John Tuley filed two affidavits, or written statements used during a hearing as evidence, last week against Chandra Kethi-Reddy for three possible violations. Kethi-Reddy was accused of a third charge, misrepresenting campaign material, but was found not guilty. Kethi-Reddy will be removed from the ballot. 
After deliberation in the Hub at the Student Union, the election commissioners unanimously voted that Kethi-Reddy was guilty of violating the first charge of active campaigning before the allowed time.
The active campaigning charges came after Russell Campbell, Kethi-Reddy's friend, sent a mass email through KnightConnect attempting to get senate candidates to join Kethi-Reddy's political party, All Knight Party. 
The party's main platform points include moving Registered Student Organization funding from the senate to the Office of Student Involvement, putting senators on county advisory boards and making UCF a carbon-negative campus.
Tuley said actively campaigning prior to allowed time was an unfair advantage for Kethi-Reddy's campaign. Kethi-Reddy denied Tuley's claim.
"I would dispute that this was a significant advantage for my campaign given that only one person responded," said Kethi-Reddy, a triple major in industrial engineering, mathematics and philosophy.
Tuley represents the College of Health and Public Affairs and is running to represent the College of Arts and Humanities in the 51st Senate.
With a six to one vote, the election commissioners found Kethi-Reddy guilty of of extortion against Tuley.
Tuley filed the extortion charges in a second affidavit against Kethi-Reddy on Thursday, stating that Kethi-Reddy sent him an inappropriate private message on Facebook. The message stated that if Tuley continued to charge him, Kethi-Reddy would bring retaliatory charges against him for "clearly bringing false violations to the election commissioners."
Tuley said Kethi-Reddy's messages were a "textbook example of extortion." 
Florida Statutes define extortion as "Whoever, either verbally or by a written or printed communication, maliciously threatens to accuse another of any crime or offense."
For the charge of misrepresenting campaign material, Kethi-Reddy was found not guilty in another unanimous vote.
Campbell, who stood as a witness at the hearing, explained that the email the commissioners deemed "campaign material" was composed by Kethi-Reddy. Campbell also said he did not know to explicitly state in the email that it was being sent on Kethi-Reddy's behalf.
Aside from voting for candidates on the senate ballot, students have the option of writing in a candidate. But due to Kethi-Reddy's disqualification, he would not be considered an eligible write-in under the Title X Student Body Statutes.
Despite the affidavits and convictions, both Tuley and Kethi-Reddy emphasized that the conflict was not personal.
Kyler Gray, SGA chief legal officer and public administration major, said it was good to see the candidates behave professionally throughout the process.
"It was really cool to see that the candidates took the democratic process very exceptionally ... and realizing that a lot of their faults with each other were not based off a personal basis, but more off a professional basis," Gray said.
Kethi-Reddy expressed frustration with the situation.
"It just makes me sad that it could even get to this," Kethi-Reddy said on Tuesday.
Senate elections began Monday and continue through Wednesday at 5 p.m. Students can vote via the myUCF online portal.