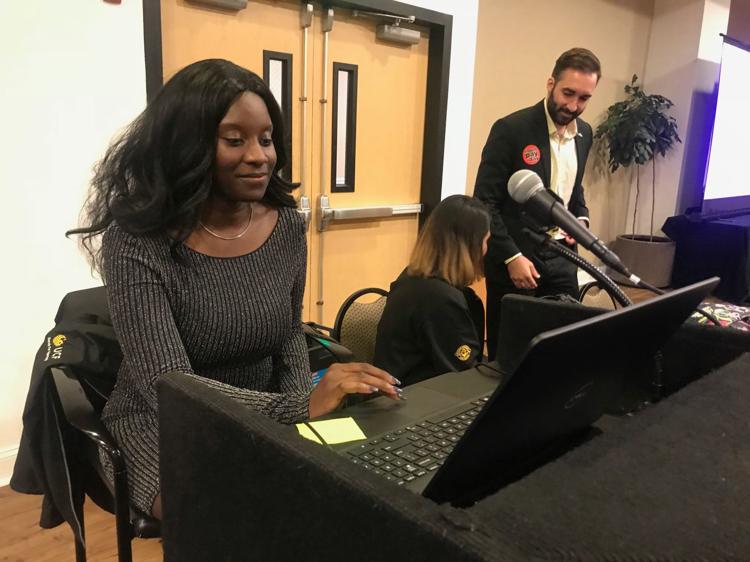 In a 27-5 vote, the UCF Student Government Association Senate passed a bill Thursday night that created a tier system for future election violations.
The internal bill passed during the senate meeting updated the Election Statutes to include four tiers of violations that will penalize candidates violating statute terms. Violations include the creation of political parties, use of the SGA logo on campaign material and the destruction other candidates' campaign material.
The tiers are ranked by four levels, and each tier has different sanctions that may cause the candidate's active campaigning time to be suspended for a period of time. The suspension could be as short as one hour or as long as a week and a half. 
Tier 1 violations include:
Campaigning before or after allowed campaigning time during the day.
Campaigning on the Student Union outdoor stage.
Sliding campaign material under doors in residence halls.
Tier 2 violations include:
Putting campaign material in buildings without permission from the building's manager.
Using the SGA logo on campaign material.
Tier 3 violations include:
Vandalizing or destroying other candidates' campaign material.
Distributing content unrelated to educating voters during active campaigning.
Misrepresenting campaign material to make it seem like it belonged to another candidate. 
Tier 4 violations include:
Coercing students while they are filling out a ballot.
Knowingly giving false information to the Election Commission.
Committing or attempting bribery. 
Committing slander or libel against another candidate.
Committing or attempting blackmail or extortion. 
Among other violations, Tier 4 denies candidates the ability to form political parties. The senate added the term "party" in its statutory definitions as a group that "attempts to form or take part in a government and shares a common platform."
Multiple students ran under the political party All Knight Party during the senate elections, which ran from Monday to Wednesday. All Knight Party's primary goal is to occupy "as many seats in the Senate as possible," according to the party's landscape memo.
It is unclear whether or not the changes to the Election Statutes are directly related to All Knight Party.
Although the bill was passed, Sen. John Tuley, who helped create the bill, said that Chief Justice Michael Soviak already said he will analyze the bill under judicial review. Soviak will work with the judicial branch's justices to check the constitutionality of the bill.
If passed through judicial review, the bill will impact all future senate elections. If denied, the bill will be sent back to the senate to be updated. Once updated, the senate will have to hear and approve it three times for it to pass.
The senate also passed two environmentally friendly resolutions at the meeting. One established campuswide composting and another bans disposable and non-compostable tableware and cutlery across campus.