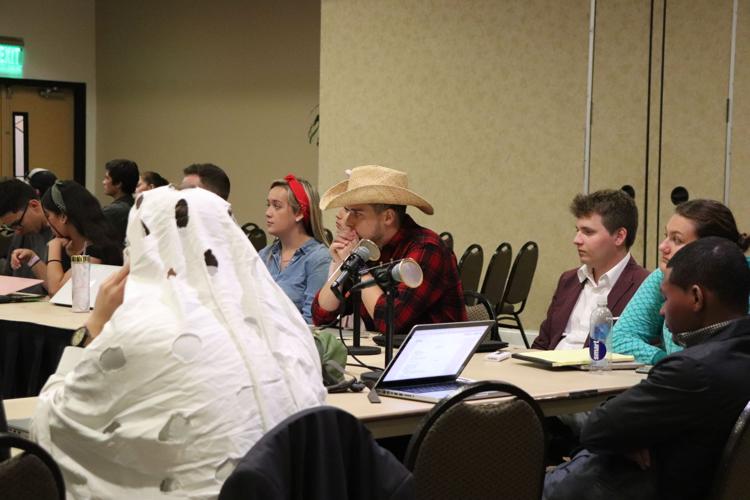 The chief justice of UCF's Student Government Association announced during Thursday's senate meeting that the judicial council found part of a senate bill banning political parties to be unconstitutional. 
After legislation creating a tiered election-violation system passed during a Sept. 27 SGA meeting, Chief Justice Michael Soviak pulled the bill for review to determine if the amendments indicating an explicit ban on political parties were in violation of students' rights. The justice council held a review hearing on the amendment on Oct. 19.
The hearing was the very first judicial review meeting held by the judicial branch of SGA. 
Soviak said the 5-2 decision by the seven members of the 13-member judicial council reflects the efforts of the judicial branch to protect the tens of thousands of students at UCF.
"This, I believe is first and foremost the most important thing to do: protecting the rights of students," Soviak said. "And that's what [the] judicial [branch] did and what [the] judicial [branch] will do in the future."
As defined by the legislation, political parties are "a formally constituted political group that contests elections and attempts to form or take part in a government and shares a common platform."
Soviak said two justices, Julian Mayorga and Mohammad Ali, wrote dissenting opinions. Dissenting opinions are rulings that are contrary to the majority opinion of the court.
If the amendment had passed through judicial review, it would have impacted all future senate elections. Soviak said the rest of the original bill's amendments, which include the creation of a tiered violation system, will become law once officially signed into the Election Statutes by Maribeth Ehasz, UCF's vice president of Student Development and Enrollment Services. 
Because college campuses are considered nontraditional public forums, students' rights are protected under strict scrutiny, Soviak said.
He explained that prohibiting students from affiliating with parties or from joining groups with common interests is a violation of their freedom of association.
"We cannot do a knee-jerk reaction to something we don't like," Soviak said. "So when there's speech out there we don't like ... we have to make sure it goes through the political process and everybody is involved."
College of Graduate Studies Sen. Rachel Friant said she didn't have strong opinions on the bill when it was first passed. She said she also has an interest in ensuring students are protected.
"I still see this as an equal protection case, not so much a First Amendment case," Friant said.
Soviak encouraged senators to attend future judicial review hearings and meetings in order to work together and effectively create "regulatory frameworks" on aspects of the political system that could be a cause for concern.
However, Soviak said he stands by his belief that political parties do not detrimentally influence or impact senate elections at UCF.
"There's no evidence of that happening," Soviak said. "If political parties are such a perilous threat to student involvement in SGA, you can pass regulation and regulate political parties, [but] you cannot outright ban them."
Soviak had not shared the 14-page official opinion in its entirety with SGA prior to the meeting. He said the opinion was extremely detailed, written in the style of a real U.S. Supreme Court opinion, and would set the standard for the judicial branch moving forward.
In the opinion, which was sent via email, the court wrote: "It is clear that the proponents have failed to prove that there is any evidence to support their contention that political parties have affected student involvement in student government elections."
The opinion of the Oct. 19 review also forged new precedents and boundaries for the court's review process moving forward. Soviak said the court is "exercising its judicial review right for the first time."
"It is the hallmark of what this court will use for judicial review in the future," Soviak said.
Nicholson School of Communications Sen. Natalie Caballero said previous justices made promises to improve the judicial branch by reviewing issues that impact the student body. She said she feels Soviak is adequately reforming the branch and using it to its full potential.
"I think now [the judicial branch] is doing a really good job at interlocking the branches," Caballero said. "Now everybody — not only the people in SGA, but also students — can see the three branches working together, agreeing or disagreeing. Because that's what real life politics is: you're going to see eye-to-eye sometimes, sometimes you're not, but it's all about respecting everyone's opinions."
During the meeting, SGA Student Body President Josh Boloña gave an update to senators on the status of the external investigation into UCF's misuse of tens of millions of dollars to fund or build different projects across campus. Boloña serves on the Board of Trustees, UCF's governing body tasked with making policy and authorizing use of resources.
Boloña said the investigation is still underway, but that there is a "silver lining" in what may seem like a weary situation.
"A lot of [Florida's] state universities are asking the Board of Governors what [funds] exactly they can or cannot use because it seems like we're not the only university that had a little bit of a confusion," Boloña said.
Boloña said the investigation will continue but did not give a specific date or timeline for when it is expected to be completed.
U.S. Rep. Stephanie Murphy, who represents District 7 in Central Florida, made a brief appearance to speak with senate members about her background, history in politics and issues of importance to her.
Murphy talked about a variety of topics, including her advocacy for gun control legislation and her efforts to impact affordability and accessibility within Florida's higher education system.
The senate also heard and passed 11 fiscal bills that were in the third reading phase. Legislation must go through three different readings before it is officially voted on and ultimately passed or rejected. 
One of the bills stirred debate among senators prior to its final vote. Fiscal Bill 51-03 proposed to fund and send 12 members of Swing Knights, a Registered Student Organization at UCF, to attend a dance camp and conference in Asheville, North Carolina, from Dec. 26 to Jan. 1, 2019.
The RSO requested $3,112.23 to cover the cost of registration and lodging at "Lindy Focus." The bill passed with a 49-3 vote, followed by an eruption of applause from the senate.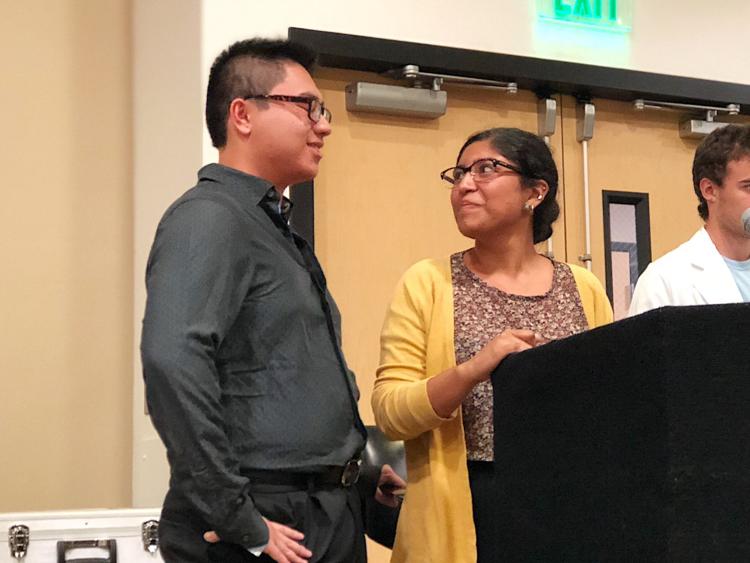 Rosen College of Hospitality Sen. Michael Interlicchio expressed concern with the bill prior to voting. He argued that upon researching the event, he believed it was a purely social gathering characterized by dancing, students "openly drinking" and a lack of a uniformed security presence.
Interlicchio said he had no intent to vote against the bill, but that he did not find it wise for money to be spent funding "unrestricted social events," which he said is a violation of SGA's Conference, Registration and Travel Committee's policies. Despite his concerns, he said he knows the Swing Knights are not necessarily going to the event simply to party.
"I do wholeheartedly believe [the students] are going to better themselves socially and academically by participating in dance classes," Interlicchio said. "I do want to say that our money, nonetheless, as it goes to registration, goes to host a New Year's party for other people."
Friant, who also serves as chair of the CRT committee, commended the RSO for addressing the senate and its processes with "unprecedented levels of preparedness and respect." She argued in favor of the Swing Knights and said she was confident funding the conference would not violate CRT policy.
"We would not be having this contention if this conference was happening on July 13," Friant said. "It just so happens to be over New Year's weekend and frankly I think that's outside of the scope that this [governing] body should be concerned with."
Sara-Sofia Rentas, a member of Swing Knights, was all smiles at the podium once the vote was revealed. The senior art education and public relations double major said she felt incredibly relieved. 
"I know that I benefited from going to this event for the past three years, so I'm really glad members this year will be able to experience the same thing," Rentas said.