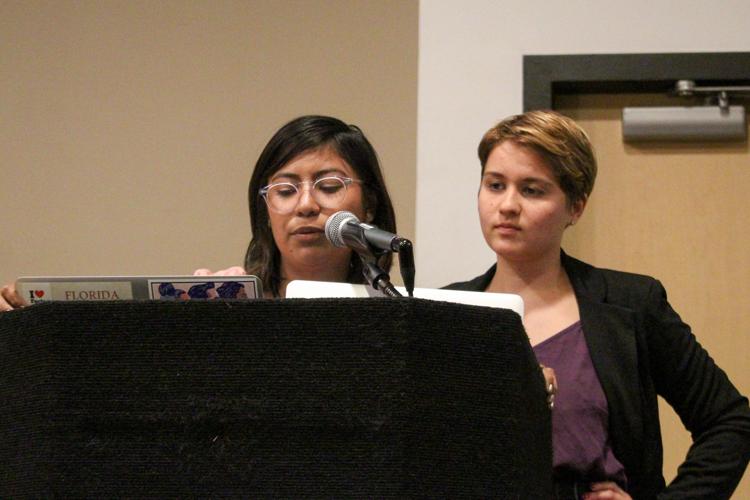 Former UCF Student Government Association presidential candidate Emilia Kosonen and vice presidential candidate Karen Caudillo officially announced their resignation from the race at a senate meeting Thursday night.
The resignation follows a number of violations filed against the pair from the SGA Elections commission. 
"Going into this election, we had high standards for all candidates and expected to be held up to the same standard," Caudillo said in the senate meeting. "Unfortunately, that's not the reality that we were faced with during our election."
The pair had six violations filed against them, including a violation for active campaigning before the designated time, the use of a past or present SGA logo on campaign items, and using student government property - or activity and service fee funds valued at $5 or greater - to benefit that candidate and ticket's campaign.
Following the violations, Kosonen and Caudillo were prohibited from actively campaigning for one week. This included speaking to Registered Student Organizations in person or via email, tabling or verbally expressing the support of an endorsement by a third party.
"The process to file violations wasn't readily known or advertised," Caudillo said. "This secrecy meant that only those within the system could utilize institutional forms of criticism such as filing violations." 
Although she said they are disappointed with the result, Kosonen said they're not entirely surprised. She said after the second set of violations were filed, they began to see stepping down as a possibility.
"I always had it in mind that it might come to this," Kosonen said. "I guess I already took time to accept this version of reality."
She said after the first violation was filed on Feb. 12 concerning an Instagram story featured on their page with the SGA logo visible, they were told to withhold from posting to their joint social media account for one week.
Another set of violations were filed in the same week, which prompted them to proceed with caution and hold back from purchasing campaign merchandise, such as signs and t-shirts.
"I want to do whatever I can to teach future candidates to learn from our mistakes, but also I think those statutes need to be reformed," Kosonen said.
In their resignation statement made at the senate meeting, Kosonen and Caudillo said the number of violations filed against them was due to a lack of transparency about the current election statutes found under Title VI.
The election statues define all the rules and regulations candidates must abide by in the duration of the election including a code of ethics, campaign restrictions and violations.
Caudillo said the statutes were updated by the senate following last year's election, a fact she said they were not made aware of before running.
"The statutes have been used by the benefit of those who are within SGA to harass and to stretch the statutes to get violations on us," Caudillo said. "The process is not readily available to anybody."
Caudillo said she admits after reviewing the new statutes, she can understand why they had violations filed against them, but information on those statutes wasn't readily available. She said in order to view the updated statutes, one would have to look through several tabs of the student government website to find the current and up-to-date statutes.
"It shouldn't be that hard," Caudillo said. "With fair elections, that should be readily known."
She said the issue goes back to the points of transparency, fairness and equality within elections. She said it makes candidates who are not in SGA incapable of utilizing the resources available to hold and to criticize the election system.
"That's when elections become unfair," she said. "That's when those who do have privilege prevail."
Caudillo said they didn't feel like everyone running was being held to the same standard. She said she credits the higher standard they're being held at to the challenging and progressive nature of their platform.
"We are talking about issues that aren't conventional to those who do have privilege at this university," she said. "But we came into this election knowing that we were going to be unapologetic about what we stand for and we have [been]."
Caudillo said although they had the choice to continue running after attending violation hearings, they believed it was better for them to step down and preserve their financial resources and time.  
"We feel like this is a more strategic way of going out and doing what's best for the student body," Caudillo said.
Kosonen said they will instead do whatever they can to support UCF SGA presidential candidates Ashley Stewart and Darwin Olcima and continue to fight for the issues they believe to be important.
"We want to continue to push our platform points," she said. "Even though we're not still in the race, we want to do everything we can to spread awareness."